What does it take to offer the very best RAM? The recipe calls for a lot of speed, sprinkled with tight timings and topped off with a superior warranty. Does the Project X DDR3-1800 kit from Super Talent kit taste as sweet as it sounds or will it just leave a sour taste in your mouth?
INTRODUCTION
When a new product arrives on the scene every manufacturer rushes to be the first to market. Company after company pushes out cookie cutter revisions in hopes of swaying you and your hard earned dollars to their camp. When you have so many companies offering similar products it is both a blessing and a curse. We all know how great competition is for the market but it is easy to forget how daunting it can be to discern the quality components from the mediocre ones. How can you be sure you getting what you paid for? We at Bjorn3D suggest asking yourself a few key questions. Is the company behind the product a leader in their field? Does the company stand behind their product long after the sale has been made? And finally does the company offer the product at a competitive price?
Introducing the Project X DDR3-1800 memory modules from Super Talent. Designed by a company known for producing some of the best RAM in the industry you can be sure you are protected for years to come as they include a lifetime warranty. What's that you say? You want more? What if I told you this RAM costs significantly less than many slower performing kits on the market? Interested yet? I know I am.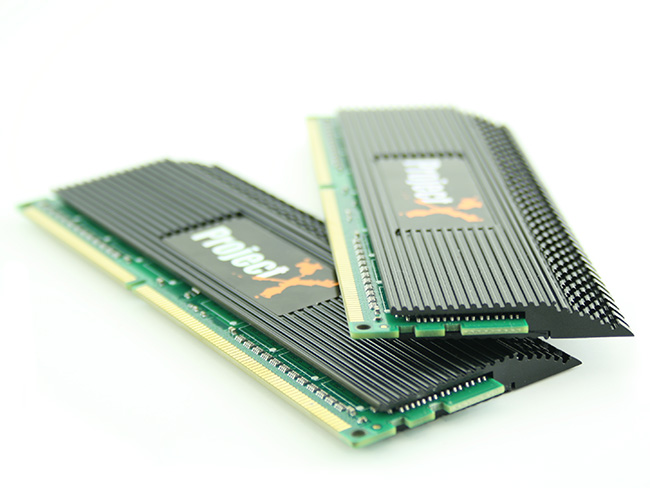 Super Talent : The Company

Super Talent Technology, headquartered in San Jose, California, designs and manufactures a full range of DDR, DDR2, and DDR3 memory modules and Flash based storage devices for computers and consumer electronics. An ISO 9001 certified company, Super Talent utilizes its state-of-the art factory and leading-edge components to produce award winning products with outstanding reliability. Super Talent is an active member of JEDEC and ONFI standards bodies, and holds over 160 patents in Flash and DRAM technology.

Super Talent's Silicon Valley based electrical, mechanical, and software Engineering teams develop leading-edge DRAM and Flash memory solutions for a multitude of applications. Our US-based engineering enables Super Talent to bring advanced new products and technologies to market well ahead of the competition. A leading innovator, Super Talent holds over 160 patents on DRAM and Flash module design and manufacturing processes, making Super Talent one of the world's chief patent holders in memory device categories. Super Talent is an active member of JEDEC, the association that defines future memory standards. The company is a technical leader in producing industry standard memory modules as well as in developing custom memory solutions.
SPECIFICATIONS
Module Size: 2GB kit (2 x 1GB)
Package: 240-pin DDR3 DIMMs
Feature: DDR3 PC3-14400
Specs: 7-7-7-21 • Unbuffered • NON-ECC • DDR3-1800 • 2.0V • 128Meg x 64
PHOTOS
The first pictures show us the blister pack the RAM comes in. Thankfully it is not of the heat sealed variety and doesn't require any power tools to open.
Click a picture to see a larger view
---
---
The front of the RAM adorns the Projext X logo while the rear contains information regarding the performance level of the memory and the timings. Useful information should you be unsure if you RAM is running at its maximum potential.
The last photo in the set shows the top of the memory with its unique design. It makes sense that the heat spreaders are larger since this RAM is designed to run at a mind boggling 2.0 volts. A full 33% over the JEDEC spec.
Enough photos let's see get to the good stuff!
TEST SETUP
All tests were conducted on the following platforms. A format of the hard drives followed by a fresh install of the OS was done. The latest drivers were then installed and all non-essential applications were halted.
Synthetic Benchmarks
SiSoft XI
Mem Bandwidth
Everest Ultimate 4.0
Mem Read, Write, Copy, Latency
SuperPi Mod 1.5xs
2M
Games
F.E.A.R. v1.08
1280×1024 4xAA / 16xAF
Highest in game settings, Soft Shadows off
To test the performance of the Project X DDR3 modules I will use a variety of different synthetic tests which should show if there is any difference to be gained by the new memory technology. All of these tests are well and good but I also want to see if there will be any real world impact on gaming performance as many of you reading this review are gamers at heart. Rather than test at a very low resolution of 640×480 (Do you really play at this resolution?), I will use a more realistic setting of 1280×1024 with full IQ settings. The game of choice is F.E.A.R. which is a great game since it is very CPU bound with newer video cards.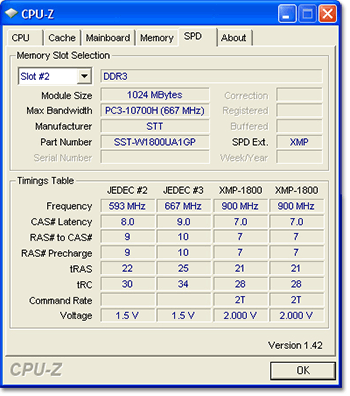 Project X SPD settings
All tests will be performed at the following settings to ensure the best apples-to-apples comparison. The FSB will be set to 400 MHz as well as 457 MHz and the CPU will be kept at 3.2 GHz using a 8x and 7x multiplier respectively.
400 MHz FSB with 8x multiplier
457 MHz FSB with 7x multiplier
Now this is where I usually list the various settings I test the memory. Settings like the tightest timings or highest speed I was able to achieve. To be honest though this memory just won't budge when it comes to the timings and the RAM is already running at break neck speeds over its listed spec of DDR3-1333. Even running the RAM at DDR3-1600 required me to feed it the same 2.0 volts necessary for DDR3-1800 function. Don't get me wrong I am not bashing this memory at all and in fact I am quite pleased by my experiences thus far. I am only mentioning this for those of you who like to tweak and fiddle with their RAM settings.
TEST RESULTS
SANDRA XII Lite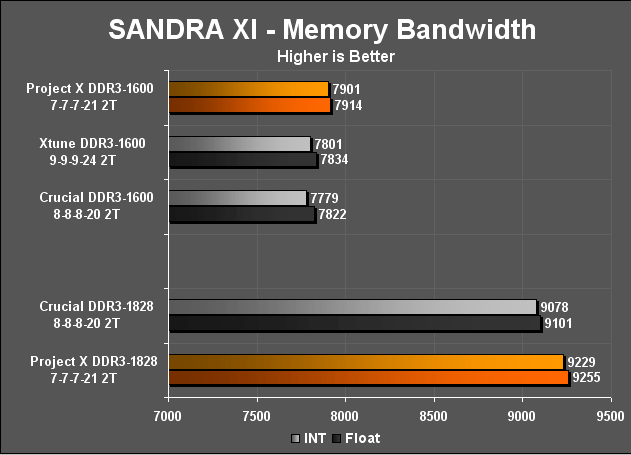 Everest Ultimate Edition v. 4.20.1170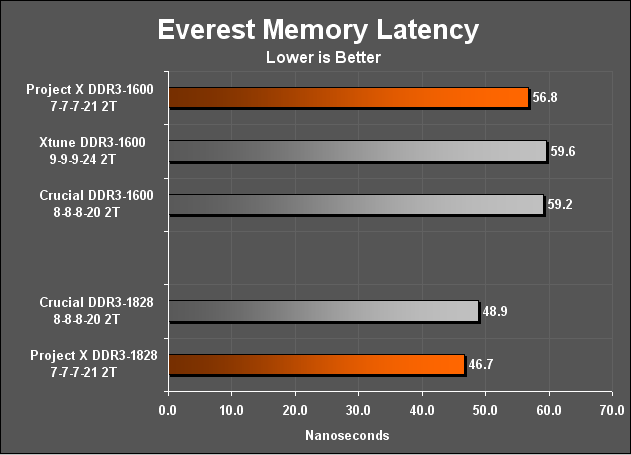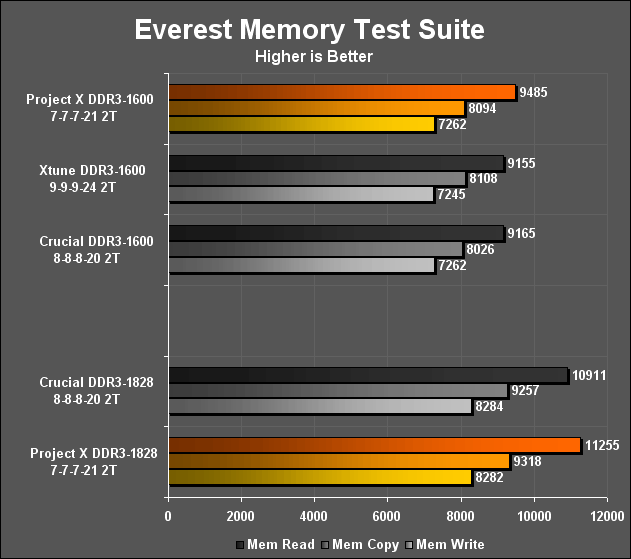 TEST RESULTS
SuperPI Mod 1.5 Xs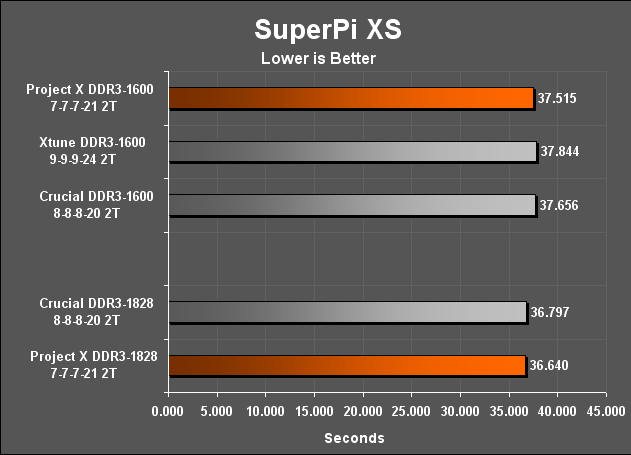 F.E.A.R. v1.08
F.E.A.R. is run at 1280×1024 with AA set to 4x and AF set to 16x. Soft shadows have been disabled and VSync has been turned off.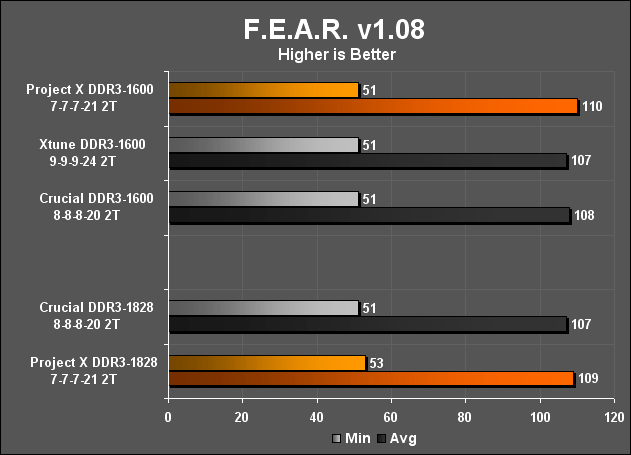 1T VS 2T
Now up until this point I have been showing you how this RAM performs compared to the DDR3 kits of other manufacturers and thus far it has handled itself very well. But I can hear the cries of the people; "What about running the RAM at 1T?!". Well I am glad you yelled. Here are the scores for the memory when running at a command rate of 1T. In all tests the CPU was kept at the same speed of 3.2 GHz.
SANDRA XII Lite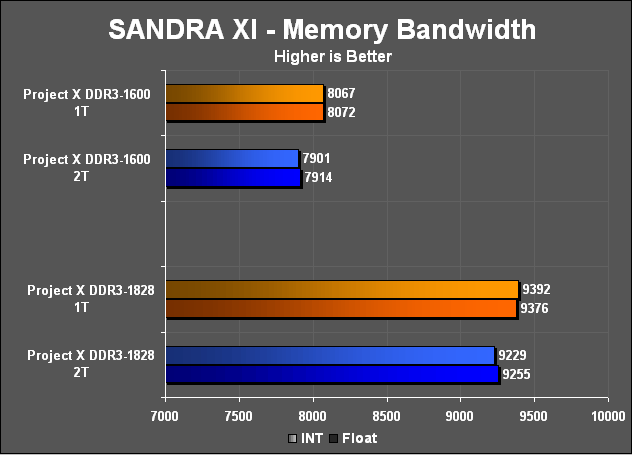 Everest Ultimate Edition v. 4.20.1170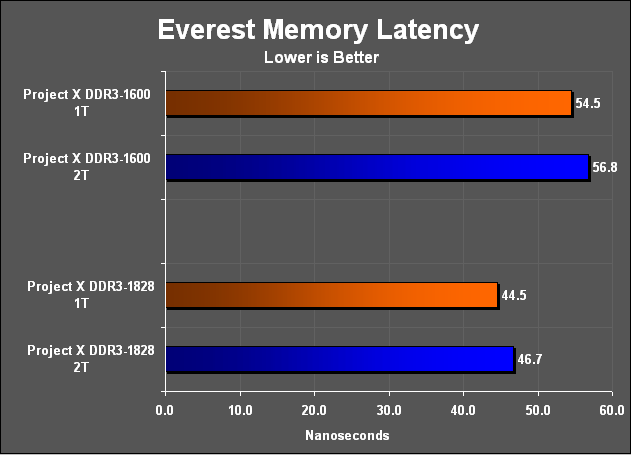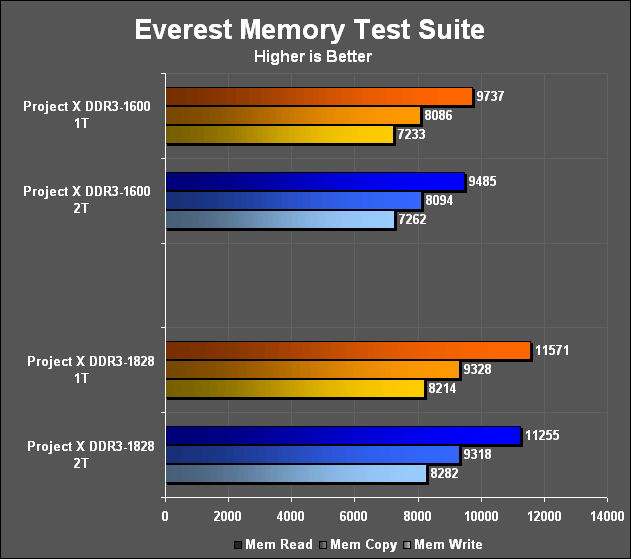 SuperPI Mod 1.5 Xs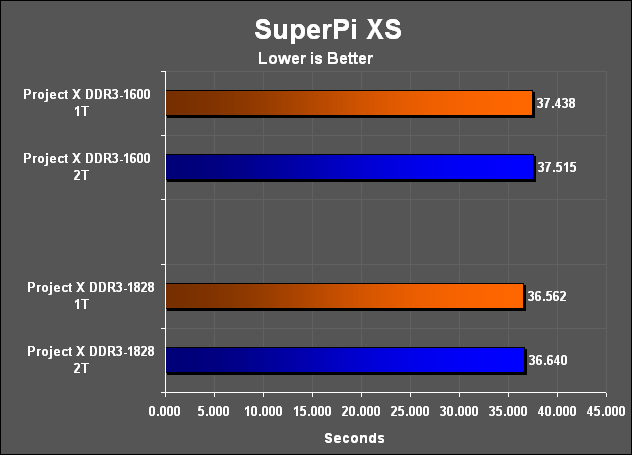 F.E.A.R. v1.08
F.E.A.R. is run at 1280×1024 with AA set to 4x and AF set to 16x. Soft shadows have been disabled and VSync has been turned off.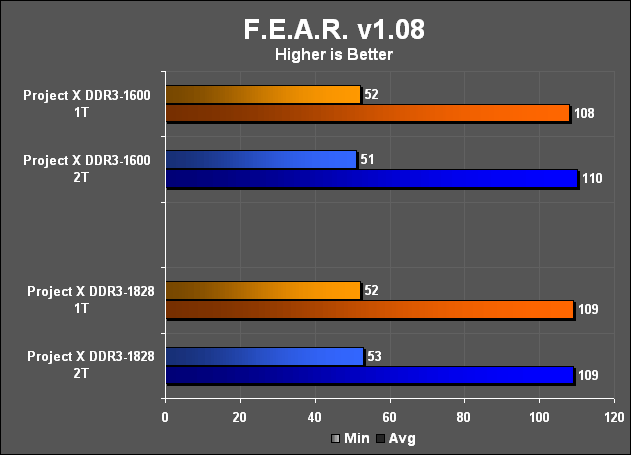 OK so we see that if we can run the memory at 1T we can eek out a bit more performance. But what these scores also tell us is that if you need to switch to 2T in order to achieve a higher FSB than you will reap far more performance benefits than by staying at a slower FSB with a 1T command rate. Let's wrap it up.
WARRANTY
Super Talent's warranty agreement can be found here and it looks to offer some good protection should anything go wrong. Super Talent lists the RAM as having a limited lifetime warranty and though it does not list their DDR3 kits I have been told it does extend to them as well. About the only odd thing I saw in the warranty was that it does not cover the RAM against any "natural disasters or personal disasters." Now I am not sure why going bald or losing my job will cause my warranty to expire but I guess that's just how things work these days. All joking aside you can be sure Super Talent has you covered.
CONCLUSION
Let's break it all down. To make it all a bit clearer I have selected two distinct groups of people this RAM may appeal to.
Hard-core Enthusiasts
Enthusiasts with deep pockets and a need to have the very latest technologies. Also known as the early adopters who are willing to put up with technical issues for the right to brag to friends.
Performance: This RAM is some of the fastest RAM on the market. It overclocks poorly but at the default speed it won't hold you back. Just don't expect to see any increase in frame rates of your favorite games as you'll need more GPU power for that task. At least your synthetic scores will set new levels.
Value: It may not matter how much something costs but it's still nice getting a good deal. This is some of the most affordable (relatively speaking) DDR3-1800 RAM available.
Casual Gamers
You have your favorite games that you play and you play them often. You have an up to date machine but it doesn't need to have the QX9770 for you to fill the void inside. You friend brags how great it is to have DDR3 but you just chuckle inside and continue using your DDR2-1066.
Performance: If you game and only game than this RAM offers nothing for you unless you play at insanely low resolutions. Even then you are better served getting a new GPU.
Value: DDR3 is still a poor value for the casual gamer and hardcore gamer alike. Until the prices drop to sane levels we can't recommend this RAM as the way to go just yet.
Pros:
+  Extremely fast DDR3 memory
+  Less expensive than other slower kits
+  Memory won't need upgrading for a long time
+  Lifetime Warranty
Cons:
–  Timings won't budge any tighter
–  2.0 volts required to get this RAM up to speed
–  2 GB "only"
Final score: 7.5 out of 10 (Good).