Today we look at what happens when you take a top-tier manufacturer and a complex video card and throw out all the rules. ASUS bring a unique approach to the table as they attempt to turn the 3870X2 into more then just your typical dual GPU card.
INTRODUCTION
Today we are going to take a look at the ASUS EAH3870X2. Yes, that's right, we are showing some love to the gang in red, err green? Red/Green? Whatever color they are we love to see what ATI has up its sleeve from time to time since it would be a very bad thing if competition didn't exist. First, for those of you who were able to saw off their arm and escape from that rock you were under, let me say this, "WOW, who gets caught under a rock anymore?" Secondly, the X2 represents a unique approach to graphic processing. By combining two GPUs on one PCB you have a card with twice the speed of a standard HD3870 without the need to buy a special chipset or motherboard. Even better, ASUS, never leaving well-enough alone, designed a custom cooler and added a few extra DVI ports to really spice things. Let's see if this card has what it takes to earn a spot in your gaming machine.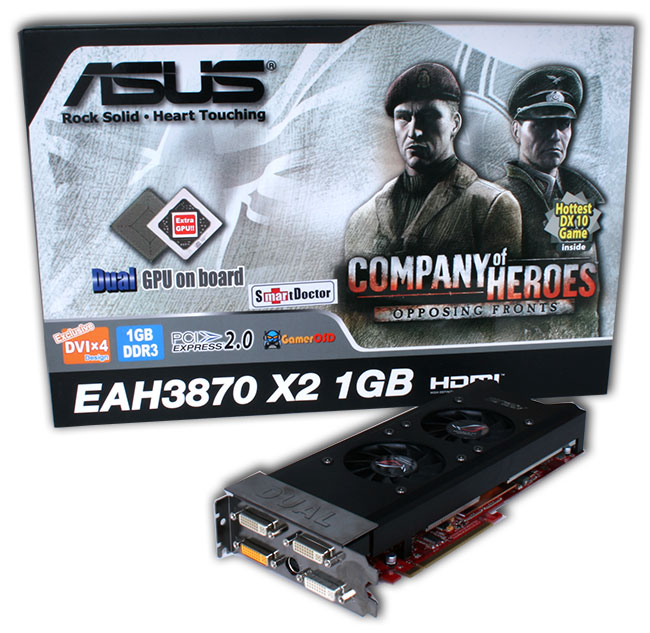 SPECIFICATIONS
ASUS™ EAH3870X2/G/3DHTI/1G
RAMDACs
Dual 400 MHz
Memory BUS
256-bit x 2
Memory
512 MB x 2 GDDR3
Memory Clock
1800MHz
Memory Bandwidth
57.6 GB/s
Stream Processors
320
Clock Rate
825 MHz
Chipset
R680
Bus Type
PCI-E 2.0
DVI Output
4 connections
HDMI Output
Yes via DVI-HDMI adapter
Fabrication Process
55nm
With cards such as these, it is important to realize that many retailers will incorrectly list this card as having 1GB of RAM or a 512-bit memory bus. Having 512MB x 2 is not the same thing as having a full 1024MB of RAM because each GPU core can only address up to 512MB. Also, since each GPU core has a 256-bit external memory bus, some companies see nothing wrong with listing it as 512-bit. But, once again, the two are very different.
PACKAGING
ASUS continues with their recent trend of bigger is better. Even though the card itself is pretty long, as video cards go, the sheer size of the box makes you wonder if ASUS intended to cram four or five cards in a single box.
Click a picture to see a larger view
---
| | | |
| --- | --- | --- |
| | | |
| Box front | Box rear | Inner box |
---
PHOTOS
When ASUS gets their hands on a product you can be sure it will be vastly different from anything the competition has to offer and the 3870X2 is no exception. Right from the start we can see the dual fan configuration used to cool the card. Turning to the front shows us even more surprises with not two but FOUR DVI outputs! Gaming aside for the moment, if you are a a CAD user or graphic designer the real estate afforded to you by four monitors is simply priceless. The third photo shows off the obligatory power connections needed to run this beast. While the card has connections for a 6-pin and 8-pin connector, two 6-pin connectors will work just fine but the overclocking portion of the drivers, overdrive, will be disabled.
Click a picture to see a larger view
---
---
The back of the card shows how the memory is configured along with all the circuitry necessary to drive two GPUs on one board. I was a bit surprised at first to find the memory chips left without any sort of cooling since they are GDDR3 but as you'll see in the overclocking portion of the review, this had little impact.
CONTENTS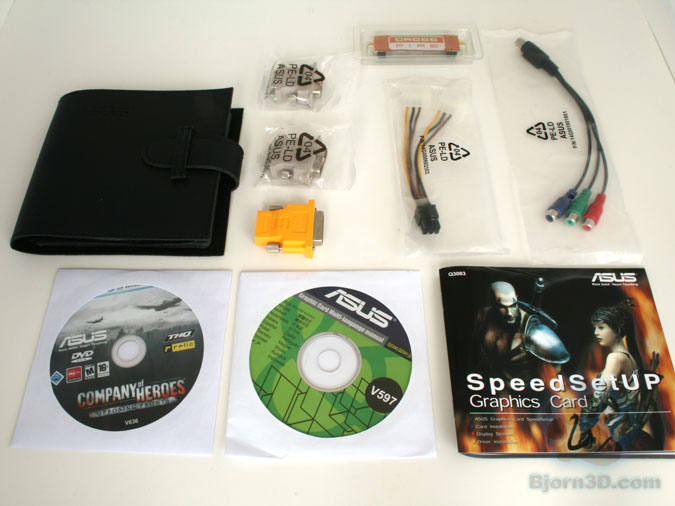 Game CD
Driver CD
2x DVI-VGA Adapters
DVI-HDMI Adapter
S/PDIF Cable
6-pin power adapter
Component cable Adapter
User manual
Leather CD wallet
CrossFire bridge connector
TEST SETUP
All tests were conducted on the following platforms. A format of the hard drives, followed by a fresh install of the OS, was done. The latest drivers were then installed and all non-essential applications were halted.
Test Platform
Processor
Intel QX9650 @ 3.5GHz
Motherboard
XFX 790i Ultra
Memory
2 GB (2 x 1 GB) Mushkin DDR3-2000
Drive(s)
1 – Seagate 80GB Barracuda SATA
1 – Samsung HD501LJ SATA
Graphics
Card 1 – ASUS EAH3820X2
Card 2 – ASUS EAH3870
Card 3 – ASUS 8800GT TOP
Card 4 – ASUS 8800GT TOP SLI
Card 5 – XFX 9600GT XXX
Card 6 – XFX 9600GT XXX SLI
Sound
On board
Cooling
Big Typhoon VX
Power Supply
OCZ GameXStream 850 watts
Display
Westinghouse 37″ LVM-37W3
Case
No case
OS
Windows XP SP2
All cards will be tested using a variety of games. For Crysis, we will be testing the game both without any image enhancements and then again with 2x Anti-Aliasing and 8x Anisotropic Filtering. All other games will be tested with 4x AA and 16x AF. The resolutions tested are 1280×1024, 1680×1050, and finally 1920×1080.
This will be the final card tested using WindowsXP as we migrate our systems to Vista. Whether you like Vista or wish it to some horrible grave for obscure software failures, the simple fact remains, if you want DirectX 10 you need Vista. So in our continuing efforts to give you the most up to date reviews, we are shifting our machines here in the Bjorn3D offices over to Vista. (We are keeping our personal machines on XP.)
OVERCLOCKING
There is a lot to overclock on that card. What I mean by that is we aren't just overclocking one GPU and eight memory chips. Oh no, not by a long shot. We are overclocking two GPUs and sixteen memory chips! What does that all mean? Well it means I am being pessimistic about how far we can push this card.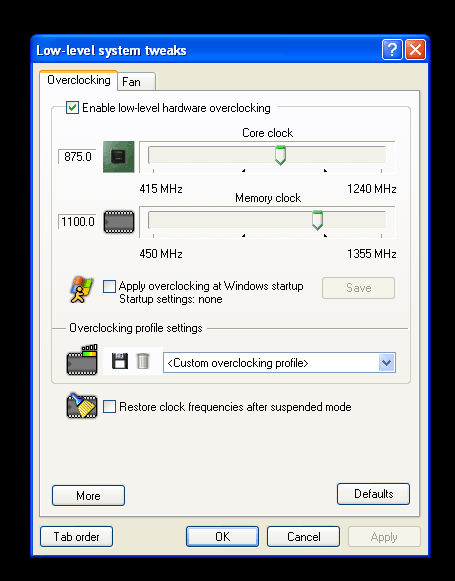 Impressive. A 200 MHz overclock on the memory is exactly what the doctor ordered! The core did not have the same luck and in the end was only able to jump up a miniscule 50 MHz. Ok, enough jibber jabber, let's fire this puppy up and see what its got.
TEST RESULTS
3DMark2006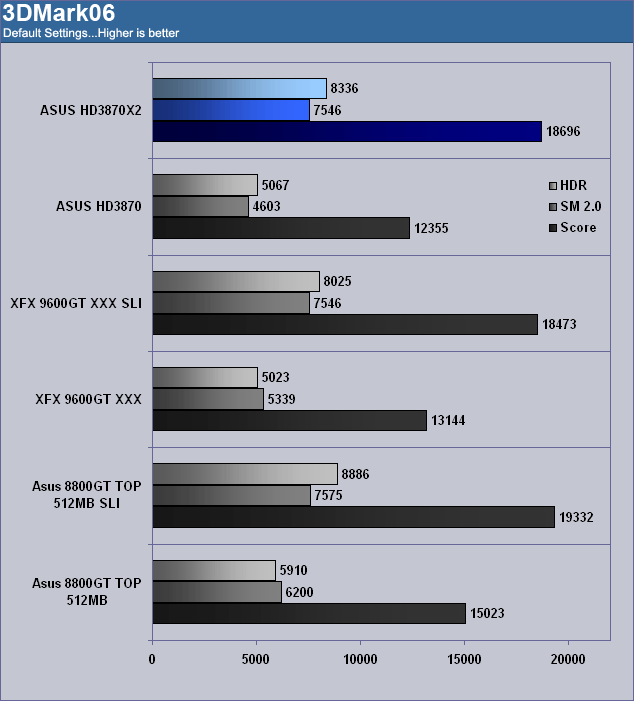 Call of Duty 4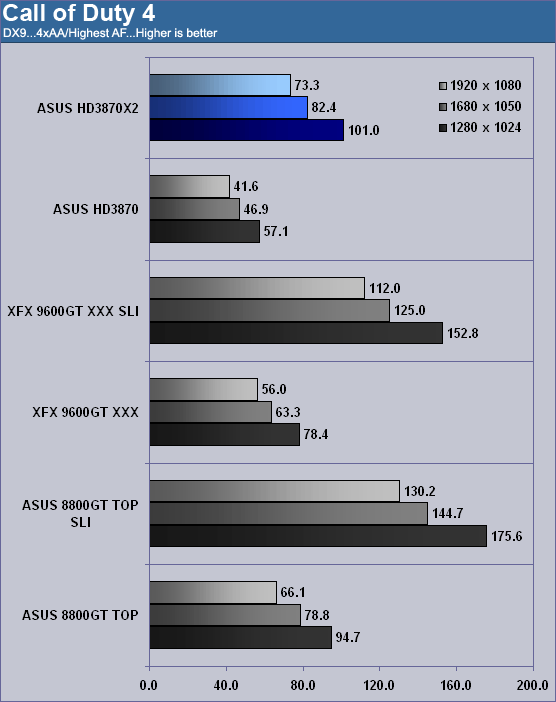 TEST RESULTS
Company of Heroes v1.71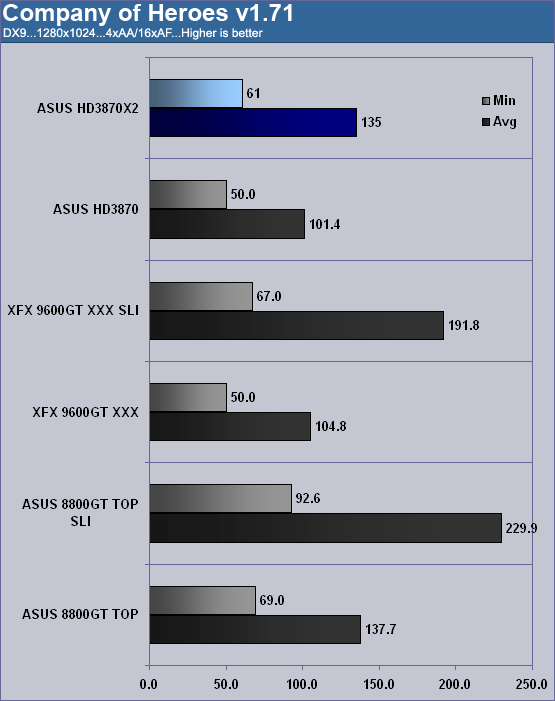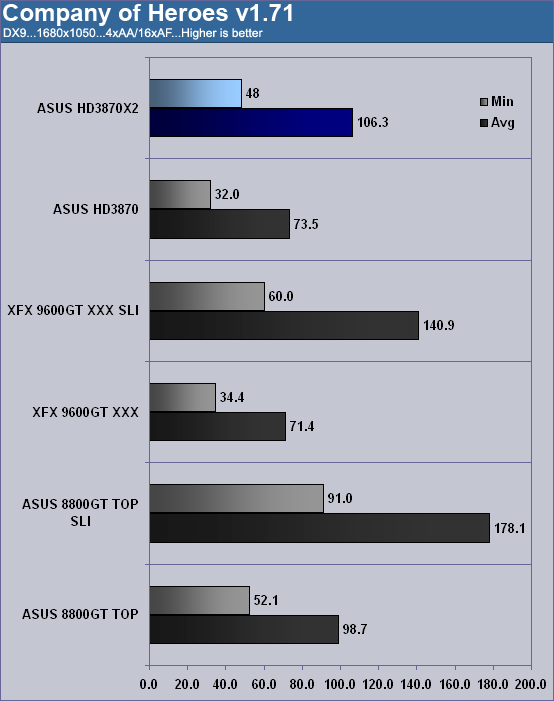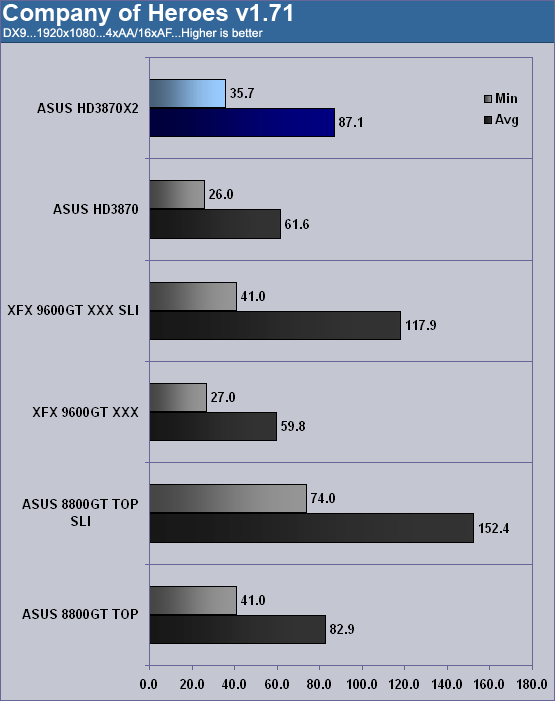 The Edler Scrolls IV – Oblivion v1.2.0416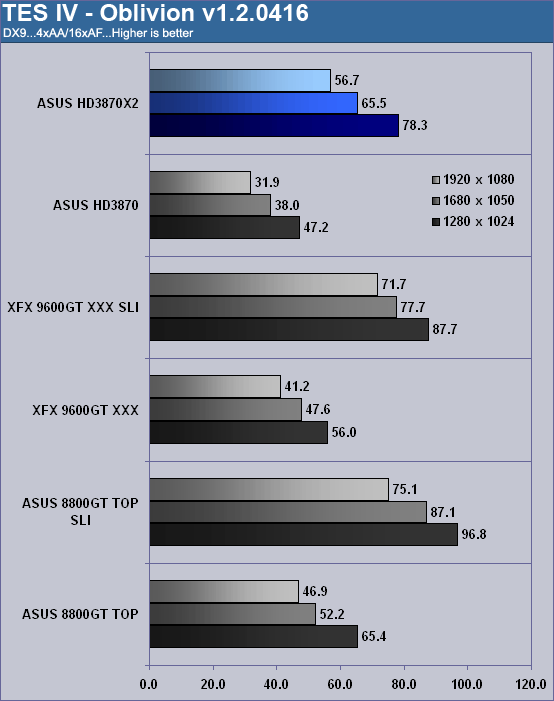 World in Conflict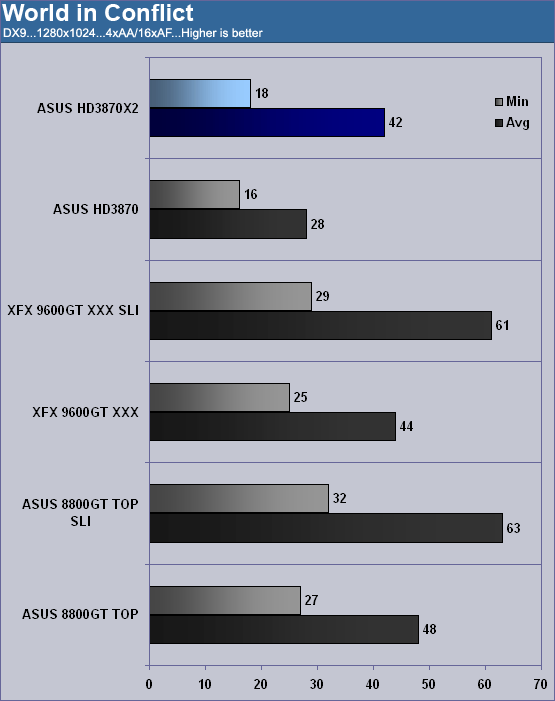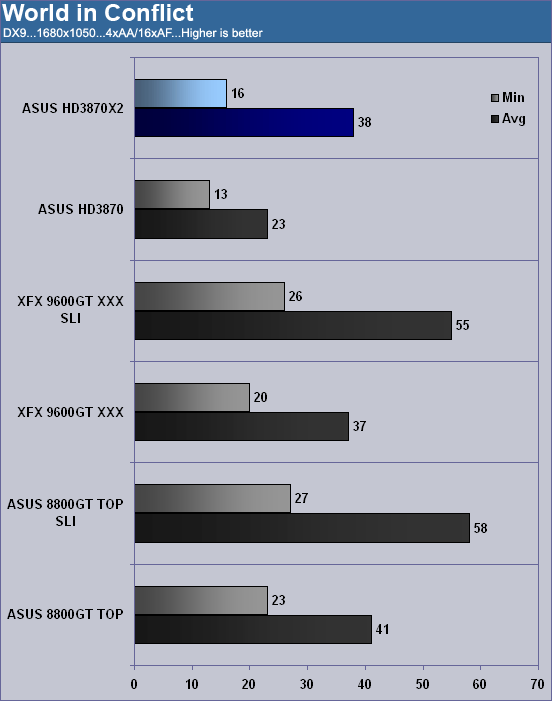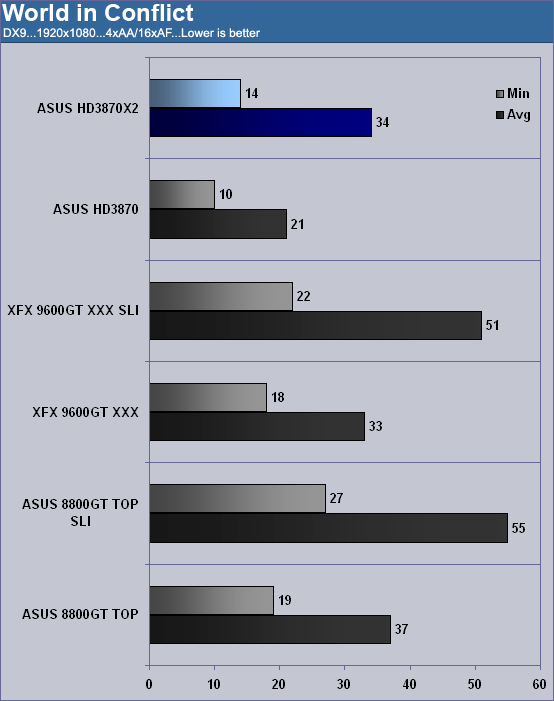 TEST RESULTS
Crysis v1.21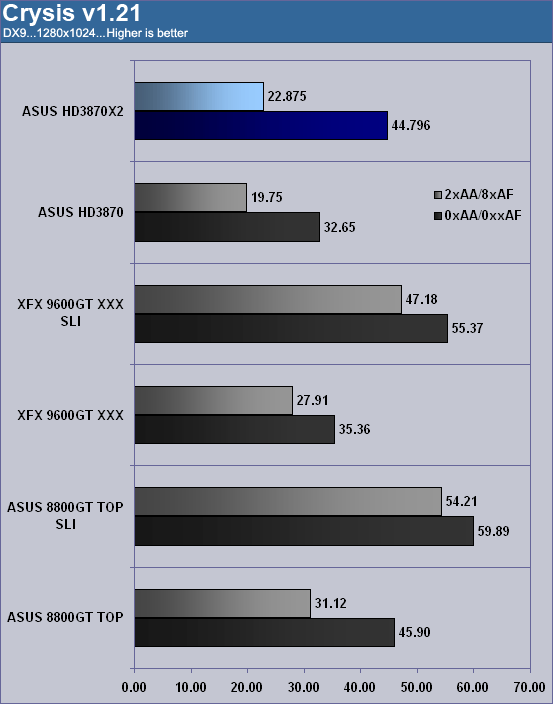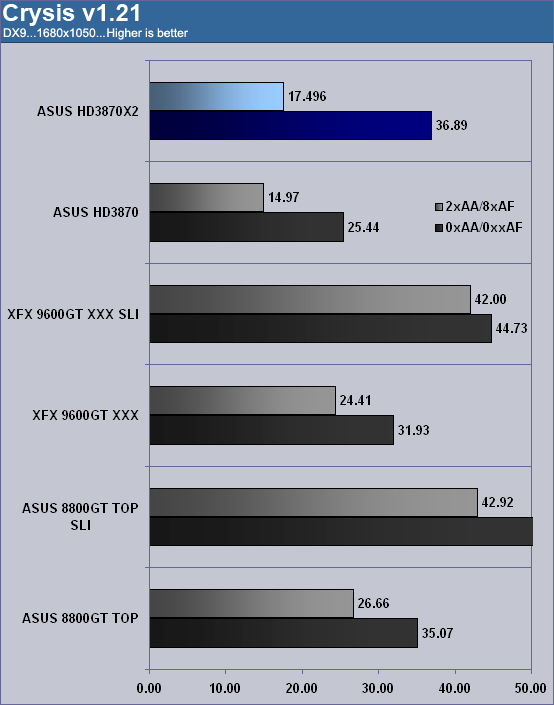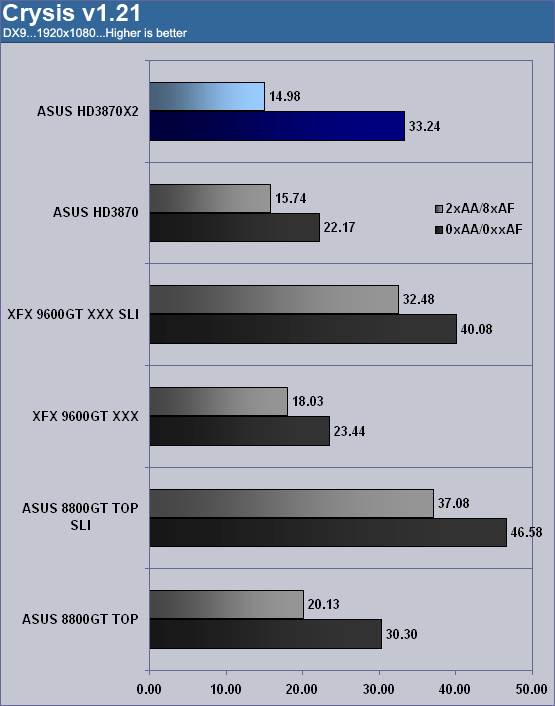 Power
Here is where we separate the men from the boys. Sure you've seen all the great performance this card has to offer but at what cost does it come? Will you need to refinance that home of yours to keep gaming for a few more months or will solar power be enough to keep you in the game? Power levels shown below are for the entire system sans monitor.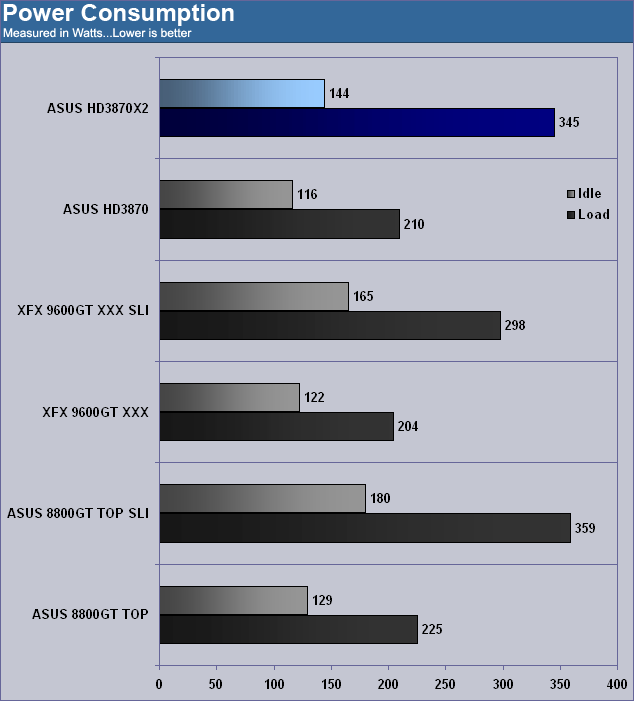 OUCH! The idle numbers are rock solid and rather impressive considering you have two GPUs sitting under the hood. Load numbers are just unacceptable for the level of performance you receive. For those who may be wondering, power measurements were taken during the same point in the Company of Heroes benchmark (the last 10 seconds) which, has been shown to push power levels far higher than any other means. The scores shown above are of the peak power levels recorded. Average power levels were approximately 5% lower.
Temp
Now that we have an idea about what kind of power the ASUS EAH3870X2 draws we can see just how effective its rather beefy heat sink and fans are.
Idle temps were taken after a 15 minute period of sitting at the desktop with no open windows. Load temps were recorded by using ATiTool 3D view to place a constant load on the card.
Temperature
Idle
Load
39
63
Not bad. The temps are pretty tolerable and at a load temp of 63º C you can be sure your card won't melt half way through your favorite game.
CONCLUSION
I feel in situations such as this, it is important to separate the card from the company. What I mean is that ASUS has taken lemons and done their best to make lemonade. The 3870 GPU from ATI is a pretty good GPU and making the 3870X2 out of two of them does give you better performance. Just not the ground-breaking performance you hope for. ASUS does everything they can to add value to this card by giving you a free game, a leather CD wallet, and plenty of accessories, but at the end of the day you aren't paying for the accessories, you are paying for performance.
How do we judge the performance of this card? If we look at it as a single card then it outperforms the NVIDIA 9600GT and keeps pace with the 8800GT. But it costs more than twice as much as those cards. If we consider the X2 to be a dual-card solution then its cost is easier to accept but its relative performance diminshes. The 9600GT in SLI defeats the X2 in every area including lower power consumption and can be had for far less than one X2. Truly a tough situation to be in.
I applaud ASUS for their efforts to make this card as valuable as possible. The performance just isn't there for the price this card is being sold at. Let's break it all down.
FINAL WORDS
Performance: 7.0/10 – The performance of this card places it in the middle of the pack just under the 8800GT and above the HD 3870 and 9600GT. You can run many of today's games with pretty good performance levels. Once you enable AA, the situation changes and this card suffers a pretty big hit.
Bundle: 8.5/10 – ASUS includes everything needed with their 3870X2. An added bonus is the free copy of Company of Heroes: Opposing Forces. For those who may be building a new system and not have any games yet, it is nice to see a free game included that will let you enjoy your new prize. Though a newer game would have added more value to the bundle. Toss in a bunch of adapters and extras and you have a well rounded bundle.
Value: 5.5/10 – ASUS is in a tough spot here as this card currently sells for $400.00 USD. While you do get close to twice the performance of the 3870 without the need for a Crossfire capable board, if you have a board supporting the competition's cards then that $400 can get you a lot more performance. Simply put, the price needs to come down. At least you can fold for a cure on it.
Pros:
+  Quad DVI output
+  Solid Crossfire scaling
+  Excellent bundle
+  Supports [email protected]
Cons:
–  Heat sink fan is rather loud
–  Expensive
The 3870X2 from ASUS scores a 7.0 out of 10