The ASUS ATI Radeon EAH3870 is up for review at Bjorn3D today. We are going to find out if it is more beneficial to own an ASUS EAH3870 or a Leadtek Winfast PX9600GT card.
INTRODUCTION
The ASUS ATI Radeon EAH3870 is up for review today at Bjorn3D and I am ready to dive in. It is a 512 MB DDR4 card with plenty of bang for the buck. Actually we are going to find out if it is more beneficial to own an ASUS EAH3870 or a Leadtek Winfast PX9600GT card. Both are priced closely at a wopping $20 difference. Will the 3870 perform better, achieve lower temperatures, and deliver the 9600GT a black eye? That is what we will find out in this review. Behold the goodness of ASUS, "Rock Solid – Heart Touching".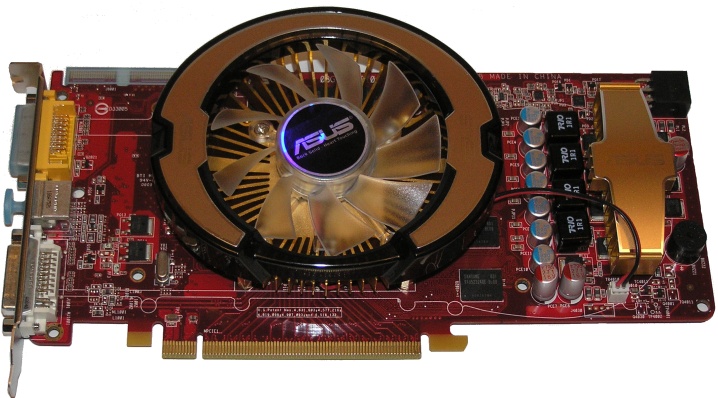 ASUS, a technology-oriented company blessed with one of the world's top R&D teams, is well known for high-quality and innovative technology. As a leading company in the new digital era, ASUS offers a complete product portfolio to compete in the new millennium.

In 2007, one in three desktop PCs sold was powered by an ASUS motherboard; and the company's 2007 revenues reached US$6.9 billion.

ASUS products' top quality stems from product development. It's like learning Chinese Kung-Fu; one must begin with cultivating the "Chi" and inner strength. Besides innovating cutting-edge features, ASUS engineers also pay special attention to EMI (electromagnetic interference), thermal, acoustics and details that usually go unnoticed to achieve complete customer satisfaction. ASUS notebooks are the first TCO'99-certified notebooks worldwide.
FEATURES
ASUS Features
Fastest DDR4 memory:
Ultimate DirectX 10 Gaming Performance with Fastest DDR4 Memory
Exclusive Hottest DX10 Game bundle:
Company of Heroes – Opposing Fronts
ASUS Splendid:
Watching movies on PC is as good as on Top-of-the-line consumer television
ASUS Gamer OSD:
Real-time overclocking, benchmarking and video capturing in any PC game!
ASUS Video Security Online:
Keep an eye on your home at all times no matter where you are
ASUS SmartDoctor:
Your intelligent hardware protection and overclocking tool.
Graphics GPU Features
ATI® Radeon® HD 3870
PCI Express & PCI Express 2.0 support
HDMI Output: built-in multi-channel 5.1 surround audio over DVI-HDMI Adaptor
ATI CrossFireX™: plug-and-play ATI CrossFireX technology with up to quad-GPU support.
Microsoft DirectX 10 and Shader Model 4.0 support
OpenGL®2.0 support
HDCP compliant
I/O Specifications
PCI-Express 2.0
HDTV-out
DVI * 2
D-Sub
HDMI
HDCP compliant
SPECIFICATIONS
ASUS ATI Radeon HD EAH3870
Leadtek Winfast PX9600GT

Specification

Specification

Fabrication Process
 55nm
 65nm
Bus Standard
PCI Express 2.0 x16
PCI Express 2.0 x16
Video Memory
DDR4 512MB
DDR3 512MB
Engine Clock
775MHz
720MHz
Memory Clock
2.25 GHz (1.125 DDR4)
1800MHz
RAMDAC
400MHz
Dual 400MHz
Stream Processors
320
64
Memory Interface
256 bit
256 bit
3D API
Directx 10, OpenGL 2.0
Directx 10, OpenGL 2.0
DVI Max Resolution
2560 x 1600
2560 x 1600
D-Sub Output
1 (via DVI to D-Sub adapter)
1 (via DVI to D-Sub adapter)
DVI Output
2 (DVI-I)
2 (DVI-I)
HDMI Output
1 (via DVI to HDMI adapter)
1 (via DVI to HDMI adapter)
HDTV Output
Yes
Yes
HDCP Support
Yes
Yes
TV Output
1 (S-Video to Composite)
1 (S-Video to Composite)
Loudness
Quiet 25dB
N/A
Heatsink
ASUS Glaciator Fansink
N/A
Adapter/Cable Bundled
1 x DVI to D-Sub adapter
1 x DVI to HDMI adapter
1 x HDTV-out cable
1 x CrossFire cable
1 x Power cable  
1 x DVI to VGA converter
1 x HDTV-out cable
1 x Power cable  
Software Bundled
ASUS Utlities & Driver
"Hottest 3D Game:"
Company of Heroes – Opposing Fronts  
NVIDIA Software and Drivers
Note

Special Bundled: CD Leather Wallet

None

Dimensions
11.1cm x 22.9cm
4.376in x 9in
10.8cm x 22.9cm
4.28in x 9in
GamerOSD
ASUS has done a great job, in my opinion, with the software that comes with this card. Namely, the GamerOSD software. It allows you to make changes to the core clock in-game. It also has several other features. Below, is a description from ASUS's website about this software.
Real-time overclocking, benchmarking and video capturing in any PC game
Want to boost graphics card performance without exiting the game? Activate ASUS GamerOSD anytime during gameplay and adjust the GPU clock for instant overclocking. Real-time FPS (frames per second) status is also available to keep track of performance improvements.
Function descriptions:
Page 1: 3D Display Setting
Overclock During Games
In this page, you can keep track of benchmarks and GPU overclocking, adjust the gamma, brightness, and contrast values even when playing PC games.
Page 2: Video Capturing
Capture videos of your gameplay into smooth video files. You can even turn your gaming PC into a broadcasting server to let your friends watch your videos in real time!
Page 3: Screenshots
Capture single or multiple images; or even animated GIF files with GamerOSD. You can now easily share your gaming experiences on game blogs, forums or websites.
I couldn't stop with just giving everyone a description of what the software does, I had to give you all a taste of what it can do. Screenshots and a video I uploaded to YouTube. I chose Call of Duty 4 as my demo. Please view the goodness below.
The quality of the video on YouTube of course is crappy, but the original download is as if you were playing the game. Here are some screenshots through GamerOSD that I took in COD 4.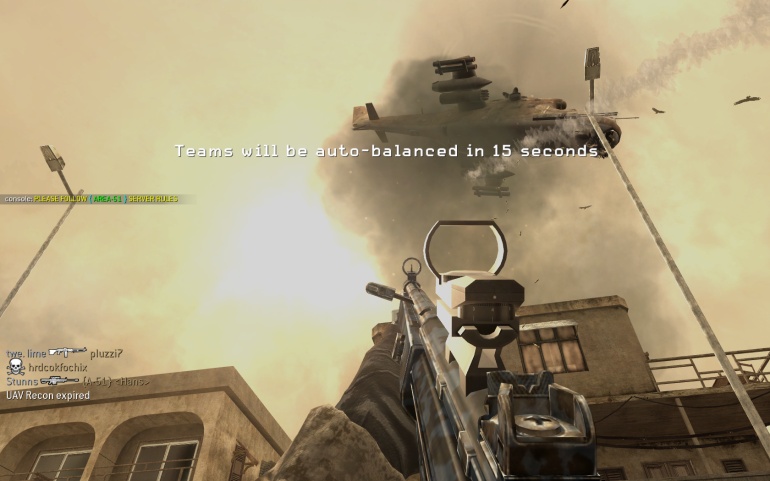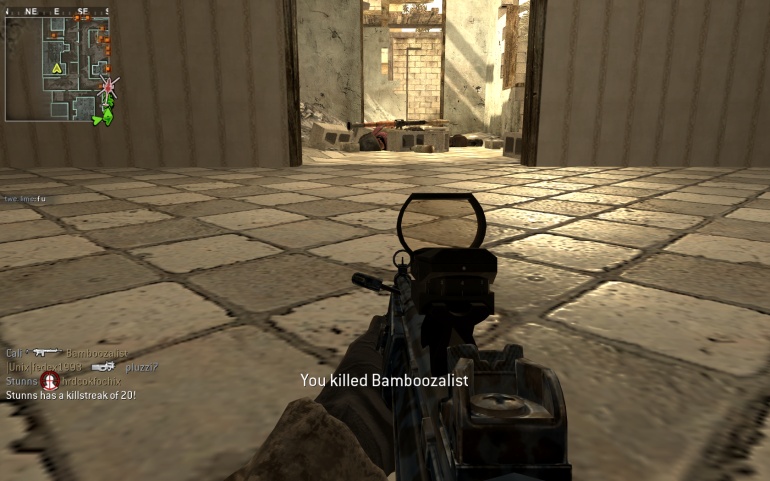 I did experience some technical problems when the GamerOSD was enabled. If I changed COD 4 settings while in the game with the GamerOSD's frames per second turned on, I would get random shutdowns. There was no information in the event viewer to tell me what was happening. It would happen at random times during game play. I really like the software but they do need to work out some of the bugs.
VIDEO SECURITY
This software requires either a USB cam or IP based cam to work. Recording video will also take a large hard drive probably dedicated just to recordings. I did not have the equipment required for this so I will let ASUS tell it how it is. 
ASUS VideoSecurity Online
Private security system that provides peace of mind wherever you are
VideoSecurity Online provides you with various security monitoring modes. Aside from the basic recording mode, you can also specify a particular surveillance area for motion detection. In case a motion is detected in the defined surveillance area, VideoSecurity Online automatically raises an alarm, records a video or take snapshots and save it to your hard disk. You can also set it to send either an email notification with still images or send a phone call with prerecorded voice to notify you of the event. VideoSecurity Online also can stream real-time video of the monitored area to your web browser, allowing you to monitor your home or office when you are away.

• Acts as a stand alone web server to stream
real-time images of your place to any web
browsers

• Users can also decide whether they want to receive warnings through email or make a warning call to a user-defi ned phone numbe



•

When unusual events are detected, it can be recorded into movie fi le for later reference.




• Execute a user-defi ned program in case of unusual events.
SMARTDOCTOR
This was another favorite of mine. This software also allows you to change the core clock and memory speeds on the fly. It has a monitoring system that allows you to monitor the memory temperatures, and the GPU's temperature. It has fan monitoring and also the ability to change the fan speeds. SMARTDOCTOR also supports AGP. If you have an AGP card you can also monitor the power level. Here is what ASUS has to say about it its product.
ASUS SmartDoctor
Shader Clock overclocking and intelligent hardware protection tool
ASUS SmartDoctor is a group of special tools to help users make the most of their ASUS graphics cards. It monitors the Fan RPM, AGP Power Level, GPU and RAM temperature, and has a slide bar for easy manual overclocking. Furthermore, the embedded HyperDrive and SmartCooling technology can dynamically overclock and change the fan speed for better performance and convenience. With its comprehensive hardware monitoring functions it provides you with the best graphics card investment protection and best performance when overclocking.
| | |
| --- | --- |
| | AGP Power Level Monitoring  |
|   | AGP Power Level Monitoring can detect the power level from the AGP bus to the graphics card to ensure the stability of your valuable system |

| | |
| --- | --- |
| | Temperature level monitoring |
|   | With temperature monitoring, you can detect the temperature level for important component including GPU and memory on the graphics card to ensure the safety of your valuable system |

| | |
| --- | --- |
| | Fan RPM Monitoring |
|   | Fan RPM Monitoring offers this extra safety feature to ensure you that the fan on the graphics chip is functioning well |

| | |
| --- | --- |
| | Shader Clock Overclocking |
|   | Shader Clock and Engline Clock can be tweaked independently to boost astonishing performance |
Note: The shader clock overclocking function can apply to all ASUS EN8x Series graphics cards.
Advanced Functions:
ASUS SmartCooling
Dynamic fan speed controller for a quiet work environment
SmartCooling is an ASUSexclusive technology that effectively reduces the fan noise under normal use, and dissipates the heat when the GPU loading is high. SmartCooling only works on specially designed ASUS graphics cards with monitor chip that can detect and adjust the board temperature and fan speed.
When activated, SmartCooling allows you to set five(5) GPU temperature thresholds and the fan speed dynamically changes according to this temperature threshold. When the the GPU temperature is below the lowest threshold, SmartCooling automatically reduces the fan speed to the lowest fan speed level to reduce noise and save energy. Moreover, when the GPU temperature passes over the threshold, SmartCooling automatically increases the fan speed for better heat dissipation.
ASUS HyperDrive
Maximize the 3D graphics power of your card with three ASUS-exclusive dynamic overclocking features
The original SmartDoctor allows you to manually adjust both core and memory clocks to boost your graphics card performance. Now ASUS features the new HyperDrive technology, that allows you to easily and dynamically change the speed of the GPU and memory to gain more power from your graphics card. HyperDrive is the first in the industry to provide three modes of overclocking:
 

3D Game Mode:


Recommended for game enthusiasts. In 3D Game mode, HyperDrive detects whether there are 3D applications running on the system and automatically increases the GPU core clock to provide smoother motions and better performance.

 

 

CPU Usage Mode:


This mode adjusts the GPU speed according to the working load of the CPU. If HyperDrive finds the CPU loading high, it automatically increases the GPU speed to share the load, hence providing better system performance.

 

 

Temperature Mode:


In this mode, HyperDrive monitors and adjusts the working speed of the GPU according to the GPU temperature. To cool down the system, HyperDrive decreases the GPU speed if the temperature gets too high
PACKAGING
ASUS does a fairly good job with packaging. My only beef is that the box is huge. At 46.4cm x 30.5cm x 8.3cm, the box is larger than most other graphics card boxes I have seen. Not a big deal, but in my opinion is a waste of cardboard. The top of the box is adorned with a picture of the game that the package comes with, Company of Heroes: Opposing Fronts.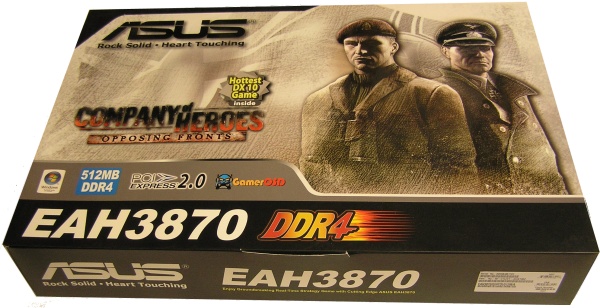 The top of the inside lid features one of the software pieces that comes with this ASUS card, GamerOSD. As I said before, it allows you to adjust the GPU clock while you are playing a game. It also features a real-time frames per second (FPS) status to keep track of performance improvements.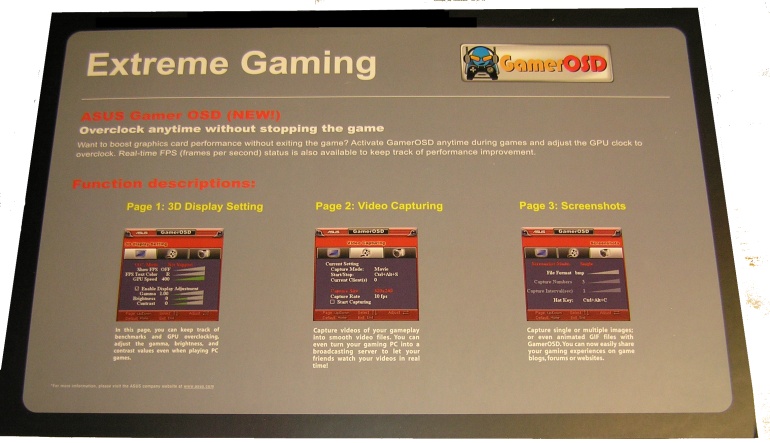 Underneath the lid, an overview of Company of Heroes: Opposing Fronts awaits you. It explains about what the updates to the game are from the original COH. I have to admit, it is a pretty fun game. It isn't like normal real-time strategy games. Objectives are spread out over the map and you are in a constant battle for resources. Ok it sounds the same, but trust me it is a whole different ball game. Moving on to contents.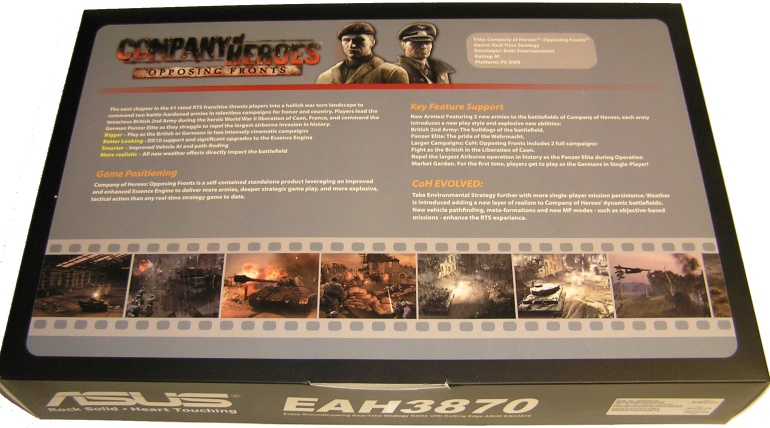 CONTENTS
I was quite pleased with ASUS's contents, everything that a person would need to use the card was there. This included, EAH3870/HTDI/512M, driver disk, COH game disk, user manual, HDTV Cable, Two 4-pin to one 6-pin converter power cable, DVI to VGA/D-sub adapter, DVI to HDMI adapter, CrossFire bridge connector, s-video to composite adapter, and CD wallet. Quite the contents. The cd wallet was an interesting addition I thought.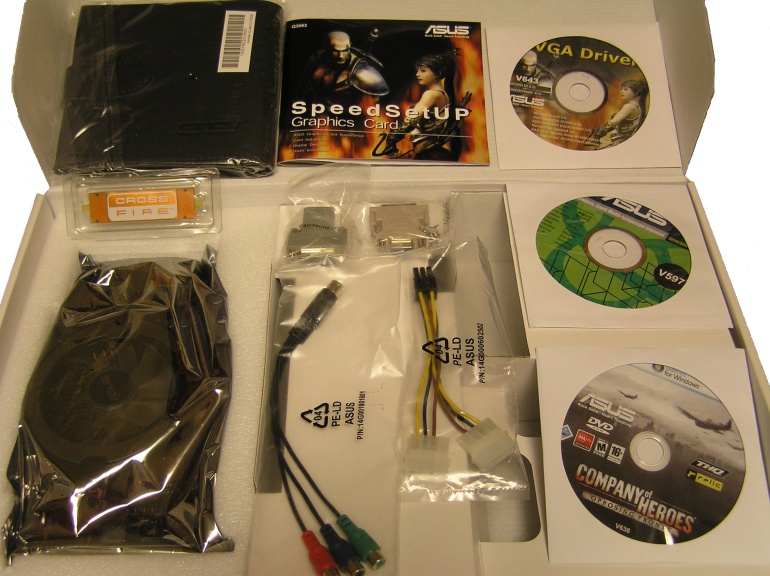 THE CARD
ATI has pretty much always had a plain Jane red PCB board. I think NVIDIA has the upper hand on them in style on this one. The ASUS Glaciator Fansink does keep the core cool although, none of the memory chips have heat spreaders on them.  I think that this is a slight downside to the card. The TOP version of this card does have a different heatsink that covers the card and ports the air out via the slots in the back of the case. I have actually seen the same heatsink on this version but I believe those were first editions.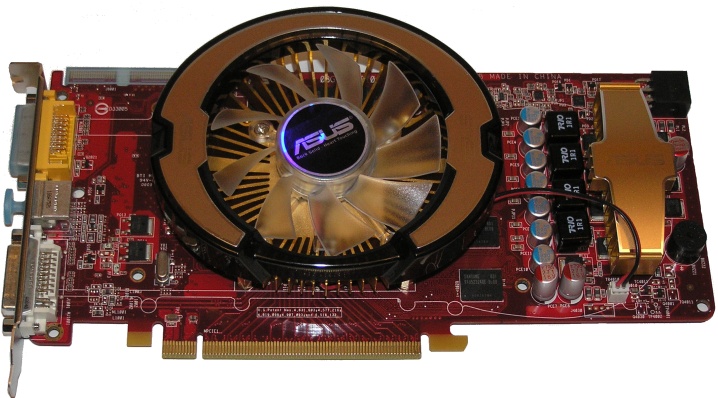 The picture below has the other heatsink which I think would have been more appropriate for the card. Although, the card above only uses one slot on the back of the case, it still takes up two slots inside the case.
As I said before the ASUS EAH3870 is a single slot card but does take up two slots inside. The yellow DVI shown below is the primary input and the white DVI is the secondary input. In between the sandwich of DVIs lies the s-video.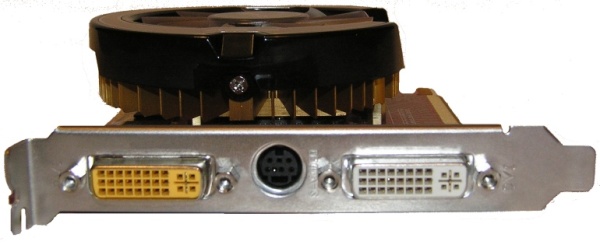 Here you will see the six pin power input and also a view of the heat spreader for the voltage regulators. The heat spreader does a great job of keeping the voltage regulators cool as I did not experience much heat from touching it after it had been on for an hour.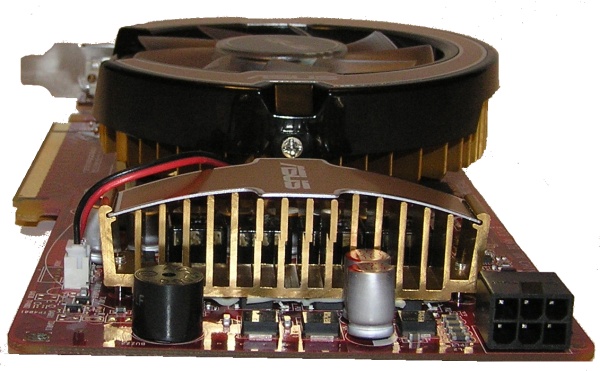 TEST METHODOLOGY
Test Platform

Processor

Intel E4300 Core 2 Duo at 1.8GHz and OC'd to 3GHz

Motherboard

Memory

G.SKILL 2GB (2 x 1GB) 240-Pin DDR2 SDRAM DDR2 800 (PC2 6400)

Drive(s)

Western Digital Caviar SE16 250GB (WD2500KS-00MJB0)

Graphics

ASUS EAH3870 (Cat. 8.5) 512MB / Leadtek Winfast PX9600GT (174.74)

Cooling

ZALMAN CNPS9500 LED 92mm 2 Ball Cooling Fan with Heatsink

Power Supply

Tagan 1000W

Display

Dell 2007WFP

Case

NZXT HUSH

Operating System

Windows XP Professional
Synthetic Benchmarks
3DMark06 v. 1.1.0
Games
Company of Heroes v 1.71 (4AA/16AF)
Crysis v1.71 High Settings
World in Conflict v1.007 (4AA/16AF)
The games here seem to be some of the most popular to bench and play for that matter and was my reason for choosing these. Since Company of Heroes: Opposing Fronts also comes with the ASUS EAH3870, I decided it would only be right that it was benched too. Now on to the results!
TEST RESULTS
3DMark06
3DMark®06 is the worldwide standard in advanced 3D game performance benchmarking. A fundamental tool for every company in the PC industry as well as PC users and gamers, 3DMark06 uses advanced real-time 3D game workloads to measure PC performance using a suite of DirectX 9 3D graphics tests, CPU tests, and 3D feature tests. 3DMark06 tests include all new HDR/SM3.0 graphics tests, SM2.0 graphics tests, AI and physics driven single and multiple cores or processor CPU tests and a collection of comprehensive feature tests to reliably measure next generation gaming performance today. Futuremark's exclusive Online ResultBrowser web service tracks and compares 3DMark06 scores.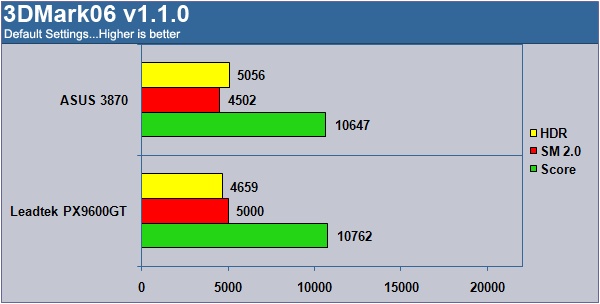 Company of Heroes: Opposing Fronts

Company of HeroesTM: Opposing FrontsTM is the next chapter in the groundbreaking real-time strategy  franchise from critically acclaimed studio Relic Entertainment… Players will experience fast-paced dynamic tactics like never before, in two of the most brutal World War II campaigns ever fought.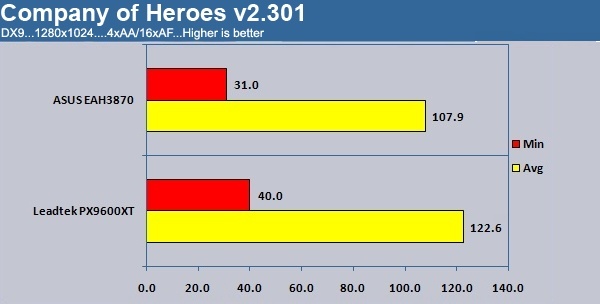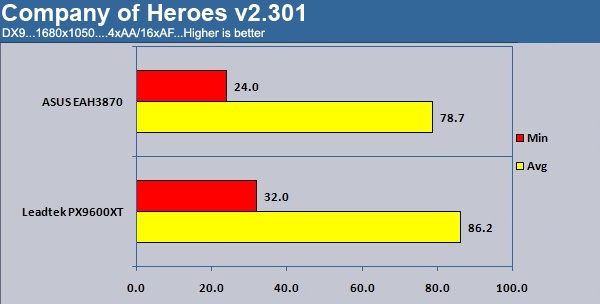 World in Conflict

World in Conflict is the action strategy game where players defend their country, their hometown, and their families in the face of Soviet-led World War III, delivering an epic struggle of courage and retribution.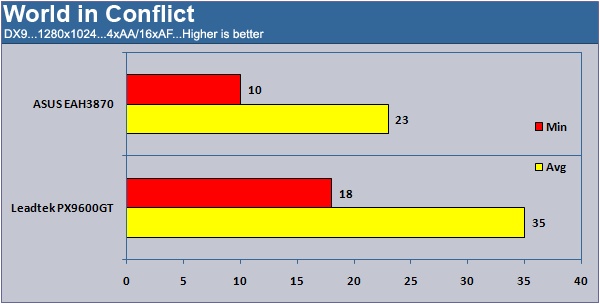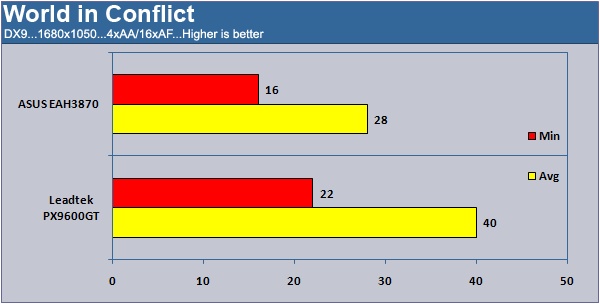 Crysis: A team of US scientists makes a frightening discovery on an island in the South China Sea. All contact with the team is lost when the North Korean Government quickly seals off the area. Now the US and North Korea must join forces to battle the alien menace. With hope rapidly fading, you must fight epic battles through tropical jungle, frozen landscapes, and finally into the heart of the alien ship itself for the ultimate Zero G showdown.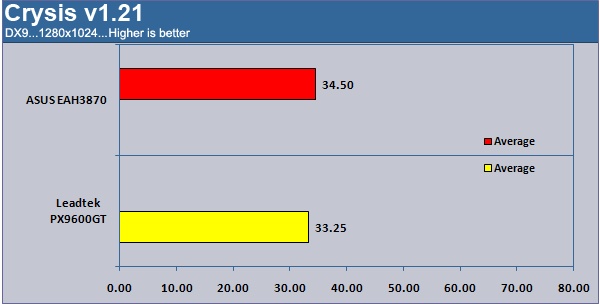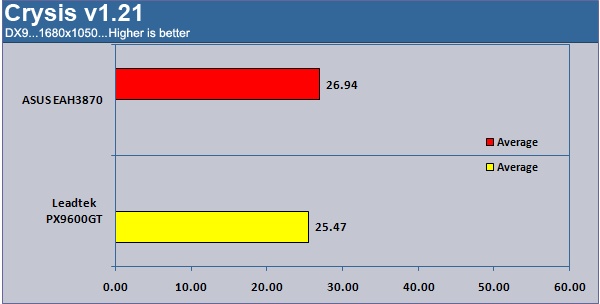 OVERCLOCKING
For any enthusiast or extrovert who believes in going further than they should overclocking is a must. Since this was the base model of the 3870, I decided to try and overclock it to the TOP edition. The core clock on the TOP is 851MHz and the memory is 2280MHz. I had it overclocked to those specs for a while but it eventually crapped out on me. So I began turning back until I got a good stable overclock. It turns out the card that was given to me was only able to overclock to 845MHz core clock and 2294MHz memory clock. I have read other forums where they have acheived higher overclocks but this is where this one stands. So, on to more results.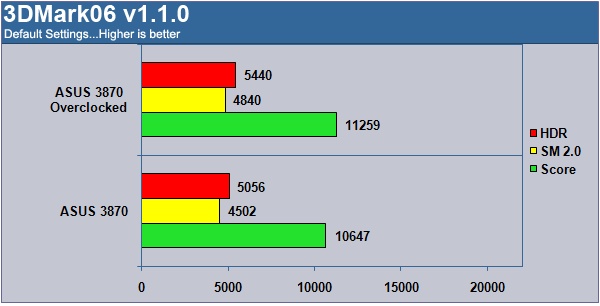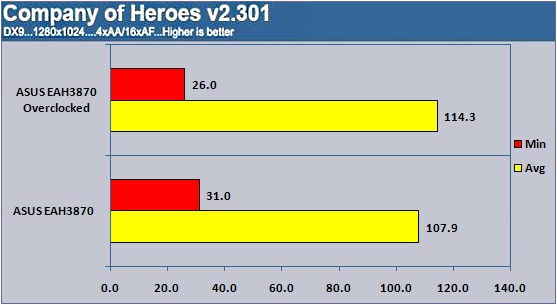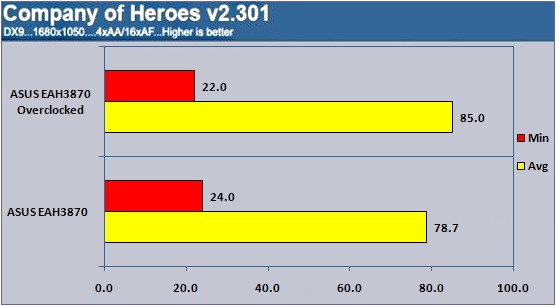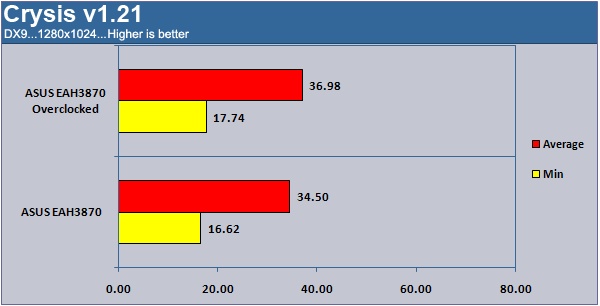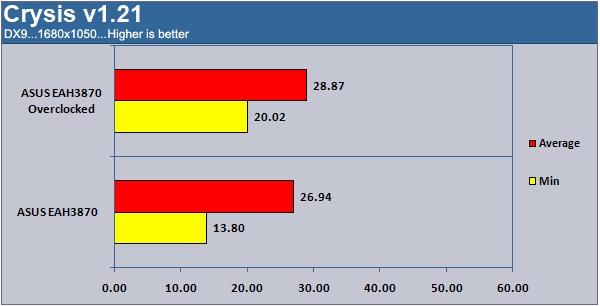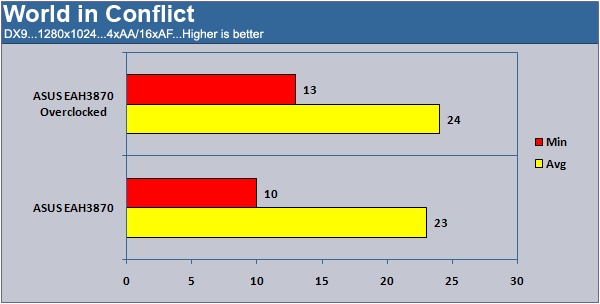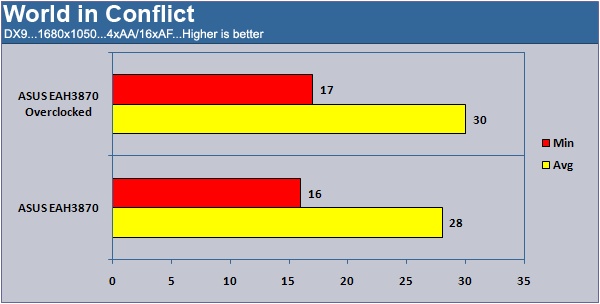 TEMPERATURES
Although the heatsink fan ASUS decided to put on the EAH3870 did not port out the back, it does keep the card fairly cool. I was suprised. Temperatures were taken with Everest running while I ran the gammit of games. The table below shows the temperatures for pre-overclocked and overclocked. I was impressed when I saw the overclocked temperatures and noticed that they were only a few degrees higher than when it wasn't overclocked. Then fan only ran at 60% when it was overclocked. Even at 60%, it was quiet. Right now, having it not overclocked, it runs at 20%. Very quiet.
Temperature
Idle
Load
35
59
Temp Overclocked
Idle
Load
37
62
CONCLUSION
Well, the tests show all. The PX9600GT by Leadtek barely takes the cake. It is $20 cheaper from Newegg, and faster (barely). There are two things the ASUS EAH3870 has over the Leadtek card and that is the temperature differences and the software bundle. The Leadtek card at idle ran at 42°C while at load ran at 63°C. This was 7 degrees hotter at idle and 4 degrees hotter at load. The software that comes with the card enhances its overall usefulness, and you get Company of Heroes: Opposing Fronts to boot. Over all, this is a good card. It is easily overclockable through either the SmartDoctor software by ASUS or through the Catalyst Control Center by ATI and other than the GamerOSD software rebooting my computer, was a great idea. Let's hope they come out with some patches or new releases.  
Pros:
+ Temperatures were cool
+ Crossfire capabilities
+ Excellent bundle
+ Quiet
+ Game included
 
Cons:
–  GamerOSD shutdown the machine intermittently
–  Slightly more expensive than the PX9600GT
–  Heatsink and fan did not port out the back of the case
The ASUS EAH3870 receives a 7.5 out of 10 and receives the Bjorn3D Seal of Approval. The reason for the seal is that the card by itself is a good card.  Take out the GamerOSD, and being slightly more expensive ($20) it stands as a good card.