The Leadtek Winfast GTX-260 is one of the two latest greatest GPU offerings from nVidia. Offering a clock speed of 576 and memory of 896 Meg will it crush the 8800GT Alpha Dog?
INTRODUCTION
With the release of the new NVIDIA GTX-280/260 class of GPUs we see that rare time when enthusiasts and graphics lovers are avidly following the developments and performance of the "New Generation" video cards. Around this time there's always a lot of speculation about the previous generation and how it compares to the current generation. There's always a generous amount of truth, a modest amount of speculation, and a dash or two of hype to spice up the debate.
We at Bjorn3D have been in the thick of the Graphics Revolution for more than 10 years and seen the latest and greatest released to much fanfare on a lot of occasions. Some of the events were mere rehashes of the old architecture with a few bugs worked out and a higher clock and memory speed here and there. Those events were more the computer industries habit of using 20/20 hindsight to get a product that was well done perfected to what, in a more perfect world, it should have been to begin with.
It's a lot more uncommon to see an actual evolution of graphics solutions but things began to get exciting when NVIDIA came out with the G80 core, things heated up and got really exciting with the release of the G92 core. After NVIDIA acquired PhysX technology and applied it to the new GT200 core the GTX-280/260 class was born.
Having been consumers of graphics cards for many years here at Bjorn3D, with a great appreciation for the new technology and "Eye Candy" it can provide we can tell you there's a special feeling we get when basking in the glow of a high end GPU. Nay sayers will argue that the GTX-280/260 line is nothing more than a G92, they would be wrong. After basking in it's glow (Yes we have GTX tan lines) we can tell you definitively it's not a G92 it's a GT200 core with a side of PhysX thrown in for good measure.
Leadtek was nice enough to send us a Winfast GTX-260 to take for a test drive. Having heard the cries of our readers we decided to take a different tack at this test drive and do a direct comparison between the Leadtek GTX-260 and an XFX 8800 GT Alpha Dog. Going more in depth with a head to head comparison between an old favorite and the new kid on the block.
So set back, get your favorite beverage and snack handy and together we'll see if the Alpha Dog can run the GTX-260 off the porch.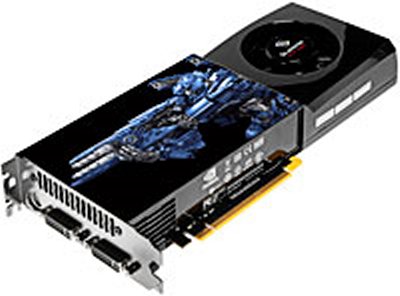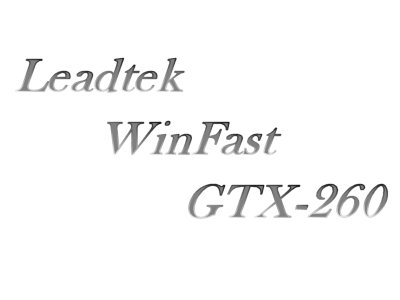 "Innovation and Quality " are all and intrinsic part of our corporate policy. We have never failed to stress the importance of strong R&D capabilities if we are to continue to make high quality products with added value.

By doing so, our products will not only go on winning favorable reviews in the professional media and at exhibitions around the world but the respect and loyalty of the market.

For Leadtek, our customers really do come first and their satisfaction is paramount important to us.

Using all digital means of communication available – such as our regularly updated Website- customers, current and potential, are easily able to refer to our catalogue of products with information on prices, services and future developments.

Looking ahead, Leadtek will continue to maintain its status on the Asia-Pacific market while extending its global sales network. By combining our trend-setting graphics, multimedia audio and video, communications technologies, we remain dedicated to cutting edge technologies and value added products.

We will work toward further integration of computer and communications technologies with our sights set on combining multimedia videophony, and GPS (Global Positioning System) in a single product. Also to extend the market for broadband network devices.

Our ultimate goal is to facilitate and improve human life through new technology and applications without harming the environment.

Together we can dream of a world where we enjoy the convenience of modern technology without compromising our natural heritage for future generations.

And turn even this Dream into a Reality with Leadtek.
SPECIFICATIONS AND FEATURES
Leadtek GTX-260 Specifications
Specification
Fabrication Process
65nm GT200
Number of Transistors
1400 Million
Shader Clock (Processor Cores)
1242 MHz
Processor Cores
192
Core Clock / Memory Clock
576 MHz / 999 MHz
Memory Interface
448 bit
Total Memory Bandwidth
111.9 GB/sec
Memory Size
896 MB
ROPs
28
Texture Filtering Units
64
Texture Filtering Rate
36.9 GigaTexels/sec
HDCP Support
Yes
HDMI Support
Yes (Using DVI to HDMI adaptor)
Connectors
2 x Dual-Link DVI-I
1 x 7-pin HDTV Out
RAMDAC's
400 MHz
BUS Technology
PCI-Express 2.0
Form Factor
Dual Slot
Power Connectors
2 x 6-pin
Max Board Power
182 Watts
GPU Thermal Threshold
105° Celsius
NVIDIA PhysX
Supported
If there's anything you'll learn over the years with computer components it's that the advertised specifications don't always meet the real specifications so at Bjorn3D we make it a point to check the advertised specification against the software reported specifications in the off chance that there's an honest typo somewhere in the print; so here's the GPU-Z reported specifications.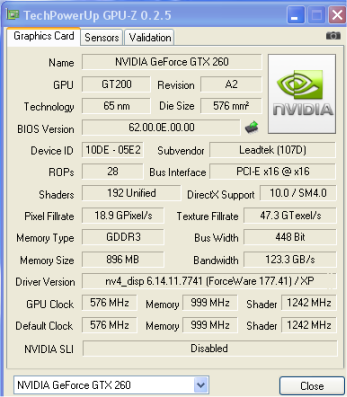 Taking a look at the advertised specifications in comparison with the GPU-Z reported specifications we can see that every thing is as it should be. Both advertised specifications and GPU-Z match exactly like they should.
A little bit later on we'll get into the whole GTX-260/XFX 8800 GT Alpha Dog comparison but right now let's let the Leadtek WinFast GTX-260 have the limelight.
If your really interested in the ongoing examination of the architecture of the GTX-280/260 we've got an in depth and very interesting article written by Miles Cheatham and Gregg Gonsowski called "XFX GTX 280: A Preview of What's to Come." If you missed it you can find that informative article here
Features
2nd Generation NVIDIA® unified architecture
50% better gaming performance than previous generation through enhanced processing cores.

NVIDIA® Lumenex™ Engine
Delivers stunning image quality and floating point accuracy at ultra-fast frame
16x Anti-aliasing: Lightning fast, high-quality anti-aliasing at up to 16x sample rates obliterates jagged edges.
128-bit floating point High Dynamic-Range (HDR): Twice the precision of prior generations for incredibly realistic lighting effects

Full MicrosoftR DirectX®10.0 Shader Model 4.0 Support

DirectX 10 GPU with full Shader Model 4.0 support delivers unparalleled levels of graphics realism and film-quality effects.

3-way NVIDIA SLI™- Ready
Offers amazing performance scaling by implementing AFR (Alternate Frame Rendering) under Windows Vista with solid, state-of-the-art drivers.

NVIDIA PhysX -ready technology
Enable a totally new class of physical gaming interaction for a more dynamic and realistic experience

Dual-stream Hardware Acceleration
Provides ultra-smooth playback of H.264, VC-1, WMV and MPEG-2 HD and Blu-ray movies.

PCI Express 2.0 Support
Designed to run perfectly with the new PCI Express 2.0 bus architecture, offering a future-proofing bridge to tomorrow's most bandwidth-hungry games and 3D applications by maximizing the 5 GT/s PCI Express 2.0 bandwidth (twice that of first generation PCI Express).

Dual-stream Hardware Acceleration
Provides ultra-smooth playback of H.264, VC-1, WMV and MPEG-2 HD and Blu-ray movies.
 
PCI Express 2.0 Support
Designed to run perfectly with the new PCI Express 2.0 bus architecture, offering a future-proofing bridge to tomorrow's most bandwidth-hungry games and 3D applications by maximizing the 5 GT/s PCI Express 2.0 bandwidth (twice that of first generation PCI Express).
 
High dynamic-range (HDR) Rendering Support
The ultimate lighting effects bring environments
 
NVIDIA® PureVideo ™ HD technology
The combination of high-definition video decode acceleration and post-processing that delivers unprecedented picture clarity, smooth video, accurate color, and precise image scaling for movies and video.
 
HybridPower Technology support
Delivers graphics performance when you need it and low-power operation when you don't. HybridPower technology lets you switch from your graphics card to your motherboard GeForce GPU when running less graphically-intensive applications for a silent, low power PC experience.
 
HDCP Capable
Allows playback of HD DVD, Blu-ray Disc, and other protected content at full HD resolutions with integrated High-bandwidth Digital Content Protection (HDCP) support.
 
GigaThread™ Technology
Massively multi-threaded architecture supports thousands of independent, simultaneous threads, providing extreme processing efficiency in advanced, next generation shader programs.
 
High-Speed GDDR3 Memory
Enhanced memory speed and capacity ensures more flowing video quality in latest gaming environment especially in large scale textures processing.
 
Dual Dual-Link DVI
Support hardware with awe-inspiring 2560-by-1600 resolution, such as the 30-inch HD LCD Display, with massive load of pixels, requires a graphics cards with dual-link DVI connectivity.
 
Dual 400MHz RAMDACs
Blazing-fast RAMDACs support dual QXGA displayswith ultra-high, ergonomic refresh rates up to 2048×[email protected]
 
OpenGL
Full OpenGL support, including OpenGL 2.1
 
NVIDIA CUDA™ Technology
Supported
 
Integrated HDTV encoder
Provide world-class TV-out functionality up to 1080P resolution.

 

 

 

 
SPECIAL FEATURES
Let's touch on a few of the more interesting special features of the Leadtek WinFast GTX-260 starting with PureVideo HD. Not only will PureVideo HD clean up an image on the fly it allows Vista users to run HD video without Aero reverting back to basic mode providing a more seamless user experience. Without PureVideo HD images that appear crisp and clean might look blurred and muted. Here's what NVIDIA has to say about it.
PureVideo HD
Superb Picture Quality NVIDIA PureVideo HD technology delivers outstanding picture clarity, ultra-smooth video, vivid color, and precise image scaling for video and HD DVD and Blu-ray movies. PureVideo HD accelerates and enhances high-definition movies delivering life-like images that have up to six times the detail of standard DVD movies at resolutions up to 1080p – the highest HD resolution available.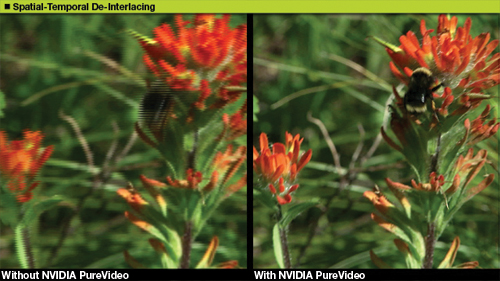 CUDA
CUDA has more to do with the programmers end of graphics and is a C language environment that lets them perform complex equations quickly by using the many-core parallel processing power of your GPU. Why would the end user care about that? Most of the eye candy, explosions, smoke, dust, character animations, and bouncing objects are all done using complicated mathematical equations. The ability to do more math quicker gives the programmer the ability to provide massive quantities of eye candy without dragging down frame rates. We bet you thought high math was a waste of time when you were in school? The next time objects are flying through the air, and concrete chips are flying off the wall in your favorite video game, it was math that made it possible to do in a realistic manner.
NVIDIA CUDA™ technology is the world's only C language environment that enables programmers and developers to write software to solve complex computational problems in a fraction of the time by tapping into the many-core parallel processing power of GPUs. With millions of CUDA-capable GPUs already deployed, thousands of software programmers are already using the free CUDA software tools to accelerate applications—from video and audio encoding to oil and gas exploration, product design, medical imaging, and scientific research.
PhysX
We saved the newest hottest for last, PhysX technology. While PhysX has been around for a while in the form of an additional expansion card in addition to a GPU. The NVIDIA 9XXX and GTX-2XX generation of GPU's support PhysX with the latest drivers and the 8XXX generation is soon to be supported with Betas popping up around the Internet already. PhysX allows for a much more interactive, visually rich environment without kiling the frame rates or slowing down frame rates by having the CPU do the task. The complicated equations are seamlessly shifted to the GPU allowing that eye candy we all love so much to proliferate in games. Gaming isn't the only thing CUDA and PhysX will do for us, the Folding and scientific community will benefit tremendously from the use of the technology. What can we use it for now? We happened to find an extensive but not all inclusive list of PhysX enabled games located HERE
PhysX also allows the games programmers to utilize the GPU to calculate how objects will react in a given environment. For instance the Unreal Tournament III PhysX Mod that allows you to break or blast down walls. The rubble flying off the wall that results from the destruction wouldn't look realistic unless PhysX is applied to it to tell it how it will act in a real world environment. The dust particles from the destruction would tax the CPU and frame rates might drop resulting in the dreaded Video Stutter that drives so many enthusiasts to upgrade their graphics engines.
Delivering physics in games is no easy task. It's an extremely compute-intensive environment based on a unique set of physics algorithms that require tremendous amounts of simultaneous mathematical and logical calculations.

This is where NVIDIA® PhysX™ Technology and GeForce® processors come in. NVIDIA PhysX is a powerful physics engine which enables real-time physics in leading edge PC and console games. PhysX software is widely adopted by over 150 games, is used by more than 10,000 registered users and is supported on Sony Playstation 3, Microsoft Xbox 360, Nintendo Wii and PC.

In addition, PhysX is designed specifically for hardware acceleration by powerful processors with hundreds of cores. Combined with the tremendous parallel processing capability of the GPU, PhysX will provide an exponential increase in physics processing power and will take gaming to a new level delivering rich, immersive physical gaming environments with features such as:

Explosions that cause dust and collateral debris
Characters with complex, jointed geometries for more life-like motion and interaction
Spectacular new weapons with incredible effects
Cloth that drapes and tears naturally
Dense smoke & fog that billows around objects in motion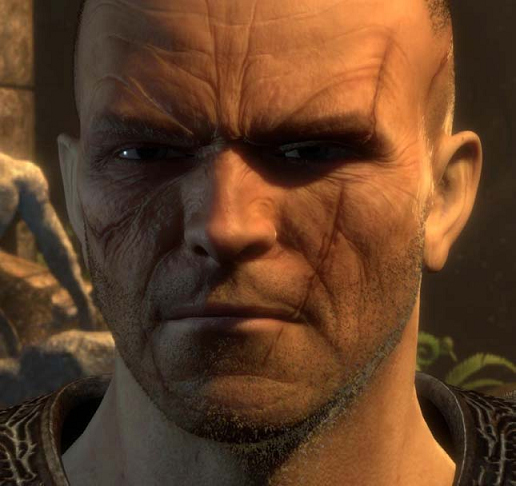 Realistic warrior from NVIDIA "Medusa" demo
Now that we've touched on a few of the more mysterious Special Features of the GTX-260 lets get a look at the packaging and bundle.
PACKAGING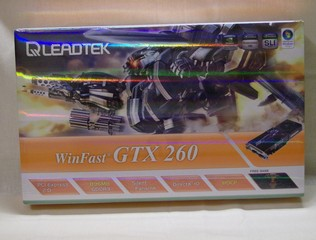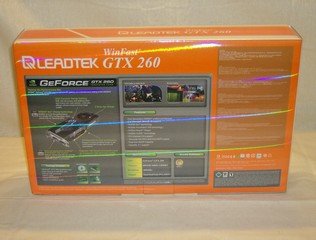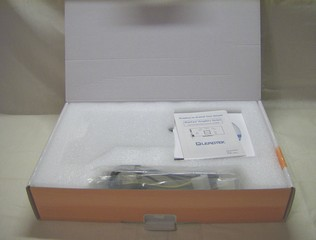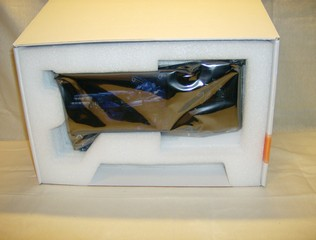 The Leadtek WinFast GTX-260 comes in an attractive orange box that has a holographic layer that shimmers in the light. Inside the Leadtek organization there's a marketing guy probably having coffee with a packaging Guru laughing about the holographic layer; thinking those review guys will never be able to get a picture of that box. They were almost right. No matter the angle or lighting you get some holographic reflection. It's designed to catch the eye of the consumer while it sets on the shelf, and cause ulcers in reviewers.
The box presents a goodly amount of information and graphics, enough to help the consumer make a decision about purchasing the GTX-260. We put the box, empty of course, in plain sight and people were immediately attracted to it. At least one Geek was found caressing the box and mumbling GTX GTX over and over. We gave him a hot pocket and a Zena tape and he's better now.
CONTENTS
In the past it wasn't unusual to find graphics cards manufacturers including every accessory in the box. In many high end graphics cards you'd find as many as two games bundled. That trend has somewhat reversed itself and bundles are a little more sparse than they used to be. Leadtek isn't the exception here and the bundle is a little sparse.
1 – WinFast GTX-260 graphic card
1 – Maunal & Driver disc
1 – Quick installation guide
1 – DVI to VGA converter
2 – Power cords
1 – WinFast Graphics Driver CD (w/ WinFox II)
1 – Never Winter Night 2 DVD x 1
1 – DVI-to-VGA Adaptor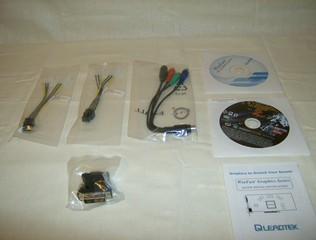 WinFast GTX-260 Contents
I would have liked to have seen another DVI to VGA converter included in the bundle. After all it is a dual connector card and can drive two monitors, there are some die hards out there with CRT's weighing down the desk.
NeverWinter Nights 2 Forgotten Realms
The bundled game NeverWinter Nights 2 was a welcome addition to the package, it might not be a cutting edge new game but was new to our collection so welcomed as any new gaming experience would be.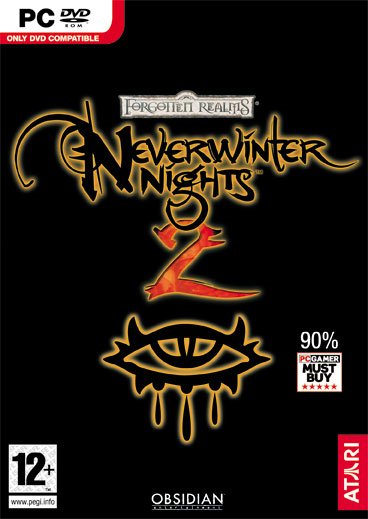 NeverWinter Nights 2 received a 90% from PCGamer and their "Must Buy" recommendation prompting a must play situation here at the Lab. The things we have to do for you in the name of research.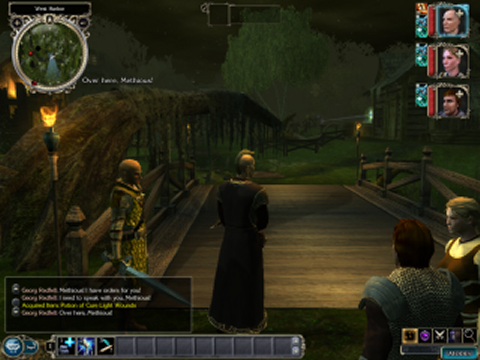 NeverWinter Nights 2 Forgotten Realms Screen Shot
NeverWinter Nights 2 is a Dungeons & Dragons based computer RPG that unlike the first NeverWinter Nights features up to three (in addition to your created character) fully controllable and equipable party members complete with their own inventory screens, leveling up, and character classes.
The little time we got for game play it was very playable but the camera angle needed constant attention which we quickly adjusted to. Game play had a little learning curve, like any game bundled with a GPU it came bare disk with the manual on disk. Play was enjoyable, frame rates were high, and in general it was a nice distraction were sure to revisit when the work load calms down a little.
Lets get a look at the GPU itself.
THE CARD & IMPRESSIONS
After spending a little time opening the box and checking out the bundle we were finally able to get our hands on the WinFast GTX-260. Our first impression was that it was very similar to the 8800/9800 GTX family.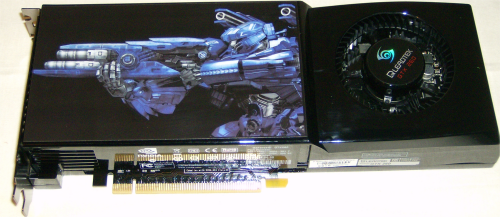 Leadtek WinFast GTX-260
One difference we saw was the the housing runs the full length of the card where it stopped about an inch short on previous generations (8800 GTX, the 9800GTX was full card coverage).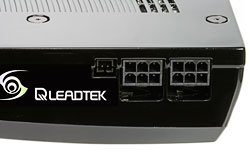 PCI-E Power & SPDIF Connectors
The Leadtek WinFast GTX-260 requires two 6 pin PCI-E connectors to help drive it's power needs. The manufacturer recommends a 500 Watt Power Supply with at least 36 Amp on the 12v rail. We find that a little unrealistic, first try and find a good quality 500w power supply with 36 Amp on the 12v rail and the pickings are pretty slim, then it needs two 6 pin or 4 molex to connect to the GPU. Then the GPU itself at max power consumes 185 watts leaving 315w for the system itself. You'll do yourself and your equipment better with a high quality Power Supply of at least 700 Watts 36 Amp on the 12v rail, two 6 and two 8 pin PCI-E connectors. Having at least 700 Watts will leave a little room to grow and not run the PSU at such a high draw resulting in more stable power with less ripple on the 12v line increasing the effective life of your equipment. We see the minimalistic requirements on a lot of GPU specifications but the key there is to remember that's the minimum not the ideal.
Sadly the SPDIF connector wasn't included in the somewhat sparse bundle.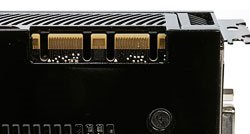 Triple SLI Connectors
On top the Winfast GTX-260 you'll see two SLI connectors for up to triple SLI.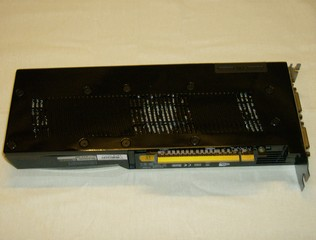 Back Side of the GTX-260
Unlike previous GTX class cards we've seen the GTX-260 has a covered backside with some ventilation slots and is as usual is rather unremarkable.

Connectors
Looking at the business end of the Leadtek GTX-260 you'll find Dual DVI connectors and 1 x 7-pin HDTV output. The exhaust ports on the dual slot design haven't changed since the 8800GTX.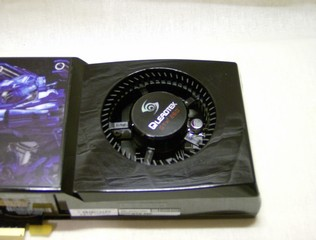 GTX-260 Squirrel Cage Fan
Sliding our eyes down the sexy body of the Leadtek GTX-260 we find the usual Squirrel cage type fan, as with a lot of the other GTX class cards Leadtek has gone with a sloped fan enclosure but this enclosure slopes from the lower front to the higher back. We'd suspect this has to do with fluid dynamics and the increased speed of the air passing through the slightly constricted cowling.
Haven't had enough of a look at this beast? We know we haven't so here's couple of angle shots that show the top of this beauty.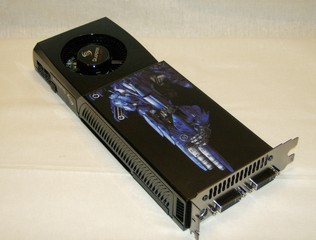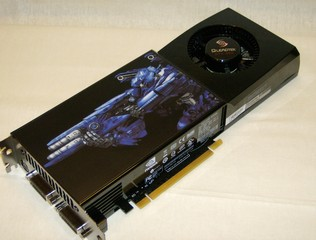 All Angle Pictures of the Leadtek WinFast GTX-260
Before we move on to the Testing Regime we feel compelled to tell you that there's a certain feeling you get when looking at and holding the GTX-260. It's not just the look and feel of quality which is evident in it's construction. It's that special feeling that you get some times with a fine bottle of wine (not the screw off cap type) or being with a woman of extraordinary beauty except there's no alcohol or hot woman involved so it's totally geeky but in a really good way. You know that your gazing at something special, and holding something that's going to provide hours of graphics pleasure (if you ever get it out from in front of the camera and installed that is).
TESTING REGIME
We'll be doing the usual battery of tests on the Leadtek WinFast GTX-260 and comparing that with the XFX 8800 GT Alpha Dog. All of our synthetic and gaming tests will be run at 1280 x 1024 and 1680 X 1050, no Antialiasing and Anistropic Filtering, then 4X Antialiasing and 16X Anistropic Filtering. Each of the tests will be run individually and in succession three times and an average of the three results calculated and reported. F.E.A.R. benchmarks were also run with soft shadows disabled, all other games with every thing set to max. Since this is a head to head comparison we'll also test both cards using Lightsmark 2007, and to give an idea of the extensive over clocking capabilities we'll be giving the over clocking results in LightsMark.  You'll get the maximum Over Clock and see the resulting benefits of the OC in FPS on the GTX-260 running at the tested core clock speeds.
The following table gives you the specifications of some of the most popular high end GPU's so you can see some of the generational changes from model to model and ATI to NVIDIA. The only two we are concerned with for this reviews purposes are the GTX-260 and 8800 GT so we took a little liberty with grouping them together at the end of the table.
Major GPU Specifications
GPU
HD 3870 X2
9800 GX2
8800 Ultra
GTX 280
GTX 260
8800 GT
GPU frequency
825 MHz
600 MHz
612 MHz
602 MHz
576 MHz
600
ALU frequency
825 MHz
1500 MHz
1512 MHz
1296 MHz
1242 MHz
1500 MHz
Memory frequency
900 MHz
1000 MHz
1080 MHz
1107 MHz
999 MHz
900 MHz
Memory bus width
2×256 bits
2×256 bits
384 bits
512 bits
448 bits
256 bits
Memory type
GDDR3
GDDR3
GDDR3
GDDR3
GDDR3
GDDR3
Memory quantity
2×512 MB
2×512 MB
768 MB
1024 MB
896 MB
512 MB
Number of ALUs
640
256
128
192
192
128
Number of texture units
32
128
32
80
64
56
Number of ROPs
32
32
24
32
28
16
Shading power
1 TF
1152 GF
581 GF
933 GF
715 GF
336 GF
Memory bandwidth (GB/s)
115.2
128
103.7
141.7
111.9
57.6
Number of transistors
1334 mil
1010 mil
754 mil
1400 mil
1400 mil
754 mil
Process
55nm
65nm
80nm
65nm
65nm
65nm
Die surface area
2 x 196 mm²
2 x 324 mm²
484 mm²
576 mm²
576 mm²
324 mm²
Generation
2008
2008
2007
2008
2008
2007
Shader Model supported
4.0
4.0
4.0
4.0
4.0
4.0
As you can see the Leadtek WinFast GTX-260 starts out with a clock speed of 576 Mhz and the stock 8800 GT with a core speed of 600, this is the XFX 8800 GT Alpha Dog and starts out at 625 Mhz. One has to wonder if the decreased core speed of the GTX-260 is going to hurt it's performance. The last few generations of cards core clock speeds have done nothing but increase, some resulting in higher failure rates. Has NVIDIA come up with a more efficient core to compensate?
The the ALU frequency (Shader Frequency) on the 8800 GT runs at 1500 and the GTX-260 runs at 1242, again the lowered speed has a lot of people wondering if less can be more.
The Memory frequency on the GTX-260 is higher than the frequency on the 8800 GT it comes in at 999 Mhz and the GT at 900.
The Memory Bus Width on the GTX-260 is 448 bits and the 8800 GT is 256, so having a wider bus hence being able to transfer more information in a larger chunk is going to help the GTX-260.
Those are far from being the most interesting changes in architecture but lets leave it at saying that the rest of the specifications for the GTX-260, with the exception of the GDDR3 memory far exceed those of the XFX 8800 GT Alpha Dog.
Test Rig Specifications
Test Rig
"Quadzilla"
Case Type
Thermaltake Armor
CPU
Intel Q6600 @ 3.2 Voltage 1.3675 vcore
Motherboard
Asus P5KC
Ram
OCZ Reaper DDR2 800 @ 800 4-4-4-12
CPU Cooler
Swiftech MCP350 Pump
Swiftech Apogee GT CPU Water Block
Swiftech Micro Res
Swiftech MCR320 360mm Radiator
3 Yate Loon 120mm 12v Fans 83CFM
Hard Drives
WD 250 Gig Sata 2
Optical
Sony DVD R/W
Graphics Cards Tested
Leadtek GTX-260
XFX 8800 GT Alpha Dog
Drivers
Leadtek GTX-260 175.19
XFX 8800 GT Alpha Dog 175.16
Case Fans
Two 120mm Front/Rear Push/Pull
250mm Side fan
90mm Rear Exhaust
90mm Top Exhaus
Docking Stations
Tagan IB290 W/Deskstar 2 1/2 Inch 80 Gig Sata 2
Power Supplies
Thermaltake VGA Express 650 Watt Modular
Thermaltake Toughpower 1000 Watt Modular
Mouse
Razer Lachesis
Keyboard
Razer Lycosa
Gaming Headset
Razer Piranha
Speakers
Logitec Dolby 5.1
Any Attempt Copy This System Configuration May Lead to Bankrupcy
It's easy to pass up some thing in the system specs table so I thought I'd mention that this is the first test we've done using the Thermaltake Toughpower 1k, and the Thermaltake VGA Express 650 Watt modular. You'll be seeing the VGA Express Review in the coming weeks. We thought it important to mention the use of the VGA Express in case we get unusual power consumption results as this is our first use of dual power supplies in this type of review. The VGA Express is a supplementary PSU that powers the GPU and nothing else in the system.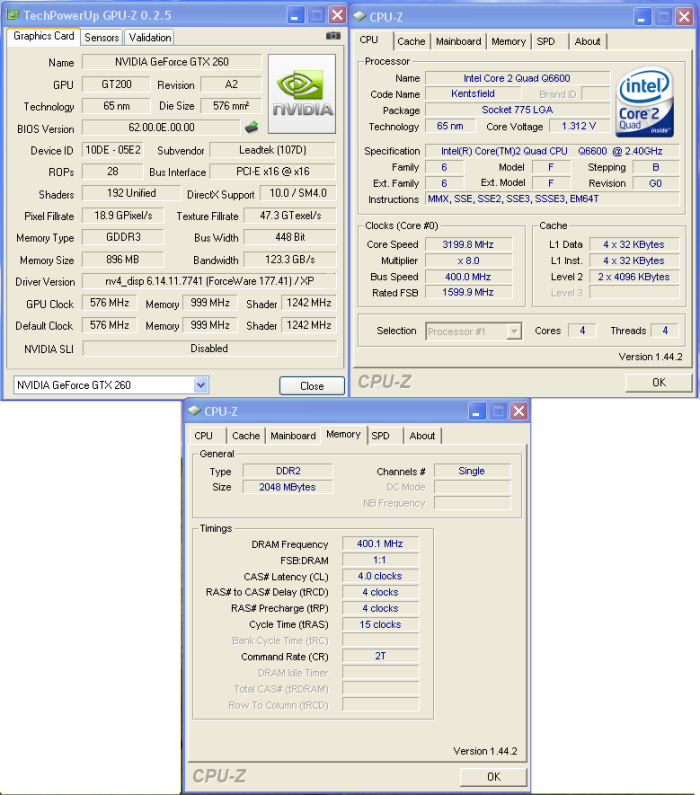 CPU-Z & GPU-Z With THe GTX-260 Installed
We wanted to give you the CPU-Z and GPU-Z story with the GTX-260 installed so you could see the actual setup of the test rig so you could see exactly how it was set up. Most importantly that we're running the OCZ Reaper DDR2 800 on the Asus P5KC with the q6600 running at 3.2 on a FSB of 400 allowing us to run the Reaper at a 1:1 ratio. Running the ram at 1:1 with the FSB is some times called "The Holy Grail of Over Clocking" and may affect the results. With the ram at 1:1 the RAM and CPU are synchronized and there's no bottle neck. Then were running the rig over clocked from 2.4 stock to 3.2 Ghz to prevent bottle necking the respective GPU's. These settings are maintained and the only change in the system will be the drivers for the GPU and switching out the GPU's.
Synthetic Benchmarks & Games
Synthetic Benchmarks & Games
3DMark06 v. 1.10
LightsMark 2007 v. 1.13
Company of Heroes v. 1.71 DX 9
Crysis v. 1.2 DX 9
World in Conflict Demo DX 9
F.E.A.R. v 1.08 DX 9
3DMARK06 V. 1.1.0

3DMark06 developed by Futuremark is a synthetic benchmark used for universal testing of all graphics solutions. 3DMark06 features HDR rendering, complex HDR post processing, dynamic soft shadows for all objects, water shader with HDR refraction, HDR reflection, depth fog and Gerstner wave functions, realistic sky model with cloud blending, and approximately 5.4 million triangles and 8.8 million vertices; to name just a few. The measurement unit "3DMark" is intended to give a normalized mean for comparing different GPU/VPUs. It has been accepted as both a standard and a mandatory benchmark throughout the gaming world for measuring performance.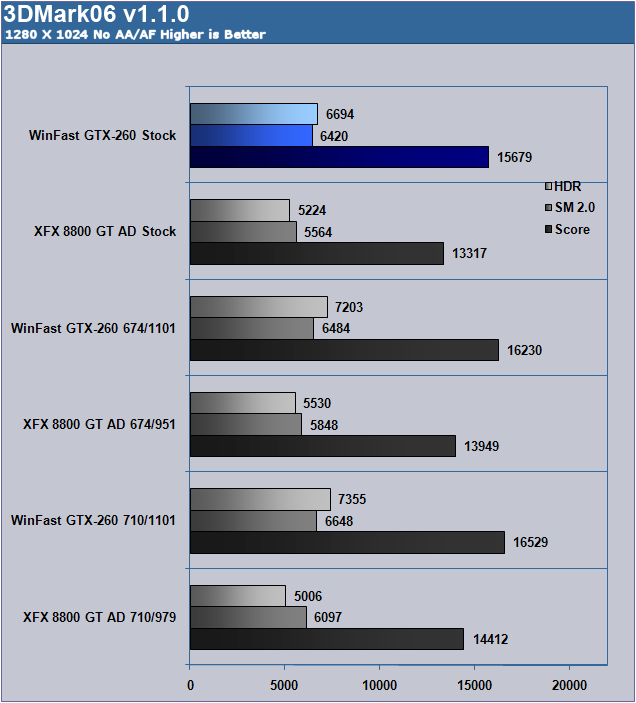 At Stock speed the GTX-260 is 17.7% faster than the 8800 GT Alpha Dog which is running at a core clock speed that is 49Mhz faster out of the box.
At a core clock of 674 Mhz, which is a 98 Mhz boost for the GTX-260 and a boost of 49 Mhz for the 8800 GT the GTX-260 is 16.3% faster, that result had me a little puzzled, 98 Mhz boost for the GTX-260 and 49 Mhz for the 8800 GT and the GT closed some of the gap from the stock speed. After running the test 6 times each we were thoroughly convinced the results are valid but determined to go one step faster and determine the maximum over clock on both cards and retest.
We hit the wall on the GTX-260 at 711 Mhz and the 8800 GT at 710 Mhz, wanting to keep this a clock for clock comparison we ran the last test at 710 on both. That's a whopping 134 Mhz OC on the GTX-260 and a more modest OC on the 8800 GT of 85 Mhz. At 710 Mhz core clock speed on both cards the GTX-260 was 14.6% faster so the speed increase scaling was holding true. The XFX 8800 GT Alpha Dog gained 3.1% on the Leadtek GTX-260 in the course of over clocking and wasn't running the GTX-260 off the porch but was nipping at it's heels.
COMPANY OF HEROES V 1.71
Company of Heroes(COH) is a Real Time Strategy(RTS) game for the PC, announced on April, 2005. It is developed by the Canadian based company, Relic Entertainment, and published by THQ. COH is an excellent game that is incredibly demanding on system resources thus making it an excellent benchmark. Like F.E.A.R. the game contains an integrated performance test that can be run to determine your system's performance based on the graphical options you have chosen. It uses the same multi-staged performance ratings as does the F.E.A.R. test. Letting the games benchmark handle the chore takes the human factor out of the equation and ensures that each run of the test is exactly the same producing more reliable results.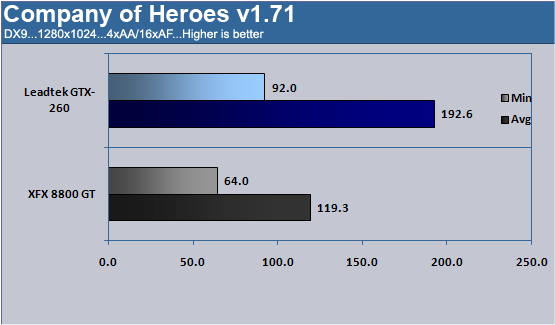 Company Of Heroes Benchmark Ran At Stock Speed Resolution 1280 X 1024
The 8800 GT might have been close in 3DMarks but on minimum frames the GTX-260 gave us a 47.3% better frame rate in Company Of Heroes at 1280 X 1024. While Synthetic benchmarks are good for measuring there's no replacement for real life gaming results.
On average frame rates the GTX-260 gave us a huge 61.4% increase in frame rates over the 8800 GT. We've got to say the Leadtek WinFast GTX-260 is starting to really impress us.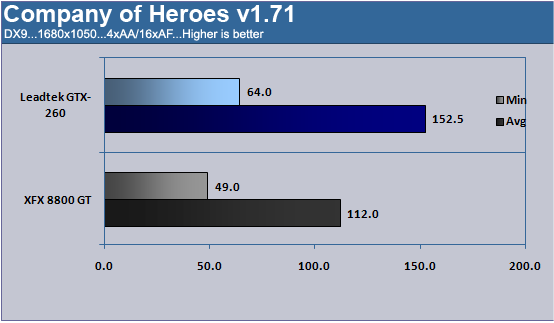 Company Of Heroes Benchmark Ran At Stock Speed Resolution 1680 X 1050
At 1680 X 1050 the GTX-260 performed 30.6% faster on minimum frame rates, and 36.1% faster on average frame rates. The GTX-260 lost some of it's lead at the higher resolution, but a 30.6% and 36.1% increases in frame rates isn't any thing to sneeze at.
FEAR V. 1.08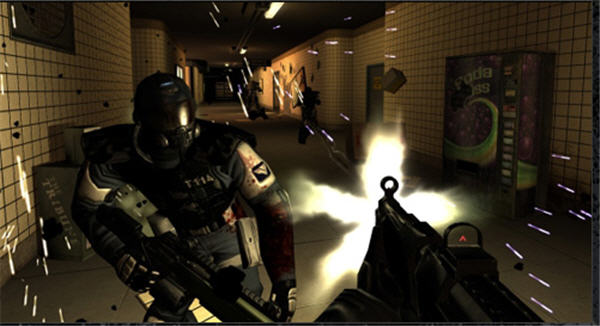 F.E.A.R. (First Encounter Assault Recon) is a first-person shooter game developed by Monolith Productions and released in October, 2005 for Windows. F.E.A.R. is one of the most resource intensive games in the FPS genre of games ever to be released. The game contains an integrated performance test that can be run to determine your system's performance based on the graphical options you have chosen. The beauty of the performance test is that it gives maximum, average, and minimum frames per second rates. F.E.A.R. is a great benchmark, and one heck of a FPS.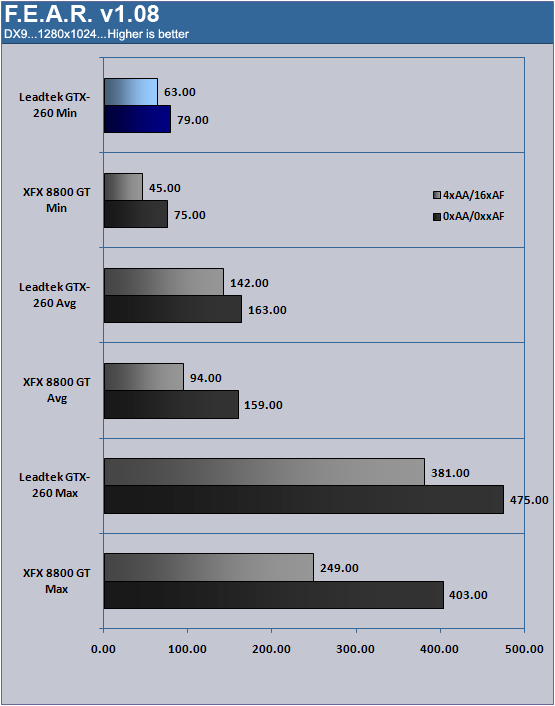 F.E.A.R. Benchmark At Stock Speeds 1280 X 1024

On Minimum frame rates with AA at 4x and AF at 16x the GTX-260 out distanced the 8800 GT by 25.3%, With no AA/AF the 8800 GT came within 5.3% of the GTX-260. Again at the more demanding 4xAA 16xAF the GTX-260 shows it's superiority over the older generation 8800 GT.
Average frame rates the GTX-260 gave us a 51% better showing with 4xAA and 16xAF, and a much less significant gain of 2.5% with no AA/AF.
Maximum frame rates 4xAA 16xAF the GTX-260 gave a whopping 53% increase over the 8800 GT, and with AA/AF turned of it gave 17.8% more than the 8800 GT.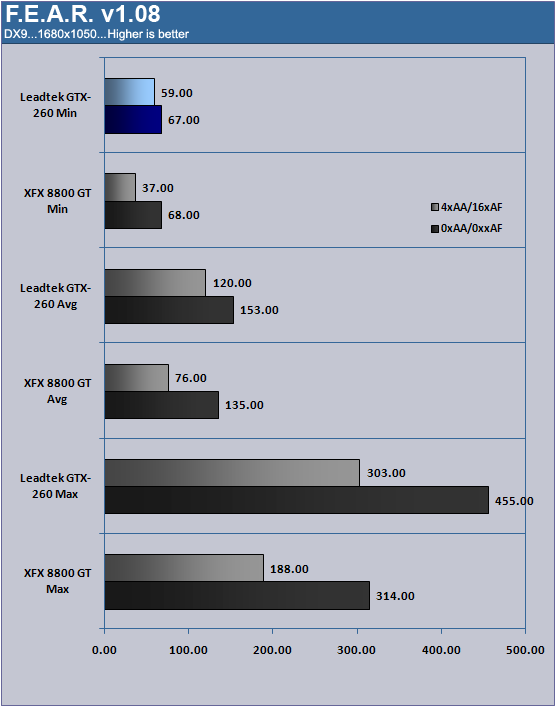 F.E.A.R. Benchmark At Stock Speeds 1680 X 1050

Minimum frame rates at the higher resolution with the eye candy turned on are holding true to form at a 59.4% performance increase for the GTX-260 over the 8800 GT. With AA/AF turned off we don't see much difference yet again, but it is worth noting that for the first time the 8800 GT Alpha Dog stretched it's legs and out did the GTX-260 by 1.4%. To confirm the result we ran each test an additional 3 times for a total of 6 runs each and the result held true.
Maximum frame rates the GTX-260 shines like a light house in the gloom of night, coming in 61.1% better than the 8800 GT with AA/AF cranked up. With AA/AF turned off the GTX-260 ran 44.9% more frames.
CRYSIS V. 1.2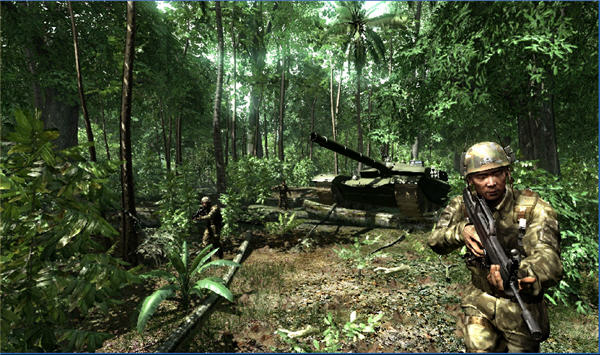 Crysis is the most highly anticipated game to hit the market in the last several years. Crysis is based on the CryENGINE™ 2 developed by Crytek. The CryENGINE™ 2 offers real time editing, bump mapping, dynamic lights, network system, integrated physics system, shaders, shadows and a dynamic music system just to name a few of the state of-the-art features that are incorporated into Crysis. As one might expect with this number of features the game is extremely demanding of system resources, especially the GPU. We expect Crysis to be a primary gaming benchmark for many years to come.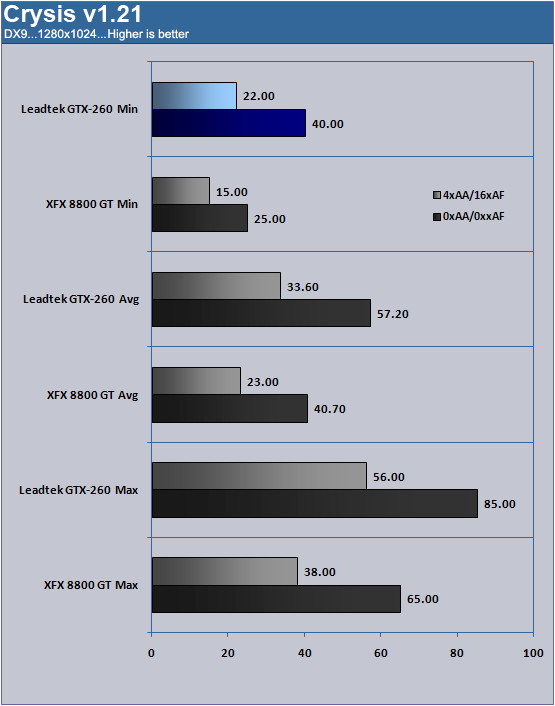 Crysis At 1280 X 1024 No AA/AF and 4xAA 16xAF
Crysis being the most demanding currently accepted game for benchmarking high end GPU's we benchmarked both cards in a variety of settings. This being a new generation we went beyond 2xAA and 8xAF and included 4xAA and 16xAF. Not that we expected stellar performances from any GPU on Crysis at those settings but felt the need to see if the new design has changed any thing in the uber resource demanding game.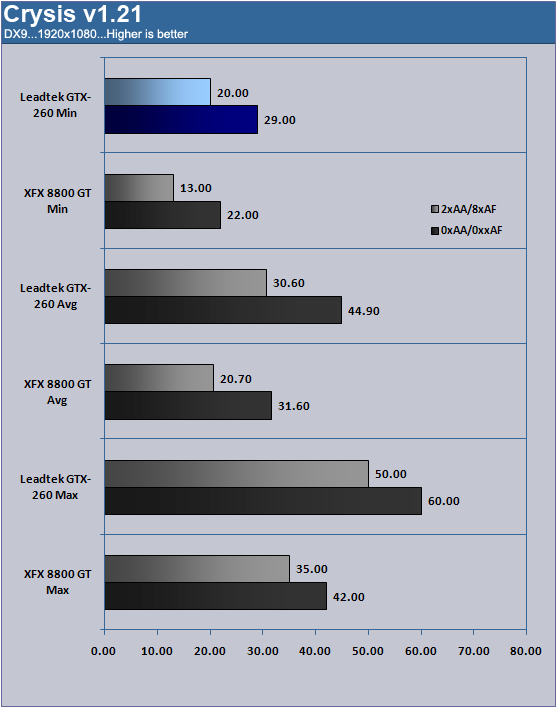 Crysis At 1680 X 1050 No AA/AF and 2xAA 8xAF
Not much has changed with the new Generation of cards and Crysis, frame rates are slow with any AA/AF at all and frames are barely acceptable with no AA/AF on the minimum side of things. When action got heavy the 8800 GT got a little choppy, and the GTX-260 breezed through with no AA/AF. With AA/AF set to 2xAA and 8XAF the 8800 GT was really struggling and the GTX-260 barely stuttered at all. Which prompted us to run at 1680 X 1050 with AA/AF maxed out just to see how bad things could get.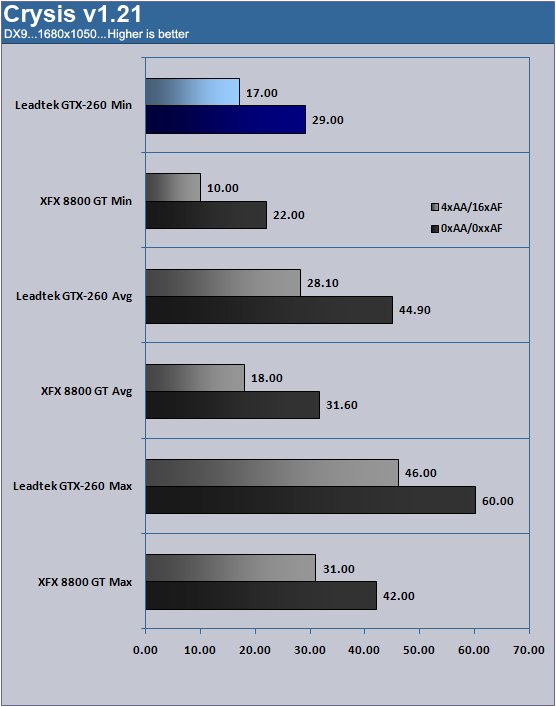 Crysis At 1680 X 1050 No AA/AF and 4xAA 16xAF
No surprises here the 8800 GT was screaming for mercy, the GTX-260 was playable but got choppy one or twice. There's not much we can say about it; it's Crysis it chews up and spits out dual and tri-SLI setups for lunch and the GTX-260 held it's own and was playable at the highest settings. Bad Crytek, Bad Crysis! Good Leadtek, Good GTX-260!
As a point of contention here at Bjorn3D were considering petitioning Congress to sentence the Crytek senior officers to playing Crysis on the highest settings with an NVIDIA 7600 GS reference design with no over clock for an entire day and the programmers for a whole week.
WORLD IN CONFLICT DEMO
World in Conflict is a real-time tactical video game developed by the Swedish video game company Massive Entertainment and published by Sierra Entertainment for Windows PC. The game was released in September of 2007
The game is set in 1989 during the social, political, and economic collapse of the Soviet Union. However, the title postulates an alternate history scenario where the Soviet Union pursued a course of war to remain in power.
World in Conflict has superb graphics, is extremely GPU intensive, and has built-in benchmarks. Sounds like benchmark material to us!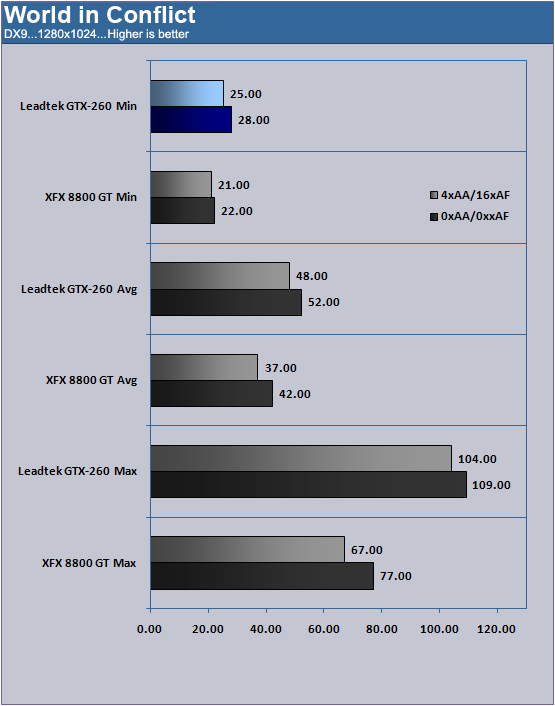 World In Conflict 1280 X 1024 No AA/AF and 4xAA/16xAF
Again the GTX-260 dipped below the magical 30 FPS at minimum frames but it must have been such a short time that it escapes the human eye because we never saw the stutter and only have the benchmark for proof that it dipped below 30 FPS. The 8800 GT stuttered once or twice but nothing really annoying.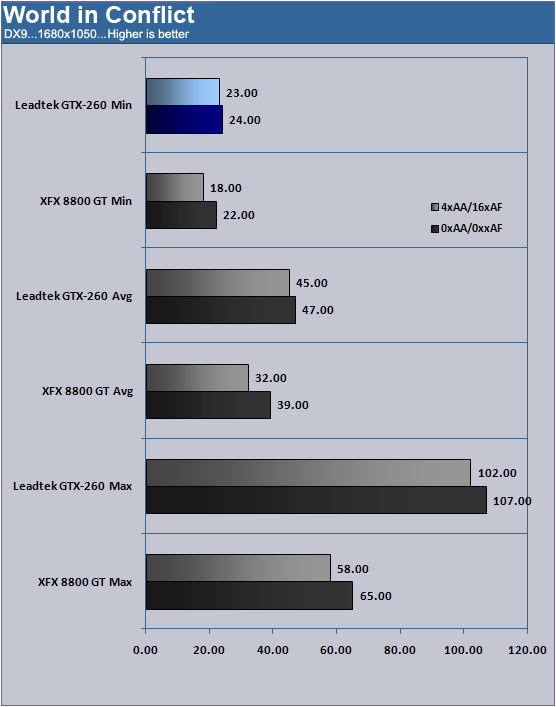 World In Conflict 1680 X 1050 No AA/AF and 4xAA/16xAF
Same results here, no visible stuttering with the GTX-260 and a stutter or two with the 8800 GT that admittedly was a little annoying. Nothing will rain on your parade quicker than starting an offensive push then when you make contact with the enemy things get choppy.
POWER CONSUMPTION
To measure power we used our Kill A Watt a sweet little tool that measures a variety of electrical values. We used a high-end UPS as our power source to eliminate any power spikes and to condition the current being supplied to the test systems. The Kill A Watt was placed in line between the UPS and the test system to measure the power utilization in Watts. We measured the idle load after 15 minutes of totally idle activity on the desktop with no processes running that mandated additional power demand. Load and OC Load was measured after looping 3DMark06 for 15 minutes at maximum settings with all the eye candy turned on.
Power Consumption
Total System Measured In Watts
GPU Tested
Idle
Load
OC Load
Leadtek WInFast GTX-260
162
279
297
XFX 8800 GT AD
151
264
277
TEMPERATURES
The temperatures of the cards tested were measured using CPUID HWMonitor V. 1.10 to assure consistency and remove any bias that might be interjected with the respective card's utilities. The temperature measurements used the same process for measuring "idle" and "load" capabilities as we did with the power consumption measurements.
Temperature Readings
GPU Tested
Idle
Load
OC Load
Leadtek WInFast GTX-260
Stock Cooling
39C
72C
74C
XFX 8800 GT AD
Thermaltake DuOrb Installed
35C
44C
47C
XFX 8800 GT AD
Stock Cooling
42C
62C
65C
Don't worry our friends over at Thermaltake have assured us that they have cooling coming for the GTX-2XX generation and it's in development at this time. Check back and you'll be seeing it here at Bjorn3D as soon as it becomes available.
OVERCLOCKING
For the over clocking portion we needed to find the maximum overclock for the card, which turned out to be 711/1101 for ATITool and any thing past that would begin to artifact. We were able to to get the card up to 736/1101 in certain applications with no apparent artifacts.
We kept the test rig at 3.2 GHZ on the Intel Quad q6600 and the ram at 800 running at 1:1 with the FSB at 400 and used this setting in all the Overclocking tests to isolate the results down to the clocks on the GTX-260.
We picked Lightsmark 2007 for this portion because it's unbiased, no adjustments can be made in the software itself except resolution, and you get a single result, that's easy to compare. You get Frames Per Second at a given resolution and during testing over the course of 6 months off and on almost platform independent. When the XFX 8800 GT was moved from a high end AMD platform to a high end Intel platform the numbers it produced stayed the same. After testing a variety of platforms the numbers remained pretty consistent and the GPU itself is the single biggest factor in this benchmark. Giving you the unique opportunity to test the GPU and the GPU alone.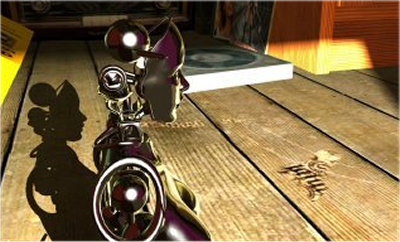 Lightsmark 2007 is a relative newcomer to benchmarks, it offers next generation lighting, real time global illumination, color bleeding, soft and penumbra shadows and some pretty good music to keep you awake during long benchmarking sessions. Before Lightsmark, real time global illumination was limited to small screens, small resolutions, and specially crafted scenes with hand made optimizations. Running in a reasonably sized scene (220,000 triangles) in high resolution (1680×1050) at excellent speeds. Lighting is computed fully and automatically in original and unmodified scenes from a 2007 game world called Padman, it's not tweaked for Lightsmark, NVIDIA or ATI. When it came out both companies were yelling foul because they weren't consulted or considered in it's coding. In fact when the developer Stepan Hrbek was consulted on the matter he stated that all the video cards used in the development were purchased by him and no subsidy of any kind was used in it's development.
Sounds like premium benchmarking material to us.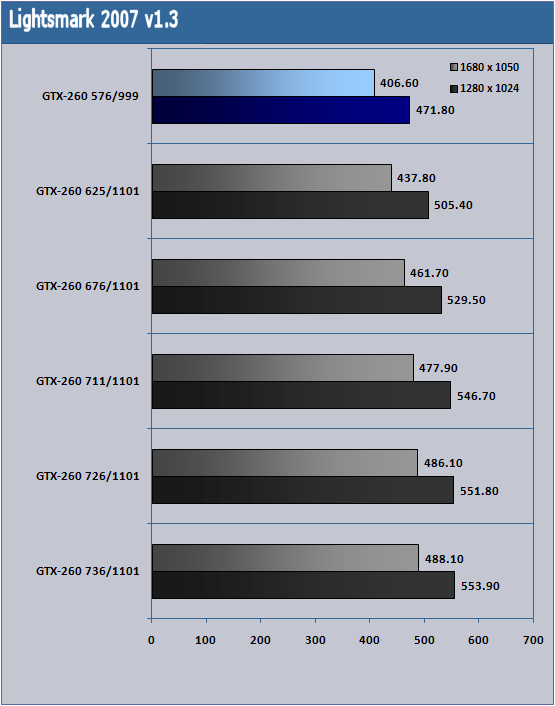 As you can see we pretty much reached the point of diminishing returns and ignored it and did a few suicide runs. Please note that after we hit 676/1101 on the card we kicked the fan to 100% as a preventative measure only. The highest we got in testing at 676/1101 was 74C in the test rig but if your doing suicide runs it's a good idea to kick the fan.
CONCLUSION
The Leadtek WinFast GTX-260 is a GT200 core GPU, despite it's lower out of the box Core Clock than previous generation G92 cores it consistently out performed the older architecture. It performed very well in all the testing we did and after spending a couple of weeks with it in the test rig we never really needed to overclock it for any thing more than benches (and fun). It's big brother the GTX-280 is the fastest single GPU card we've tested and it's little brother is right behind it.
With some overclocking and a well tuned test rig we were able to clock the Leadtech WinFast GTX-260 up to 711/1101 which is a really sweet boost of 135 Mhz and it remained stable with no artifacts in testing or gaming. During overclocking it only scored 408 points less than an overclocked GTX-280 we recently tested in 3DMarks2006, but to be fair each piece of hardware overclocks differently and the Leadtek GTX-260 we received might just be an exceptional overclocker.
Just a few days ago our conclusion might have been different but given the recent price drops on the GTX-260, they've been spotted at $260 (USD) after rebate and a modest $290 before rebate. When we received the XFX 8800 GT Alpha Dog it's list price on sale was $269 after rebate just a few short months ago. Given it's level of performance it's a bargain worth considering and from what we've seen thus far a gem of an overclocker.
The bundle is a little sparse and we'd have liked to have seen another DVI to VGA converter but the bundle is in line with other manufacturers current offerings. The bundled game NeverWinter Nights Forgotten Realms sweetens the pot a little and is enjoyable and becomes more so when you get past the initial learning curve.
Temperatures with the whole card enclosed in it's plastic shell with the squirrel cage fan were more than reasonable at the stock setting and the Leadtek WinFast GTX-260 performed in near silence until we kicked the adjustable fan up. With the fan on high like most cards of this class it was a little loud. Inside the Armor case buttoned up it was tolerable and in subsequent testing a setting of 50% was all we needed to keep the beast in check at the highest overclock we did. At 50% it wasn't loud enough to be heard at the keyboard.
No pricing was available on the Leadtek GTX-260 at the time of posting, but if it comes out of the gate close to the $260-$290 we've spotted on selected models it is an attractive choice for the budget minded enthusiast and we can't wait to get a couple of these in SLI to see just how sweet it can get!
Pros:
+  Great performance
+  Handles the most demanding games
+  Good overclocker
+  PhysX
+  Nice thermal performance
+  New backing protects the components better
+  Power consumption isn't to high
+  Looks good in the test rig
+  Quiet operation
Cons:
–  The bundle was a little sparse
The Leadtek WinFast GTX-260 was a pleasant surprise when it came to performance, it gives the performance you need the overclocking you want, and makes the graphics look fantastic without sacrificing speed!
Final Score: 8.5 out of 10 and the Bjorn3D Seal of Approval.