Today, Bjorn3D is happy to present the worlds smallest pen drive….with BLING. The Super Talent 24K Gold PICO. It is so small, and yes, I will even submerge it in water. Scary!!
INTRODUCTION
Just think, not too many years ago you had to look to floppy disks and cd burning to put files on something you could carry with you, either for class or work or even as storage. Then came the flash drive, pen drive, removeable media, usb drive, etc… It has many names. They started out large and eventually got smaller and smaller. Today, Bjorn3D is happy to present to you the worlds smallest pen drive…….. with BLING. The Super Talent 24K Gold PICO. It's about the size of a quarter and yet can hold 8GBs of information and water proof to boot. But does it really work? It is so small, and yes, I will even submerge it in water. Scary!!
ABOUT THE COMPANY
 
Super Talent Technology, headquartered in San Jose, California, designs and manufactures a full range of DDR, DDR2, and DDR3 memory modules and Flash based storage devices for computers and consumer electronics. An ISO 9001 certified company, Super Talent utilzes its state-of-the art factory and leading-edge components to produce award winning products with outstanding reliability. Super Talent is an active member of JEDEC and ONFI standards bodies, and holds over 200 patents in Flash and DRAM technology.
Our memory modules are rigorously qualified in Super Talent's compatibility labs, and are then tested and approved by top motherboard manufacturers and other industry partners. Every memory product from the production line is subject to essential hardware and software testing standards for consistency and functionality. Our intensive quality control and testing procedures are designed to ensure the highest possible product quality. Super Talent's extensive statistical analysis of manufacturing data helps drive constant improvement in operations.
 FEATURES & SPECIFICATIONS
Handy: Extremely small and lightweight for easy portability
Stylish: Available in three styles
Durable: Shock resistant and water resistant
Hot Plug & Play: Yes
Driver downloads: Free password control through Super Talent's website
Guaranteed: Backed with Super Talent's lifetime warranty
Made in USA: Designed and Manufactured in USA
Life Time Warranty
SPECIFICATIONS

   Capacities:

  1GB – 8GB  

   Dimension:

A: 38.7mm x 12.4mm x 3.9mm
B: 31.8mm x 18.8mm x 4.4mm
C: 31.3mm x 12.4mm x 3.4mm

   Technical Details:

• Weigh less than 6g
• Up to 30MB/s (200X) data transfer rate
• Fully compatible with USB 2.0 and 1.1
• Powered by USB bus – no external power is required
• Durable solid-state storage – 10 years data retention
• Hot Plug & Play – enable you to install and uninstall Pico anytime
• PICO-A: Swivel, water resistant
• PICO-B: Retractable
• PICO-C: Water resistant, rugged

Pico drives are available in capacities ranging from 1GB to 8GB. 

Protected by US patents # 6,547,130; 7,257,714 and 7,103,684.

   Temperature:
Storage: -20°C to 85°C     Operating: 0°C to 60°C
CLOSER LOOK
As you can see, this is what the PICO Gold comes wrapped in. It is small, professional looking, and easy to open. Once you open the lid, you find the tiny PICO in all of its goodness. This PICO comes in the flavor of 24K gold plating and also includes a gold key chain. The back of the box has a description of the specifications.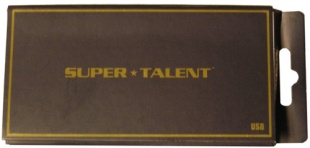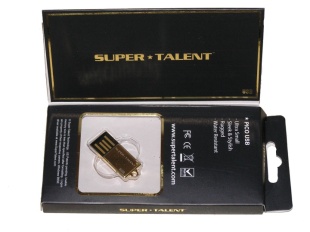 As I said before, it comes with a nice keychain, although I am not sure what you would attach it to.  I usually just throw it in my pocket. It does have a clasp that you can attach to say a keychain or something. Again for me, it's easier to throw in my pocket after I use it.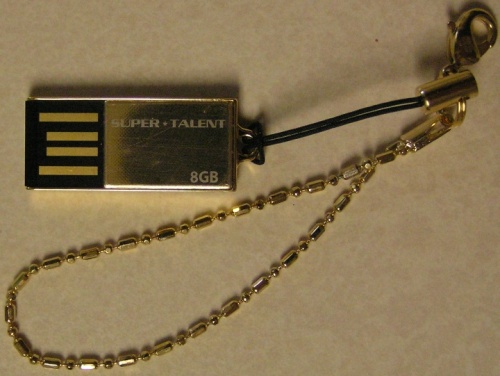 Did I mention it was small, tiny, pico? At just a hair taller than a quarter,maybe two hairs, it can pack in 8Gbs of files. It measures 31.3 mm. It is solid through and through. When I insert it into the USB inputs, I feel confident that it will fit snug and that I won't bend or break it putting it in or taking it out.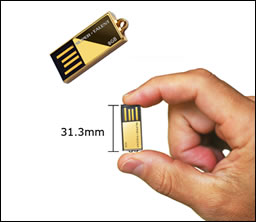 TEST METHODOLOGY
For this review I used a Dell Optiplex 745. It has an E6600 at the standard 2.4GHz, 2GBs of ram and USB 2.0. One synthetic test (HD Tach 3.0.4) was used and two real world applications (copying files) were run. I had one other pen drive to compare the PICO Gold to and that was an LG UBVB 1GB. The results are listed below.
RESULTS
The results speak for themselves in the HD Tach test. The PICO Gold blew away the LG pen drive. The burst speed is almost 6 times faster than the LG and 5 times faster on the average speed. The LG pales in comparison.
| | | |
| --- | --- | --- |
|   |  PICO Gold | LG 1GB |
| | 35.0 | 6.2 |
| | 30.7 | 6.1 |
| | 3.8 | 0.7 |
| | 8 | 2 |
The last test is the true test, the real world test. A single file of 155 megabytes was copied from the desktop to the pen drive and then from the pen drive to the desktop. The next test involved copying 155 megabytes worth of multiple files to the pen drive from the desktop and then vice versa. Needless to say this had me dazed and confused. We had another review that was done with the first generation 8GB silver PICO and it had similar results to these. The single file copied both ways very fast. Copying multiple files was completely different. Look below…
| | | | |
| --- | --- | --- | --- |
|   |   | PICO Gold | LG  1GB |
| 155MB (316 files, 27 folders) | To pen drives (sec) | 247 | 109 |
| 155MB (316 files, 27 folders) | To desktop (sec) | 43 | 45 |
| 155MB (a single file) | To pen drives (sec) | 38 | 43 |
| 155MB (a single file) | To desktop(sec) | 21 | 32 |
The multiple files and folders test showed write speeds for the PICO Gold being much slower than the LG 1GB. I was pretty confused about that. I tried this test three times on the same machine and then went to another machine and got the same results.  They are accurate. The PICO Gold was twice as slow as the LG in writing from the desktop to the pen drive. I was relieved to see that it excelled in all the other tests. I will talk more about this in my conclusion.
SUBMERSION
Now on to the fun stuff. Water aerobics for pen drives. All I can say is it looks just as good in the water as it does out of the water. I left it in the water for five minutes, dried it off, and put it back in my pc and I'll be darned, it worked. That thing fired right up. No problems what-so-ever. Now, in case you go trying this on your own remember these words, I do NOT condone the drowning of pen drives of any type in to water, I meerly tested it for your sake so that you don't have to. With that said, let's move on to the conclusion.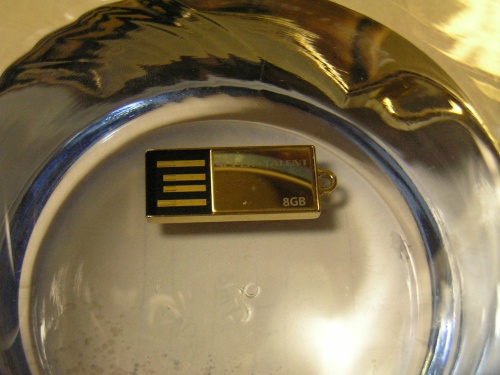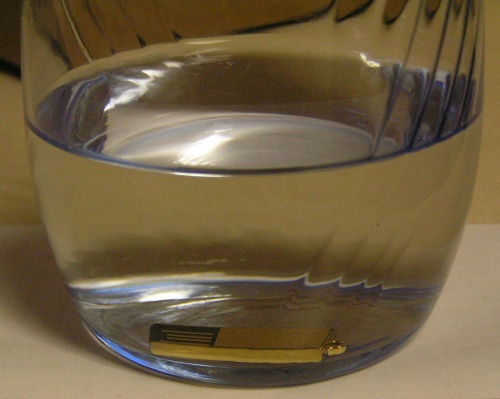 Conclusion
The PICO Gold excels in size, style, stability, and reliability. It stood up under submersion, which is no small feat. It was poor however in multiple file write speeds to the pen drive. If you don't mind waiting on multiple files I would say the PICO Gold is a winner and worth having. On the other hand, if you are always copying things to your pen drive and need that speed then I would steer clear. You can get it fairly cheap from Newegg for $36 (at the time of this article).
 Pros:
+  Light and portable
+  8GB of storage space
+  Lifetime Warranty
+  Excellent single file transfer rates
+  Moderately Cheap
 
Cons:
–  Poor multiple files transfer speed
Personally, I give it an 8 out of 10. For me, multiple file write speeds are very important. Although being able to submerge it under water is pretty sweet.
It gets the Bjorn3D seal of approval!!