The BFG GTX-260 OCX MaxCore is a GTX-260 that has 24 more processor cores and 8 texture processors than the regular GTX 260. This positions it between the GTX-260 and GTX-280.
INTRODUCTION
The initial release of the GTX-2XX series of GPU's is still fresh in our memories and variants are already hitting the market. Usually we see a full blown variant and a less expensive little brother. Seldom do we see the full blown version, the little brother, then a ramped up version of the little brother. Recently NVIDIA released the GTX-260 MaxCore, a revamped version of the GTX-260 that has 216 processing cores instead of the 196 run-of-the-mill cores that the GTX-260 contains. This places the GTX-260 MaxCore smack in the middle of the GTX-260 and GTX-280 where processing cores are concerned. When we found out BFG was offering the GTX-260 OCX MaxCore in their GTX-2XX lineup, we knew we had to drive one of these beasts to see how much more performance we could get than with a normal GTX-260. Well, we've driven it like it was stolen and we have to tell you it's one heck of a ride!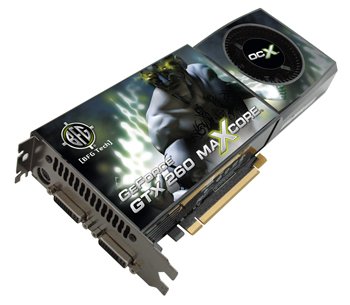 About BFG
Who We Are

 

BFG Technologies is a privately held U.S. based supplier of premium power supplies and 3D video cards based on award-winning NVIDIA graphics technology. The employees of BFG Tech are dedicated to bringing the latest high quality, high-tech multimedia products to PC and gaming enthusiasts at competitive prices.

Brand Philosophy

BFG Technologies' brand of power supplies and NVIDIA-based 3D graphics accelerators are designed to appeal to the PC enthusiast and hardcore gaming consumer.

We offer a full line of power supplies and NVIDIA-based graphics cards at various price points to meet the needs of the entry level gamer to the hardcore, performance driven customer.

Many of our employees are gamers and PC enthusiasts, and we provide hardware and marketing that reflects our passion and excitement for the latest technology. We build hardware that is stable, well supported and cost competitive.

BFG Technologies delivers the latest technology before our competitors, offers lifetime warranties on all graphic products, and provides free expert technical support and a company commitment to the enthusiast lifestyle through gaming LAN-party sponsorships, gaming events, and high-visibility participation in industry trade shows.

We listen to what our customers want from our technology products and services. We solicit feedback from gaming and PC communities through LAN events and focus groups to gather information to continuously improve our products and services and meet the needs of our customers. Our goal is to be recognized by the enthusiast community as a company that understands and responds to consumer feedback.

Why We Are Different

24/7 FREE TECHNICAL SUPPORT

Expert technicians are available by e-mail and phone around the clock,every day of the year to answer any questions or problem solve any issues a consumer may have with the installation or usage of their BFG product.

LIFETIME WARRANTY

Buy products with confidence knowing BFG Technologies' limited lifetime warranty has you covered.

BFG TECH IS ITS OWN CUSTOMER

Like the company's target customers, many of BFG Tech's employees are gamers and PC enthusiasts, and they strive to provide hardware and marketing that reflects the company's passion and excitement for the latest technology.
FEATURES & SPECIFICATIONS
Specifications
Here's a graphic that show some of the hottest GPU's around so you can get a perspective of the changes from GPU to GPU, ATI to NVIDIA. The BGF GTX-260 OCX MaxCore is in the center, highlighted for your convenience.
Major GPU Specifications
GPU
HD 3870 X2
9800 GX2
8800     Ultra
GTX 260 
BFG GTX 260 MaxCore
GTX 280
HD 4850
HD 4870
GPU frequency
825MHz
600MHz
612MHz
576MHz
655MHz
602MHz
625MHz
750MHz
ALU frequency
825MHz
1500MHz
1512MHz
1242MHz
1404MHz
1296MHz
625MHz
750MHz
Memory frequency
900MHz
1000MHz
1080MHz
999MHz
1125MHz
1107MHz
993MHz
900MHz
Memory bus width
2×256 bits
2×256 bits
384 bits
448 bits
448 bits
512 bits
256 bits
256 bits
Memory type
GDDR3
GDDR3
GDDR3
GDDR3
GDDR3
GDDR3
GDDR3
GDDR5
Memory quantity
2 x 512 MB
2 x 512 MB
768 MB
896 MB
896 MB
1024 MB
512 MB
512 MB
Number of ALUs
640
256
128
192
216
240
800
800
Number of texture units
32
128
32
64
72
80
40
40
Number of ROPs
32
32
24
28
28
32
16
16
Shading power
1 TFlop
1152 GFlops
581 GFlops
715 GFlops
824 GFlops
933 GFlops
1 TFlop
1.2 TFlops
Memory bandwidth
115.2 GB/s
128 GB/s
103.7 GB/s
111.9 GB/s
126.0 GB/s
141.7 GB/s
31.78 GB/s
115.2 GB/s
Number of transistors
1334 mil
1010 mil
754 mil
1400 mil
1400 mil
1400 mil
965 mil
965 mil
Process
55nm
65nm
80nm
65nm
65nm
65nm
55nm
55nm
Die surface area
2 x 196 mm²
2 x 324 mm²
484 mm²
576 mm²
576 mm²
576 mm²
260mm²
260mm²
Generation
2008
2008
2007
2008
2008
2008
2008
2008
Shader Model supported
4.0
4.0
4.0
4.0
4.0
4.0
4.1
4.1
You can see from the GPU comparison chart that the primary difference in design between the standard reference GTX-260 and the MaxCore GTX-260, is the inclusion of 24 more processor cores. They also threw in 8 additional Texture Processors for good measure. This places it directly in the middle of the GTX-260 and the GTX-280. Now some of you are saying that this is in direct response to the ATI 4870. Conjecture and rumor have flown wild. Time to put an end to that. We spoke directly to John Mally from BFG and ask him if the GTX-260 MaxCore was a direct response to the ATI 4870 and he told us: "The GTX-260 already beat the ATI 4870 but NVIDIA wanted to crush them in a consumer price friendly manner." Pretty definitive, it is in response to the ATI 4870, but more to take a product that already performs better than the 4870 and make it perform even better and crush the competition.
Here's the GPU-Z story on the BFG GTX-260 OCX MaxCore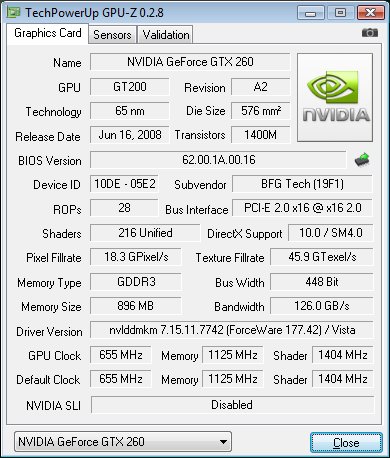 We also recieved a question and answer press release about the BFG GTX-260 MaxCore, so in order to head off a lot of questions later on, we're going to let you read it here.
BFG's Take on the BFG GTX-260 MaxCore
Q: Can you run the new GeForce GTX 260 w/216 cores in SLI with an existing GTX260?
A: Yes.
Q: Is the GTX260 w/216 Cores based on 55nm?
A: No, it is 65nm.
Q: Why is NVIDIA introducing a new GTX260 and not calling it something like GTX270?
A: NVIDIA decided to leave the branding up to the AIC partners to allow us to provide unique product offerings rather than create a new GPU marketing brand.
Q: Does the GTX 260 w/216 cores replace the original GTX 260?
A: No, both products will continue to be offered. The GTX 260 with 216 cores will be a premium version that offers higher performance.
Q: Has the original GTX 260 been discontinued?
A: No, the original GTX 260 product will continue to be offered. The GTX 260 with 216 cores is a premium version of the original that offers higher performance.
Q: Will the original GTX 260 have a new price drop?
A: We are not announcing any price changes for GTX 260 at this time.
Q: What prices should we expect for the new GTX 260 w/216 cores?
A: Our suggested etail pricing for the three BFG skus:
GeForce GTX 260 OC MAXCORE
Core: 590 MHz
Shader: 1296 MHz
Memory: 999 MHz
OC = $299.99
GeForce GTX 260 OC2 MAXCORE
Core: 630 MHz
Shader: 1350 MHz
Memory: 1063 MHz
OC2 = $319.99
GeForce GTX 260 OCX MAXCORE
Core: 655 MHz
Shader: 1404 MHz
Memory: 1125 MHz
OCX = $329.99
Q: What is the board power for GTX 260 with 216 cores?
A: Maximum board power is 183W, just slightly above the original version.
Q: What is the performance gain of GTX 260 with 216 cores over the original?
A: GTX 260 with 216 cores delivers 5 to 10% higher performance over the original.
Q: What is the key message of GeForce GTX260 with 216 cores?
A: This new GPU offers amazing bang for the buck, offering higher performance than the original GTX 260 for a hundred dollars less. Besides comparing just performance and price, please don't forget that only NVIDIA GPUs support CUDA and PhysX. We believe these technologies will make the end user experience much more rewarding in the coming year.
Q: Is Radeon HD4870 a competitive product against GeForce GTX 260 with 216 cores?
A: From a simple rendering perspective, these boards are in the same class. However, only NVIDIA GPUs support advanced features such as CUDA, PhysX, and 3D Stereo.
Q: What is the major difference between current GTX260 (192 cores) and new GTX 260 (216 cores) besides # of cores?
A: The GPU is based on the GT200 chip, implementing 9 texture processing clusters (TPCs). This gives the chip an additional 24 processor cores and 8 texture processors over the regular GTX 260.
Q: Does the 216 core version look different than the original GTX260?
A: The chips look the same.
Features
2nd Generation NVIDIA® unified architecture
50% better gaming performance than previous generation through enhanced processing cores.
 
NVIDIA® Lumenex™ Engine
Delivers stunning image quality and floating point accuracy at ultra-fast frame
16x Anti-aliasing: Lightning fast, high-quality anti-aliasing at up to 16x sample rates obliterates jagged edges.
128-bit floating point High Dynamic-Range (HDR): Twice the precision of prior generations for incredibly realistic lighting effects
 
Full MicrosoftR DirectX®10.0 Shader Model 4.0 Support DirectX 10 GPU with full Shader Model 4.0 support delivers unparalleled levels of graphics realism and film-quality effects.

 

3-way NVIDIA SLI™- Ready
Offers amazing performance scaling by implementing AFR (Alternate Frame Rendering) under Windows Vista with solid, state-of-the-art drivers.
 
NVIDIA PhysX -ready technology
Enable a totally new class of physical gaming interaction for a more dynamic and realistic experience
 
Dual-stream Hardware Acceleration
Provides ultra-smooth playback of H.264, VC-1, WMV and MPEG-2 HD and Blu-ray movies.
 
PCI Express 2.0 Support
Designed to run perfectly with the new PCI Express 2.0 bus architecture, offering a future-proofing bridge to tomorrow's most bandwidth-hungry games and 3D applications by maximizing the 5 GT/s PCI Express 2.0 bandwidth (twice that of first generation PCI Express).
 
Dual-stream Hardware Acceleration
Provides ultra-smooth playback of H.264, VC-1, WMV and MPEG-2 HD and Blu-ray movies.
 
PCI Express 2.0 Support
Designed to run perfectly with the new PCI Express 2.0 bus architecture, offering a future-proofing bridge to tomorrow's most bandwidth-hungry games and 3D applications by maximizing the 5 GT/s PCI Express 2.0 bandwidth (twice that of first generation PCI Express).
 
High dynamic-range (HDR) Rendering Support
The ultimate lighting effects bring environments
 
NVIDIA® PureVideo ™ HD technology
The combination of high-definition video decode acceleration and post-processing that delivers unprecedented picture clarity, smooth video, accurate color, and precise image scaling for movies and video.
 
HybridPower Technology support
Delivers graphics performance when you need it and low-power operation when you don't. HybridPower technology lets you switch from your graphics card to your motherboard GeForce GPU when running less graphically-intensive applications for a silent, low power PC experience.
 
HDCP Capable
Allows playback of HD DVD, Blu-ray Disc, and other protected content at full HD resolutions with integrated High-bandwidth Digital Content Protection (HDCP) support.
 
GigaThread™ Technology
Massively multi-threaded architecture supports thousands of independent, simultaneous threads, providing extreme processing efficiency in advanced, next generation shader programs.
 
High-Speed GDDR3 Memory
Enhanced memory speed and capacity ensures more flowing video quality in latest gaming environment especially in large scale textures processing.
 
Dual Dual-Link DVI
Support hardware with awe-inspiring 2560-by-1600 resolution, such as the 30-inch HD LCD Display, with massive load of pixels, requires a graphics cards with dual-link DVI connectivity.
 
Dual 400MHz RAMDACs
Blazing-fast RAMDACs support dual QXGA displayswith ultra-high, ergonomic refresh rates up to 2048×[email protected]
 
OpenGL
Full OpenGL support, including OpenGL 2.1
 
NVIDIA CUDA™ Technology
Supported
 
Integrated HDTV encoder
Provide world-class TV-out functionality up to 1080P resolution.

 
PICTURES, IMPRESSIONS & BUNDLE
Pictures & Impressions
We usually lead with the packaging on a particular product but the BFG GTX-260 OCX MaxCore was just too pretty to take that route. So we're going to throw up a beauty shot of this beast before we move on to the packaging.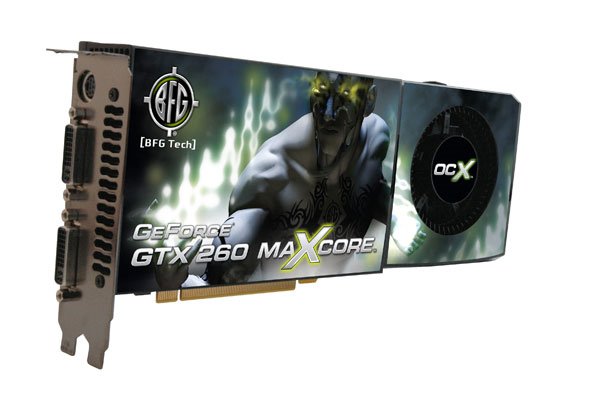 That is one sexy frame crunching beast. In visual appearance, except for the graphics, the GTX-260 MaxCore looks identical to the normal GTX-260. The differences between the GTX-260 MaxCore and GTX-260 are all internal and hidden to the eye.
Click To Enlarge Image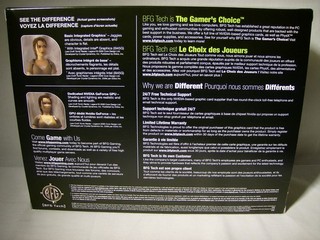 BFG GTX-260 OCX MaxCore Packaging
The BFG GTX-260 OCX MaxCore comes in an attractive black box with plenty of information and specifications to help inform the consumer about it's purchase.
Click To Enlarge Pictures
Inside the Box you'll find the BFG GTX-260 OCX MaxCore well protected by a cardboard sleeve and inside that it's wrapped in bubble wrap.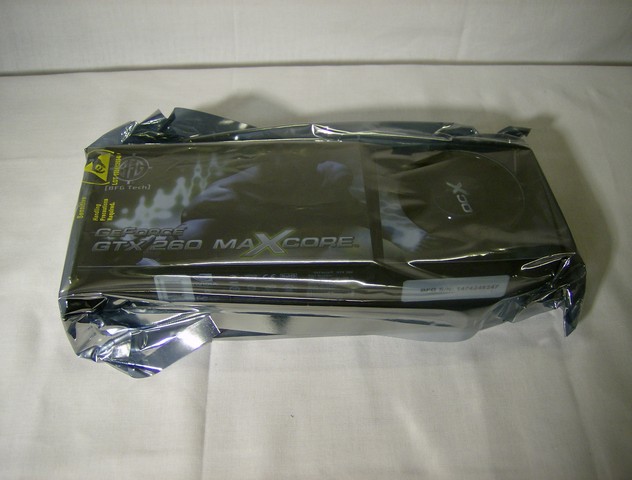 Inside the bubble wrap bag is an antistatic bag and you'll finally get a glimpse of your GPU.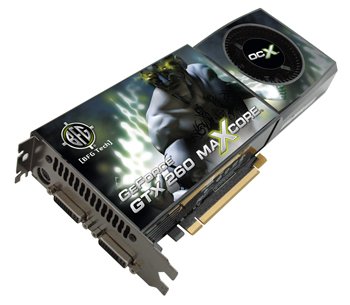 Finally after stripping away all of the layers of protection you get to the GPU in all it's frame crunching glory. The BFG GTX-260 OCX MaxCore just extrudes power and beauty from the first glimpse on.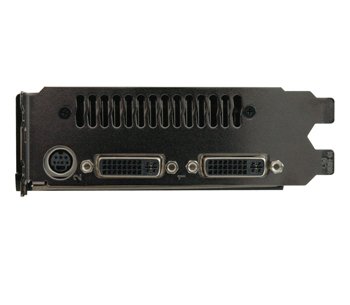 The BFG GTX-260 sports the same dual slot cooler design we've become accustomed to since the original 8800 GTX line came out.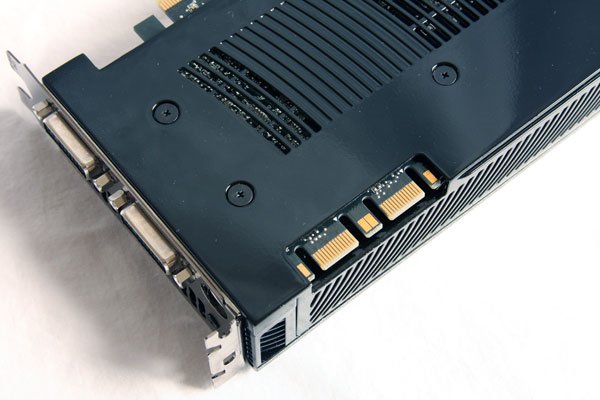 The back of the GPU is fairly unremarkable save for the SLI connectors providing for up to Triple SLI.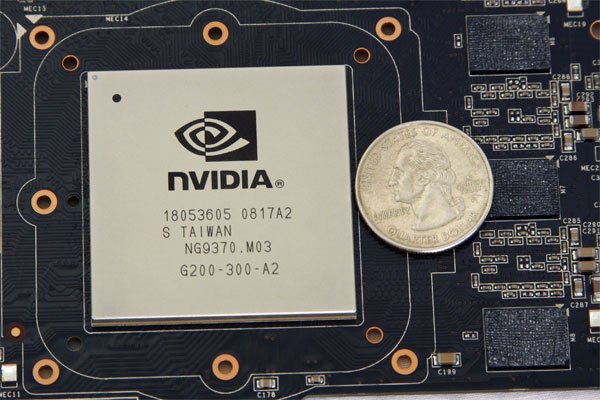 Then finally, before we move on to Testing and Methodology we wanted to take a look at the G200 65nm design GPU chip itself. It takes a pretty good sized chip to accommodate 1.4 Billion transistors, so NVIDIA used a 576 mm2 (MM Squared) die surface area.
The Bundle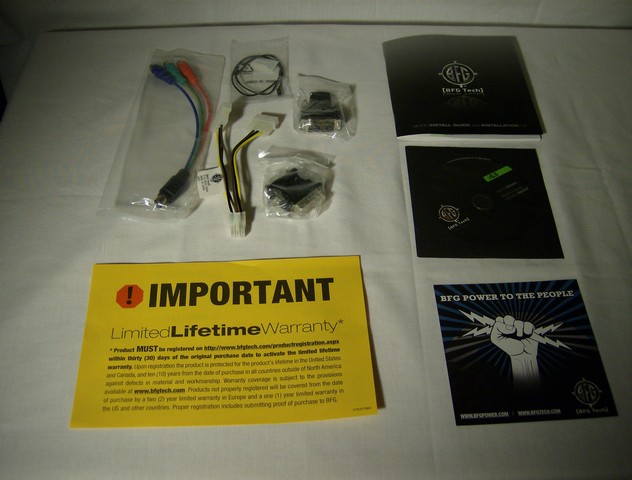 In the bundle you'll find:
BFG NVIDIA® GeForce® GTX 260 OCX™ MAXCORE™ 896MB graphics card
Quick install guide
DVI to VGA adapter
DVI to HDMI™ adapter
S/PDIF analog audio cable (1 ft.)
HDTV (component) breakout cable
Dual 4-pin peripheral to single 6-pin PCI Express® power adapter
Driver CD
It's a pretty full bundle but the inclusion of a Video Game would have sweetened the bundle a little.
Moving on to the Testing and Methodology section.
TESTING & METHODOLOGY
The Move To Vista 64
We've had to face the reality that Vista is here to stay for a while so we're doing most of our testing in Vista 64 bit. We've held on to the aging Windows XP platform for 2 years since Vista came out, and Windows 7 is just around the corner so we're in the process of standardizing to Vista 64 in preparation for Microsoft's latest and greatest offering. Reviewers are still free to test in XP at this time because we're not a bunch of control freaks, but they are required to test and report in Vista 64 as soon as possible so forgive us for the (hopefully) short transition period from mixed operating systems to Vista.
We run all the tests listed below a total of three times and the average of the tests is reported. DirectX 10 games are tested in DirectX 10, and DirectX 9 games are tested in DX9 (of course they are, we have no choice in that).
Please note that on other tests of the BFG GTX-260 OCX we've seen from various sources we've seen scores lower than our reported scores. We assure you that they are entirely due to the lack of proficiency in tuning a system for graphics performance on the part of lesser mortals. When we tune a system at Bjorn3D, we really tune it and the difference in performance shows. Your results with similar hardware might vary but after extensive testing and retesting we're quite confident our reported scores are accurate for the test rig listed below. For the lesser mortals inaccurately reporting due to a lack of tuning proficiency, spend a little more time with your product and less at the soda machine.
The Test Suite
Synthetic Benchmarks & Games
Synthetic Benchmarks & Games
3DMark06 v. 1.10
3DMark Vantage
Company of Heroes v. 1.71
Crysis v. 1.2
World in Conflict Demo
F.E.A.R. v 1.08
The Test Rig
Test Rig
"Quadzilla"
Case Type
Thermaltake Armor
CPU
Intel Q6600 @ 3.6 Voltage 1.4675 vcore
Motherboard
Gigabyte EP45-DQ6
Ram
OCZ Reaper DDR2 800
CPU Cooler
Swiftech MCP350 Pump
Swiftech Apogee GT CPU Water Block
Swiftech Micro Res
Swiftech MCR320 360mm Radiator
3 Yate Loon 120mm 12v Fans 83CFM
Hard Drives
WD 160 Gig Sata 2 Model # WD1600AAJS
Maxtor 160 Gig Sata 2 Model # 6G160E0
Optical
Sony DVD R/W
GPU's Tested
BFG GTX-260 OCX @ 655/1125 Drivers – Vista 177.41
Sapphire HD 4870 @ 750/900 Drivers – Catalyst 8.8
Sapphire Toxic HD 4850 @ 675/1100 Drivers – Catalyst 8.8
Leadtek GTX-260 @ 576/999Drivers Vista 177.41
Case Fans
Two 120mm Thermaltake Front/Rear Push/Pull
250mm Side fan
90mm Rear Exhaust
90mm Top Exhaus
Docking Stations
Tagan IB290 W/Deskstar 2 1/2 Inch 80 Gig Sata 2
Tagan IB390 W/Maxtor 160 Gig Sata 2
Thermaltake BlackX USB W/Seagate 80 Gig Sata 2
Testing PSUs
Thermaltake Toughpower 1K
Thermaltake VGA Express 650 Watt
Legacy
Floppy Drive
Mouse
Razer Lachesis
Keyboard
Razer Lycosa
Gaming Headset
Razer Piranha
Speakers
Logitec Dolby 5.1
Any Attempt Copy This System Configuration May Lead to Bankrupcy
3DMARK06 V. 1.1.0
3DMark06 developed by Futuremark, is a synthetic benchmark used for universal testing of all graphics solutions. 3DMark06 features HDR rendering, complex HDR post processing, dynamic soft shadows for all objects, water shader with HDR refraction, HDR reflection, depth fog and Gerstner wave functions, realistic sky model with cloud blending, and approximately 5.4 million triangles and 8.8 million vertices; to name just a few. The measurement unit "3DMark" is intended to give a normalized mean for comparing different GPU/VPUs. It has been accepted as both a standard and a mandatory benchmark throughout the gaming world for measuring performance.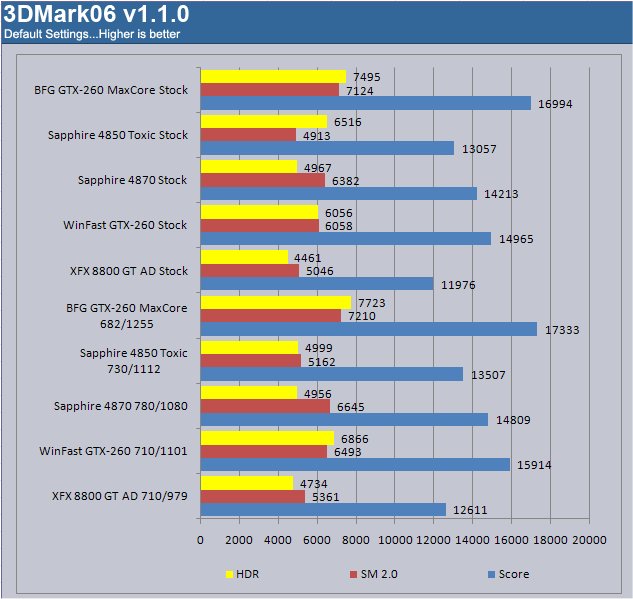 At stock speed the BFG GTX-260 OCX MaxCore owned the comparison cards we tested. The closest GPU to it in the face off was the Leadtek GTX-260 and even at its best OC the Leadtek GTX-260 was 1,419 3DMarks points behind the BFG GTX-260 OCX with its best OC. At stock speeds the BFG GTX-260 OCX MaxCore owned the Leadtek GTX-260 by more than 2000 3DMark points. We were barely into the testing phase and already we were taking a shine to the BFG GTX-260 OCX MaxCore.
WORLD IN CONFLICT DEMO

World in Conflict is a real-time tactical video game developed by the Swedish video game company Massive Entertainment, and published by Sierra Entertainment for Windows PC. The game was released in September of 2007.
The game is set in 1989 during the social, political, and economic collapse of the Soviet Union. However, the title postulates an alternate history scenario where the Soviet Union pursued a course of war to remain in power.
World in Conflict has superb graphics, is extremely GPU intensive, and has built-in benchmarks. Sounds like benchmark material to us!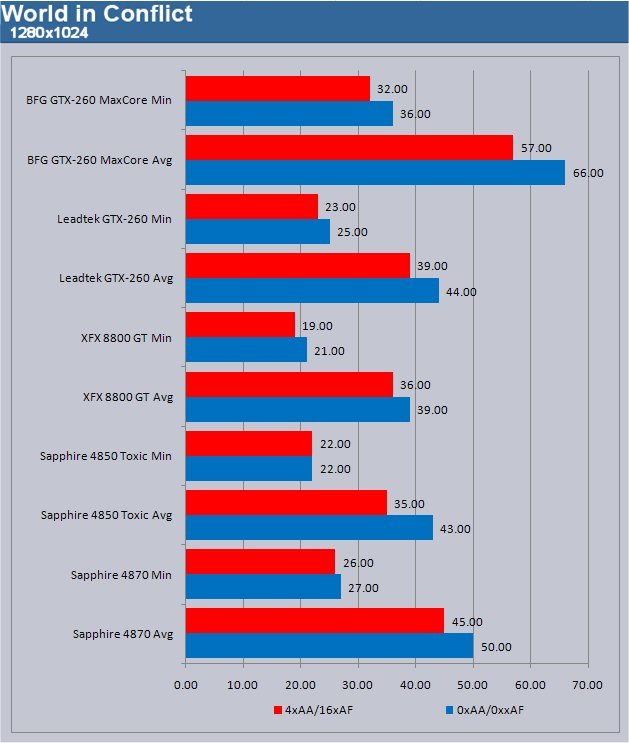 In World In Conflict the BFG GTX-260 OCX MaxCore really shows it's thoroughbred lineage and decimated the comparison cards quite easily. Please note that all the GPU's were run on the same system and at stock speeds so that the Factory OC'd nature of the BFG GTX-260 makes it shine head and shoulders above and beyond the rest.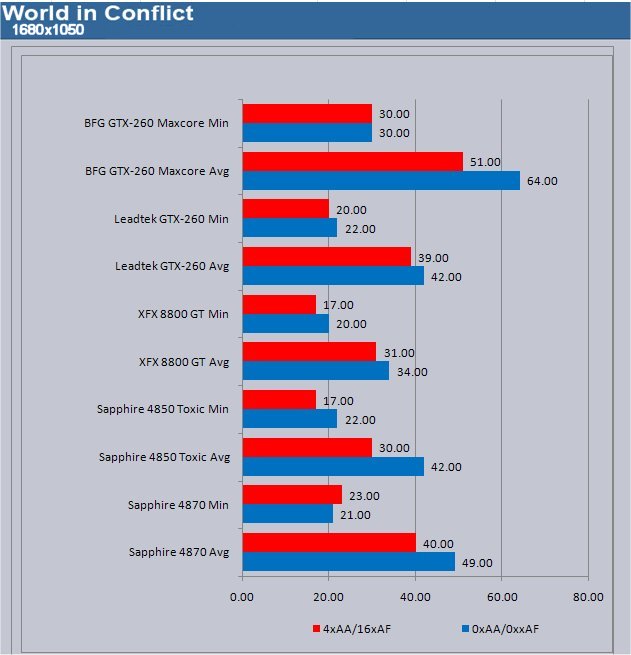 We see the same thing in World In Conflict at 1680×1050. The BFG GTX-260 OCX MaxCore was the only GPU capable of maintaining that all important 30 FPS minimum that makes video appear rock solid to the eye. Out of the tests we've run so far, the BFG GTX-260 OCX MaxCore has dominated the field. Performance like this from a GPU that runs below $300 after MIR is unparalleled.
FEAR V. 1.08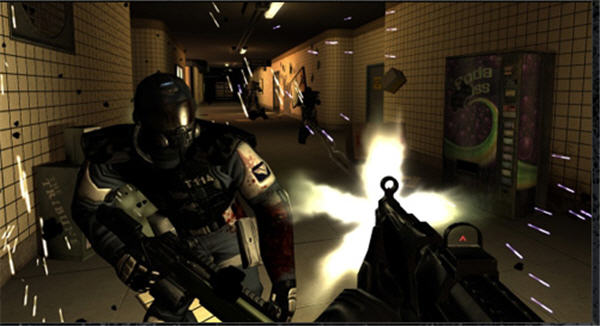 F.E.A.R. (First Encounter Assault Recon) is a first-person shooter game developed by Monolith Productions and was released in October of 2005 for Windows. F.E.A.R. is one of the most resource intensive games in the FPS genre of games ever to be released. The game contains an integrated performance test that can be run to determine your system's performance based on the graphical options you have chosen. The beauty of the performance test is that it gives maximum, average, and minimum frames per second rates. F.E.A.R. is a great benchmark, and one heck of a FPS.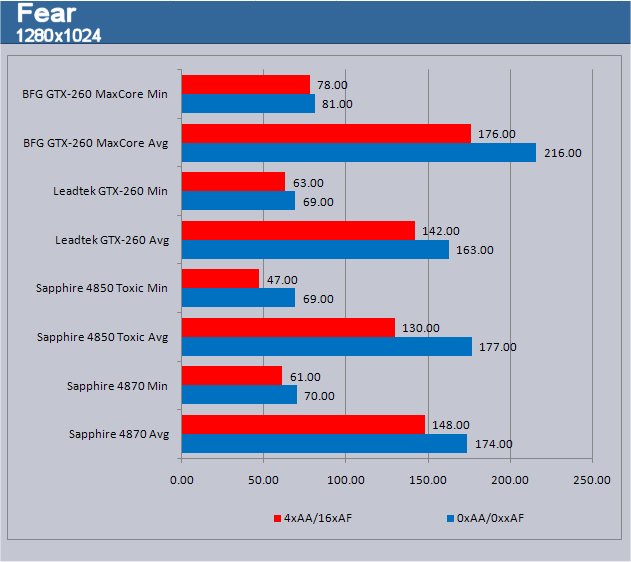 When it came to F.E.A.R., the BFG GTX-260 OCX MaxCore kicked some butt and didn't even stop to take any names. The comparison GPU closest to it was the ATI 4870 and it couldn't even come within 20 FPS of the monster BFG GTX-260 MaxCore. We'd really like to see a couple of these monsters thrown in SLI churning out some numbers!
Pushing the GPU a little harder at 1680×1050 it still literally dominates the comparison cards. In a frenzied moment of confusion, at least one resident Nerd asked the BFG GTX-260 OCX MaxCore for its core in marriage. We gave him a Hot Pocket and some Stargate tapes and he's better now.
COMPANY OF HEROES V. 1.71

Company of Heroes (COH) is a Real Time Strategy (RTS) game for the PC, announced in April, 2005. It is developed by the Canadian based company, Relic Entertainment, and published by THQ. COH is an excellent game that is incredibly demanding on system resources, thus making it an excellent benchmark. Like F.E.A.R., the game contains an integrated performance test that can be run to determine your system's performance based on the graphical options you have chosen. It uses the same multi-staged performance ratings as does the F.E.A.R. test, letting the games benchmark handle the chore takes the human factor out of the equation and ensures that each run of the test is exactly the same producing more reliable results.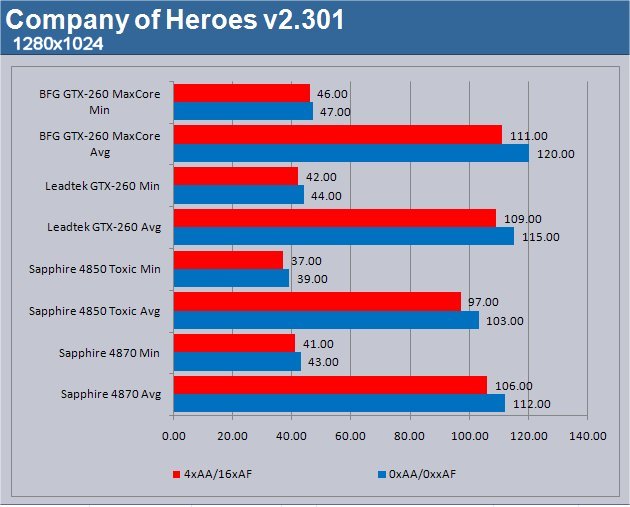 Once again the BFG GTX-260 OCX MaxCore out performed all the comparison GPU's but not by quite such a large lead. Ask any good reviewer though and they'll tell you two things, there's two kinds of components, the winner and the rest. The other thing they'll tell you is that the winner and the rest need to be weighed on a price/performance scale. In this case, we'd have to say that the slightly hefty price tag is justified for a performance like we are getting.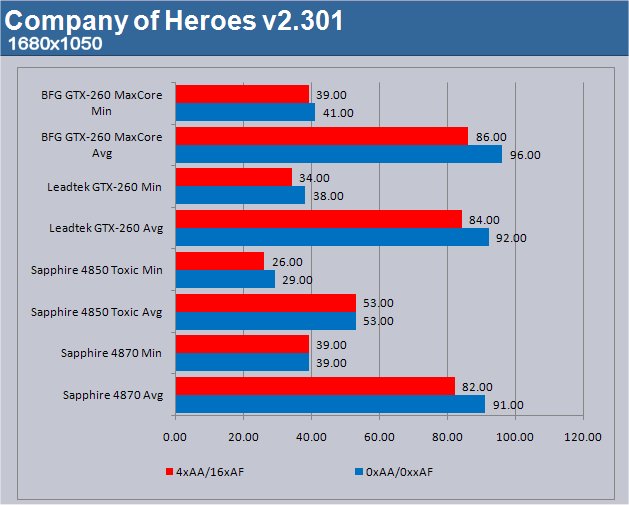 At the higher resolution we tested at 1680×1050 the same story unfolded in Company of Heroes, the BFG GTX-260 OCX MaxCore edged out the competition, thus validating the results we got at 1280×1024.
CRYSIS V. 1.2.1

Crysis is the most highly anticipated game to hit the market in the last several years. Crysis is based on the CryENGINE™ 2 developed by Crytek. The CryENGINE™ 2 offers real time editing, bump mapping, dynamic lights, network system, integrated physics system, shaders, shadows, and a dynamic music system, just to name a few of the state-of-the-art features that are incorporated into Crysis. As one might expect with this number of features, the game is extremely demanding of system resources, especially the GPU. We expect Crysis to be a primary gaming benchmark for many years to come.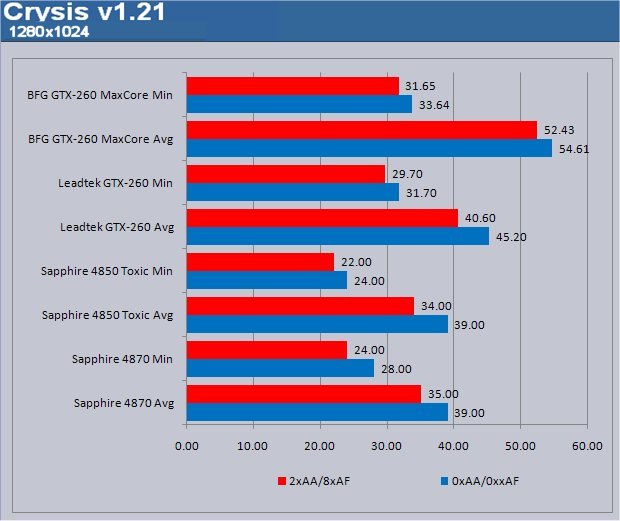 The BFG GTX-260 OCX MaxCore managed to stay above 30 FPS in Crysis at 1280×1024 and of all the GPU's we tested it's the only one that managed to do that. It also held its lead in this test in the Average FPS category and in all the tests so far it has demonstrated it's superiority.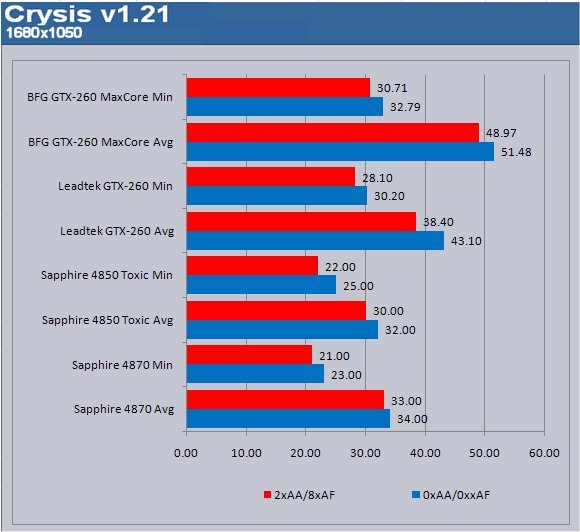 Even at 1680×1050, the BFG GPU stayed above 30 FPS and we were close to falling out of our chairs. Staying above 30 FPS in Crysis is just about the holy grail of graphics cards.
3DMark Vantage

For complete information on 3DMark Vantage Please follow this Link: www.futuremark.com/benchmarks/3dmarkvantage/features/
The newest video benchmark from the gang at Futuremark. This utility is still a synthetic benchmark, but one that more closely reflects real world gaming performance. While it is not a perfect replacement for actual game benchmarks, it has its uses. We tested our cards at the 'Performance' setting.
Currently, there is a lot of controversy surrounding NVIDIA's use of a PhysX driver for its 9800 GTX and GTX 200 series cards, thereby putting the ATI 4850 Toxic and 4870 at a disadvantage. Whereby installing the PyhsX driver, 3DMark Vantage uses the GPU to perform PhysX calculations during a CPU test, and this is where things get a bit gray. If you look at the Driver Approval Policy for 3DMark Vantage it states; "Based on the specification and design of the CPU tests, GPU make, type or driver version may not have a significant effect on the results of either of the CPU tests as indicated in Section 7.3 of the 3DMark Vantage specification and white paper." Did NVIDIA cheat by having the GPU handle the PhysX calculations or are they perfectly within their right since they own Ageia and all their IP? I think this point will quickly become moot once Futuremark releases an update to the test. For now we will show the GPU and CPU score and let you judge.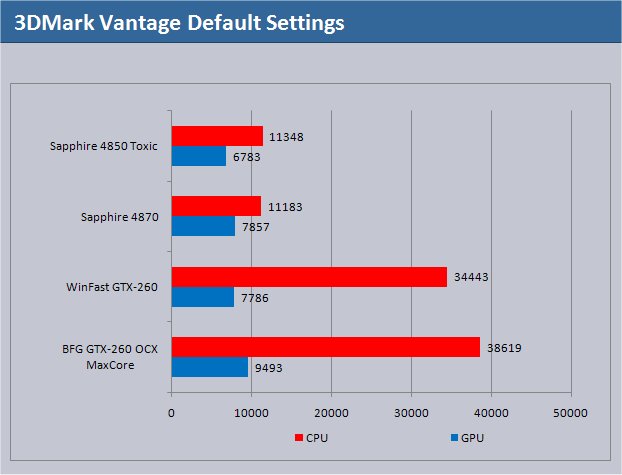 We won't attempt to interpret the CPU scores for the reasons we mentioned in the lead paragraph. The use of PhysX in the benchmark has just raised too many questions and the differences are too great between ATI and NVIDIA GPU's to be of use in comparison.
The GPU score on the other hand is a fair test and clearly shows the superiority of the BFG GTX-260 OCX MaxCore. It came in 1636 3DMark Vantage points ahead of the closest comparison card, the ATI 4870. Given 3DMarks somewhat stingy point system, that's a pretty significant difference.
CONCLUSION
The BFG GTX-260 OCX MaxCore excelled in every test we threw at it. It's unusual that we see one GPU dominate in every test. We ran additional tests to confirm our surprising results and the results held true during the additional testing.
We also spent considerable time gaming with the BFG GTX-260 OCX MaxCore and it performed flawlessly in every game we ran it with. Frame rates were high and game play was smooth. We normally run the Crysis Benchmarking tool version 1.5 Final and call it good for Crysis. In this case we felt compelled to play Crysis for several hours with the BFG GTX-260 OCX MaxCore, and even in combat intensive scenes with multiple opponents approaching our position we never saw the GPU so much as stutter. That says a lot about the more than capable MaxCore GPU.
The additional processing cores provided a significant performance increase over the Leadtek GTX-260 we ran it against. It's factory overclocked core and memory really made the differences stand out. The slight increase in cost over the lower clocked variants is well worth the additional cost considering that it's already OC'd for you and that OC is covered under BFG's Limited Lifetime Warranty. In this case, buying a lower clocked card and clocking it yourself will void the Lifetime Warranty, so we'd recommend the factory OC'd model to keep that warranty intact.
Even though the BFG GTX-260 was overclocked at the factory, we were able to get a little more out of it. The stock speed it comes out of the box with is 655 Core/1125 Memory. We were able to drive it completely stable at 690 core/1255 memory. Gave us a sweet boost of 339 points in the 3DMark06 test we ran it OC'd in. Take into consideration it's already OC'd and that it gave us 2,368 points more than the stock clocks on the Leadtek GTX-260 we ran it against, you can see why we were quite pleased with it.
It ran pretty cool at the stock fan setting of 40% and never went over 67°C in at any point during testing. Power wise, it consumes slightly more than the GTX-260 (187 watts worst case), but if you're running a GTX class GPU, you're probably more concerned with performance than power consumption.
Pros:
+  Great performance
+  Over Clocks Well
+  30+ FPS In Crysis
+  Sexy
+  Less Expensive Than A GTX-280
+  Runs Cool
+  Good Power Consumption For A GTX
+  Well Behaved
+  Quiet Operation
+  Triple SLI Ready
+  Multiple Geekgasms
Cons:
–  Isn't Buy One Get One Free
–  A Little Expensive For Some
The BFG GTX-260 OCX MaxCore brings it all to the table. It's sexy, runs quiet, churns out frames at incredible rates, and managed to beat out every GPU we tested it against.
With the performance and price the BFG GTX-260 OCX MaxCore offers we have to give it:
Final Score of 9 out of 10 and the Golden Bear Award.