The Gigabyte EP45-Extreme is a Monster Motherboard aimed at not only the Extreme Overclocker but also those that just want to drive a quality Rig.
INTRODUCTION
Looking for an Enthusiast level board that won't break the bank? Need to satisfy the Enthusiast side of your cravings but have a Motherboard that won't kill your electric bill? How about some 12 phase power regulation for the CPU and 2 phase power for the ram and Energy savings features you wouldn't expect on an Enthusiast board?
How about throwing in a diagnostic panel, and OC, Over Voltage, and Temperature LED indicators? What is that we hear? You want better Chip Set cooling and the ability to migrate to water cooling the Chip Set? Aren't you overlooking an on board Power Switch, Reset Switch, and rear panel CMOS Reset button?
What if you can get all that on a Motherboard, from one of the top manufacturers, and a few more high end features and not break the bank doing it? It'd be a dream come true wouldn't it? Well, you might want to pinch yourself to make sure you're not dreaming. Gigabyte has heard your cries and felt your pain and answered with the Gigabyte EP45-Extreme board. It sports features and bells and whistles a lot of the more expensive Motherboards have but does it at a reasonable price.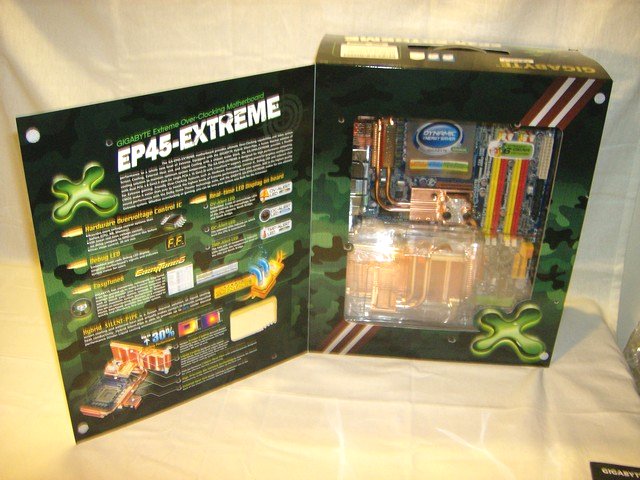 About Gigabyte
Founded in 1986, GIGABYTE started as a research and development team and has since taken the lead in the world's motherboard and graphics accelerator markets. To truly reach out to all consumers, GIGABYTE further expanded its product portfolio to include more diverse digital products such as Notebook and desktop PCs, digital home appliances, networking servers, communications, mobile and handheld devices, servicing every facet of people's lives at home or at work.

Everyday, GIGABYTE aims to "Upgrade Your Life" by knitting a global network to effectively honor its commitment to world wide customers. What's more important, GIGABYTE wishes all users to see and feel the brand through its products and all the touch points from GIGABYTE to the hands of all users.
FEATURES

Based on the new Intel P45 Chip set, the EP45T-Extreme supports a blazing 1600 Mhz FSB and support for the latest 45nm Core 2 Duo/Quad processors. It'll use your existing DDR2 800 and provide an upgrade path to DDR2 1200 making it a good choice for the forward looking upgrade minded enthusiast.

Optimized for the 45nm generation of CPU's the EP45T-Extreme will accept any current Intel 775 LGA CPU adhering to the VRD11.1 power phase specification, and cannot be compatible with VRD10 designed CPU's. It'll accept any CPU with that standard from 800 Mhz to 1600 Mhz FSB making it extremely flexible in CPU choice and upgrade path.

Supporting the latest DDR 2 1333+ (OC) for blazing fast speeds in the DDR2 range you'll be able to enjoy blazing fast speeds and increased bandwidth for today's most demanding applications.

Hybrid-Silent Pipe is all-copper thermal solution design which combines Air cooling with Liquid Cooling to enable effective heat removal from the North Bridge, South Bridge and CPU area.

If you're worried about PCI-E bandwidth issues on the old P35 or PCI-E 1.0 standard on your current board, you'll be glad to know that the EP45T-Extreme supports PCI-E 2.0 to address your future bandwidth needs. It carries 2 PCI-E 16X slots which will operate at 16x and 8x (8x – 8x in Crossfire) respectively and support the PCI-E 2.0 Standard while running ATI CrossfireX technology.

Supporting ATI CrossfireX technology you'll need to ensure you're using ATI boards that have the Crossfire bridges to get those blazing frame rates and superior graphics you crave so badly. With the release of the new ATI 4870 and 4850, the excellent performance Crossfire is looking pretty good these days. Great price, great performance, and you'll be on the forefront of technology with the Dual PCI-E slots running the 2.0 Standard.

Using the Realtek ALC889A codec and supporting High Definition Audio on 2/4/5.1/7.1-channel speakers and featuring support for Dolby Home Theater you'll be rattling those windows before you know it. Explosions, in game conversations, music, and sound effects will flow from your speakers delivering an incredible sound experience without the need for an add in sound card. In trouble with the family for to0 much in game enthusiasm with the Volume Knob, you're covered with the inclusion on an on board HD audio connector for your gaming headphones ensuring that you don't get attacked by the family in a barrage of pillows and feathers while they try to sleep during those late night gaming sessions.

GIGABYTE Dynamic Energy Saver Advanced will allow you to save energy through dynamic energy saving features that will throttle back on energy usage during less demanding activities. It utilizes the world's only motherboard energy saving technology with hardware-based Dynamic 6-Gear switching and requires 45nm processors with the PSI signal enabled. Current energy prices have driven the design of a lot of energy saving motherboards in the recent months. While energy is a concern, we are planning on running this beauty at full throttle until our need for speed is satisfied or that Magic Blue Smoke ascends from the case in it's majestic plume. We will of course test the energy saving features, but a beauty like this should run full throttle until the last piece of Coal at the energy plant is exhausted and the Power Company begs for mercy.
We also checked with Gigabyte on the power saving features and we were reassured to hear, "GIGABYTE has also retooled Dynamic Energy Saver to allow overclockers to experience the benefits of multi-gear power phase switching while over clocking, providing ultra stable, ultra smooth over clocking performance."

Of course along with the dynamic energy savings, Gigabyte has mandated and implemented top quality highly efficient components to facilitate the energy savings we need and the smokin' performance we want.

Among those revolutionary features you'll find Ultra Cooling – Low RDS MOSFET Design which reduces switching resistance and provides faster charging and discharging.

Low Power Loss – Ferrite Core Choke Design comprised of a compound of Iron Oxide and other metals to hold energy much longer than traditional Iron core at higher frequencies.

The EP45T-Extreme addresses longevity with it's Longer Life – All-Solid Capacitor Design. The capacitors contain a solid organic polymer as opposed to electrolytic capacitors which use a common liquid electrolyte. The high quality Japanese capacitors last longer than electrolytic and have gained public notice and became an issue with motherboard design recently.

After checking with Gigabyte we were told that all Gigabyte P45 motherboards uses 2 Phase power switching for the North Bridge and Memory allowing for cooler operation, a longer life span, higher frequencies, and better performance.

Ethernet port holding you back, sitting on a massive T1 or fiber optic trunk line that provides so much bandwidth that your Ethernet port is screaming for mercy? Want to drop that ping time in online gaming so you can get off that vital head shot before your brains get splattered on the wall? Need to run multiple routers to accommodate that hot point you're not supposed to be running, or use the old desktop for server purposes? How about Dua Gigabit Ethernet on board with teaming capabilities? Yes, you read that right. Two gigabit Ethernet controllers for increased speed or driving that impromptu Lan Party at the dorm.

How many times have you craved more voltage options for the CPU, NB and memory, left thinking if I could just get more NB voltage, or if I had more choices I could shave a little off the CPU voltage and knock a little heat off the CPU? This board can do it for you with Hardware Over voltage Control ICs which provide more voltage control options than before for the CPU North Bridge and memory. Yes, you can enjoy adjusting voltage in increments as low as 20mV for better over clocking performance.

For the less experienced over clocker, Gigabyte has included Easy Tune 6, which allows you to manage and monitor your hardware from the Windows GUI environment. While we're not big fans of GUI based tuning utilities, we realize the need for them to accommodate the "Sunday Driver" or less experienced over clocker community. With a feature rich BIOS designed especially for over clocking laid out in a user friendly environment, we'll test the Easy Tune 6 utility but will delight in running our fingers over the BIOS features.
During testing of Easy Tune 6 we were able to achieve a solid over clock on the E8400 we are using for the review. We punched it up to 3.6 with a FSB of 400 at 1.25 vcore but to go beyond that we had to go into BIOS to achieve a higher over clock. You should know that it took longer to achieve the Over Clock in Easy Tune 6 than it did in BIOS but we would attribute that more to learning curve than the software's design.

Worried about Bios Flash issues and Bios over writer viruses rendering your new prize nothing more than a paperweight? Gigabyte has included their patented DualBIOS on the EP45T-Extreme to protect and backup your BIOS and in case of BIOS failure or crash it will automatically recover your bios for you. During later testing we managed, with difficulty, to crash a few times while Over Clocking. The BIOS recovery feature very politely booted us into a safe configuration where we were able continue our efforts to squeeze every ounce of speed out of the CPU. For those that like multiple Bios profiles, Gigabyte has provided for that and the BIOS keeps track of the successful boots into each profile. Very helpful after a long days testing when things start to get fuzzy.

Ever wondered why that new board won't boot right out of the box? Left wondering if you have a bad board or bad component when you went to bed after a long day of trying to kick that new board to life? The EP45-Extreme has a Debug LED that will show diagnostic codes making it easy to determine what's wrong with your system.

Gigabyte has thought of every thing on this board. They've even included an Over Voltage LED that will let you know when you're in the "too much voltage range", or getting close to too much voltage.

There is even an OC LED letting you know the level of OC on your machine, though in our opinion if you don't know the level your over clocked to you shouldn't be over clocking.

Here's a dual LED setup that might be of some use. It's a set of two leds that will let you know if the NB or CPU is too hot, so you won't need to use the old lick the finger and touch the chip method (to see if it sizzles).

Stuck with a screw driver or razor blade trying to jump the board to life on the work bench? On this board you won't be. On the edge of the board (easily accessible) you'll find a reset and power button. On the rear I/O panel, a reset CMOS button comes in really handy on this board. The battery isn't located in the best of places (under the Silent-Pipe cooling solution). That feature alone makes this a noteworthy board by increasing the ease of testing and clearing CMOS after a happy little over clocking accident or hardware change.  We tested the CMOS reset button (on the back I/O panel), power on button, and reset button on the EP45-Extreme inside the case and they worked great and working at eye level with the case open were really handy.
SPECIFICATIONS & OVERCLOCKING FEATURES
Specifications
Gigabyte EP45-Extreme
Specifications
Features
Support for an Intel® Core™ 2 Extreme processor/ Intel® Core™ 2 Quad processor/Intel® Core™ 2 Duo processor/ Intel® Pentium® Dual-Core processor/Intel® Celeron® processor in the LGA 775 package

2. L2 cache varies with CPU
Front Side Bus
1600/1333/1066/800 MHz FSB
Chipset
North Bridge: Intel® P45 Express Chipset
South Bridge: Intel® ICH10R
Memory
4 x 1.8V (min) DDR2 DIMM sockets supporting up to 16 GB of system memory
Dual channel memory architecture
Support for DDR2 1200/1066/800/667 MHz memory modules (1333 OC)
Audio
Realtek ALC889A codec
High Definition Audio
2/4/5.1/7.1-channel
Support for Dolby Home Theater
Support for S/PDIF In/Out
Support for CD In
LAN
2 x Realtek 8111C chips (10/100/1000 Mbit)
Support for Teaming
Expansion Slots
1 x PCI Express x16 slot, running at x16
1 x PCI Express x16 slot, running at x8
1 x PCI Express x4 slots
1 x PCI Express x1 slot
3 x PCI slots
Note: When using both 16X Slots in Crossfire they run at 8X
Storage Interface
South Bridge:
6 x SATA 3Gb/s connectors (SATAII0 – SATAII5) 6 SATA 3Gb/s devices
Support for SATA RAID 0, RAID 1, RAID 5, and RAID 10

iTE IT8213 chip
1 x IDE connector supporting ATA-133/100/66/33 and up to 2 IDE devices

iTE IT8720 chip:
1 x floppy disk drive connector supporting up to 1 floppy disk drive
IEEE 1394a
T.I. TSB43AB23 chip
Up to 3 IEEE 1394a ports

(via the IEEE 1394a brackets connected to the internal IEEE 1394a headers)

USB
Integrated in the South Bridge
Up to 12 USB 2.0/1.1 ports

(8 on the back panel, 4 via the USB brackets connected to the internal USB headers)

Internal I/O Connectors
1 x 24-pin ATX main power connector
1 x 8-pin ATX 12V power connector
1 x floppy disk drive connector
1 x IDE connector
6 x SATA 3Gb/s connectors
1 x CPU fan header
2 x system fan headers
1 x power fan header
1 x front panel header
1 x front panel audio header
1 x CD In connector
1 x S/PDIF In header
1 x S/PDIF Out header
2 x USB 2.0/1.1 headers
3 x IEEE 1394a headers
1 x serial port header
1 x chassis intrusion header
1 x power LED header
1 x power switch
1 x reset switch
Back Panel Connectors
1 x PS/2 keyboard port
1 x PS/2 mouse port
1 x optical S/PDIF Out connector
1 x coaxial S/PDIF Out connector
1 x clearing CMOS switch
8 x USB 2.0/1.1 ports
2 x RJ-45 ports
6 x audio jacks

(Center/Subwoofer Speaker Out/Rear Speaker Out/Side Speaker Out/Line In/Line Out/Microphone)

I/O Controller
iTE IT8720 chip
H/W Monitoring
System voltage detection
CPU/System temperature detection
CPU/System/Power fan speed detection
CPU overheating warning
CPU/System/Power fan fail warning
CPU/System fan speed control
BIOS
2 x 8 Mbit flash
Use of licensed AWARD BIOS
Support for DualBIOS
PnP 1.0a, DMI 2.0, SM BIOS 2.4, ACPI 1.0b
Unique Features
Support for @BIOS
Support for Q-Flash
Support for Virtual Dual BIOS
Support for Download Center
Support for Xpress Install
Support for Xpress Recovery2
Support for EasyTune
Support for Dynamic Energy Saver Advanced
Support for Time Repair
Support for Q-Share
Bundle Software
Norton Internet Security (OEM version)
Operating System
Support for Microsoft/ Windows/ Vista/XP
Form Factor
ATX Form Factor; 30.5cm x 24.4cm
Overclocking Features
Overclocking Features
FSB Settings: 100 – 1200MHz
MCH Frequency Strap: Auto, 200/266/333/400MHz
PCIe Settings: 90MHz to 150MHz
CPU Voltage Settings: 0.5V to 2.3V (in 0.02 steps)
Memory Voltage Settings: 1.5V to 2.5V (in 0.02V steps)
MCH Core Voltage Settings: 0.8V – 1.8V (in 0.02V steps, variable)
ICH I/O Voltage Settings: 1.0V to 2.3V (in 0.10V steps)
CPU Clock Drive: 700, 800, 900mv
PCIe Clock Drive: 700, 800, 900mV
CPU Clock Skew: 0 – 750ps (in steps of 50ps)
MCH Clock Skew: 0 – 750ps (in steps of 50ps)
Multiplier Selection: Yes, 6 – 16 (unlocked CPUs only)
PACKAGING, PICTURES & IMPRESSIONS
Packaging
Click Image For A Larger Picture
The EP45-Extreme comes securely packaged in a larger camouflage box that is literally covered with features and specifications. The front of the box opens like a book where you'll find more features and specifications. Inside the box is another box protecting the EP45-Extreme. There's enough information on the box to help the consumer make an informed decision in purchasing it.
Click Image For A Larger Picture
Inside the second box you get the first full glimpse of the EP45-Extreme and another box keeping the peripherals secure and away from the motherboard itself.
Pictures & Impressions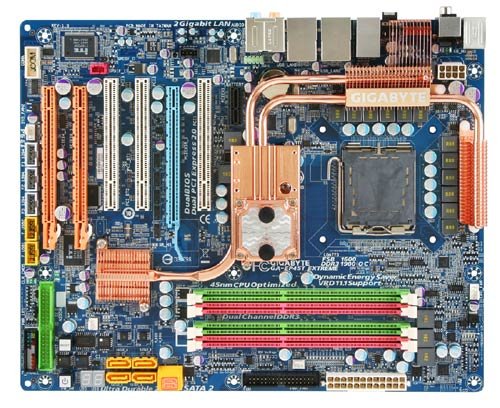 Let's get the Layout issues out of the way and on to the finer points of this Monster Motherboard from Gigabyte. If you look right below the Blue 16x PCI-E slot you'll quickly realize that full length NVIDIA GPU's are going to block two of the Sata ports. The Sapphire 4870 we used in that slot didn't block any ports. Then, if you look you'll see the CMOS battery is right under the heat pipes. You probably won't need to remove the battery much; on the back I/O panel you'll find a clear CMOS button that saves a lot of headaches. Then the 8 pin CPU power connector is right behind the heat pipe arrangement and a little unhandy, especially if you're mounting a huge CPU cooler. It was easy to work around that. We mounted the Thermalright Ultra 120, then connected the 8 pin on the way into the case. Lastly, the audio connector is right there beside the battery and you'll need to connect that before you install the large NB slot cooler. We tested it and with a little contorting you can connect it with the slot cooler in place.
Click Image For A Larger Picture
There's a good look at the NB slot cooler. In order to use it you'll have to give up the use of the PCI-E 1x slot above the Blue PCI-E 16x slot. As you'll see later on in the Test Results section, it's well worth installing (and it looks really cool). How cool you ask?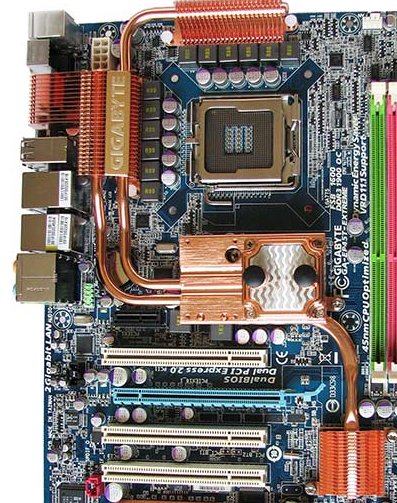 Before The Hybrid Silent-Pipe Cooler Is Installed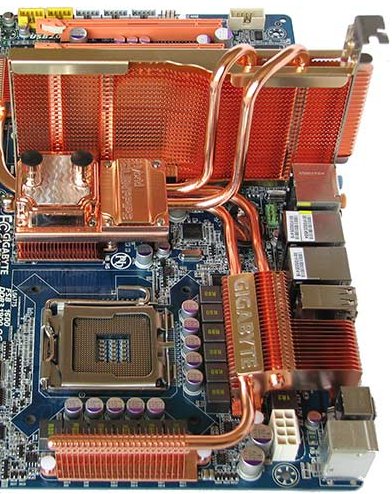 After The Hybrid Silent-Pipe Cooler Is Installed
In our humble opinion, it looks pretty cool, and with that large surface area, it provides excellent cooling. It also serves to soak up the heat rising from the GPU before it gets to the CPU.
For the more astute readers you might notice that some of the pictures the PCB is labeled EP45T-Extreme and not EP45-Extreme. The board layout is exactly the same and the only difference in components is the color of the Ram slots. The EP45T-Extreme is the DDR3 version of the EP45-Extreme family. These shots just turned out exceptionally well so we used them for layout purposes. That should be a hint, we have the EP45T-Extreme review in progress.
The Hybrid Silent-Pipe Slot Cooling system is made of all Copper and can cool using only air but provides ports for water cooling or if you're really Extreme works great for D-Ice and Liquid Nitrogen. On the bottom and right side of the CPU socket. You get a good look at the Mosfet cooling, Ferrite chokes, and high quality Solid Japanese capacitors. Yes, that's 12 phase power for the CPU, making the EP45-Extreme an excellent choice for Extreme overclockers and those that just want a good solid overclocking board. Less obvious than the 12 phase power design for the CPU is the 2 phase power for the NB. Compared with one phase solutions, this ensures longer power component lifespan and higher overclockability due to cooler working temperatures and better efficiency. The same goes for the 2 phase power solution for the memory. This board is geared for overclocking but the ease of use setting up the EP45-Extreme proved to us that it's not only for the Extreme overclocker but anyone wanting a high quality rock solid platform. (if we catch you not overclocking this board we'll be forced to take it from you and place it with an overclocker).
CMOS Battery & High Def Audio Position
There's the battery position we mentioned earlier, not the handiest but we tested it and with a small screw driver it wasn't hard to remove the CMOS battery. If you'll notice by the upper left hand of the battery you'll see the High Def Audio connector in it's slightly awkward position. We tested installing the connector with the Slot Cooler installed and it's possible by positioning the connector correctly and pushing it on the pins with one finger (Yes, we forgot to connect it but the one finger method worked). Another feature we found interesting was the Copper vanes exposed to the rear I/O panel for extra cooling.

Rear I/O Panel
Right there next to the Clear CMOS button you can see the Copper vanes that get cool air from the slots cut into the I/O plate. Another nice feature is the 8 rear panel USB ports (12 total including internal headers). The Dual Gigabit Lan ports provide teaming functionality, Optical and Component SPDIF Out connectors, standard PS2 Keyboard and Mouse connectors, and 6 audio ports round out the I/O panel.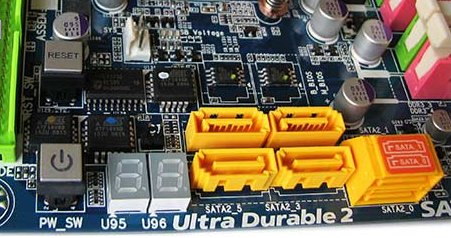 Sata Connectors, BIOS Chips, Debug LED, Power and Reset Switches
There's a lot going on in that picture. You can see the 6 Sata connectors, and the Dual Bios chips right above the 4 upright connectors. To the left of the connectors you can see the Debug LED display which passes Post messages as the board loads (messages described in the manual). To the left of the Debug LED you find the on board Power Switch and above that the on board reset switch. We found the on board switches to be particularly useful during intensive overclocking and initial testing. If the board goes into a reboot sequence during overclocking, just hit the on board power switch to turn it off, then turn it back on and it quickly lets you into BIOS.
Check the position of the Ram Slot Clips. They are a little close to the GPU but we had no problems installing Ram with the GPU installed so we aren't complaining.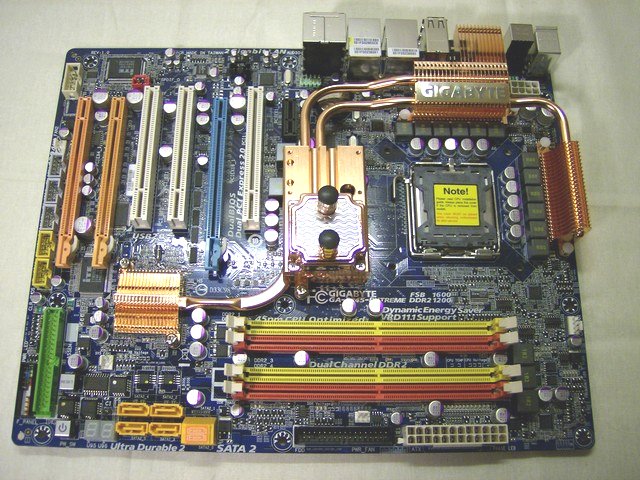 EP45-Extreme Motherboard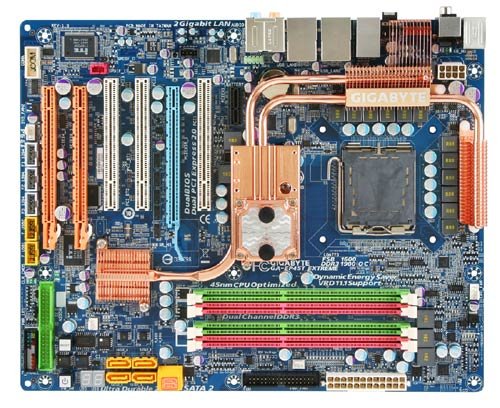 EP45T-Extreme Motherboard
There's a shot of the EP45-Extreme on Top and the EP45T-Extreme below it. Except for the placement of a few capacitors cose to the Ram slots and the color of the Ram slots, the boards are almost identical.
THE BUNDLE & BIOS
The Bundle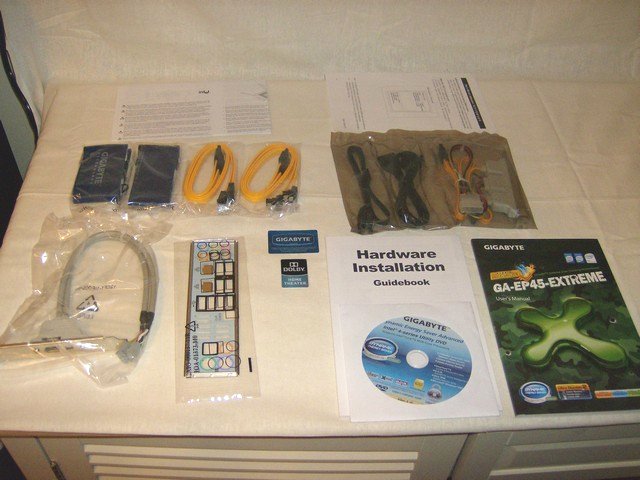 EP45-Extreme Bundle
Inside the black insert we showed you earlier you'll find the bundle for the EP45-Extreme.
The Bundle includes:
1 – Manual
1 – Driver & Software disk
1 – Hardware Installation Guidebook
1 – Pata IDE Cable and Floppy Cable
4 – Sata Cables (2 Flathead)
2 – Case Badges
1 – 1394 Firewire Bracket
1 – E-Sata Cable
1 – E-Sata Bracket W/Power Adaptor
1 – Rear I/O Plate
1 – Intel CPU Install Guide
It's a pretty standard bundle with the exception of the Firewire Bracket and the E-Sata Bracket. The inclusion of these two brackets make the EP45-Extreme a little more affordable to own because you won't have to buy the brackets later on down the line.
BIOS
The EP45-Extreme is a BIOS feature rich motherboard so forgive us if this is a little long.
MB Intelligent Tweaker (M.I.T.)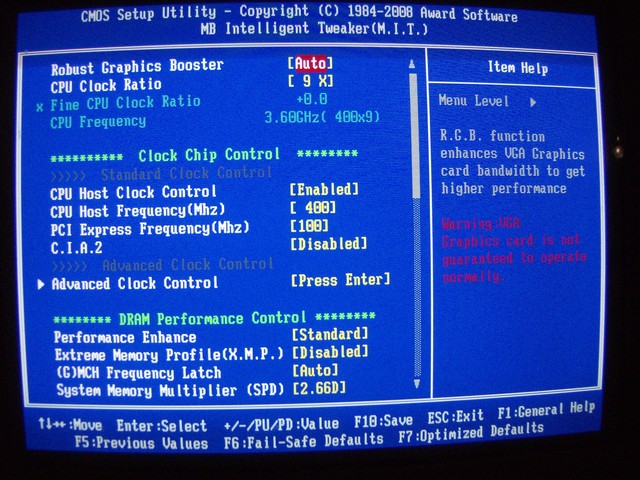 MB Intelligent Tweaker Screen #1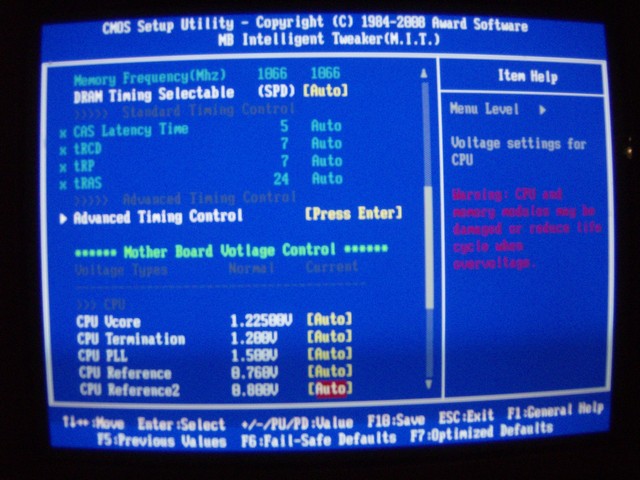 MB Intelligent Tweaker Screen #2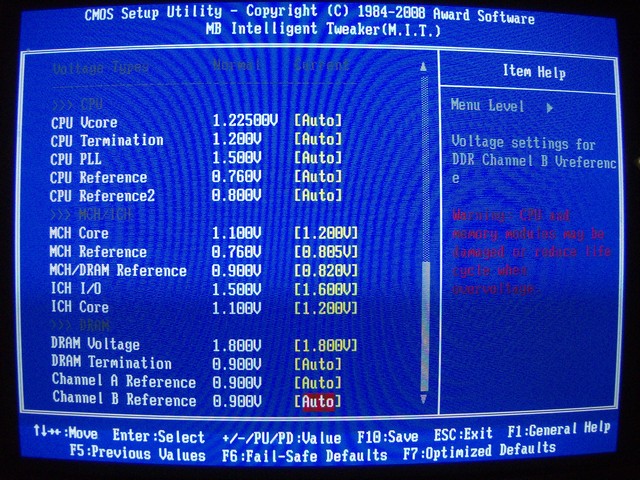 MB Intelligent Tweaker Screen #3
The MB Intelligent Tweaker Screen is really well laid out for the EP45-Extreme. With the exception of the advanced power design functions found in Advanced BIOS, every thing you need for overclocking is found on one screen. There are a couple of sub-screens embedded in the MIT screen.
Advanced Clock Control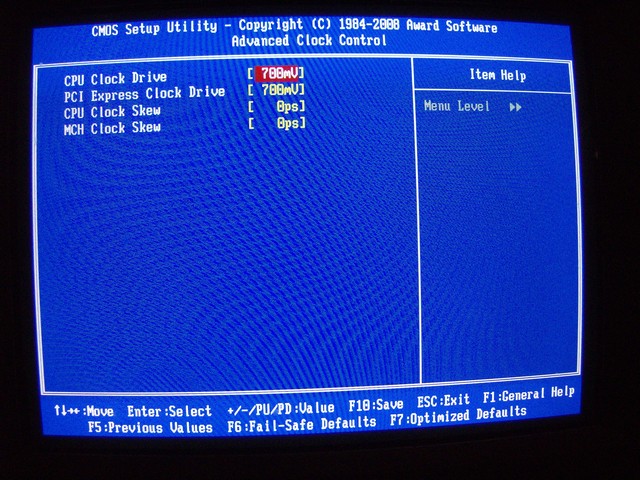 Advanced Clock Control Screen
On the Advanced Clock Control Screen, which is embedded in the MIT Screen, you can adjust the CPU and PCI-E Clock Drive Voltage and the Skew for both.
Advanced Timing Control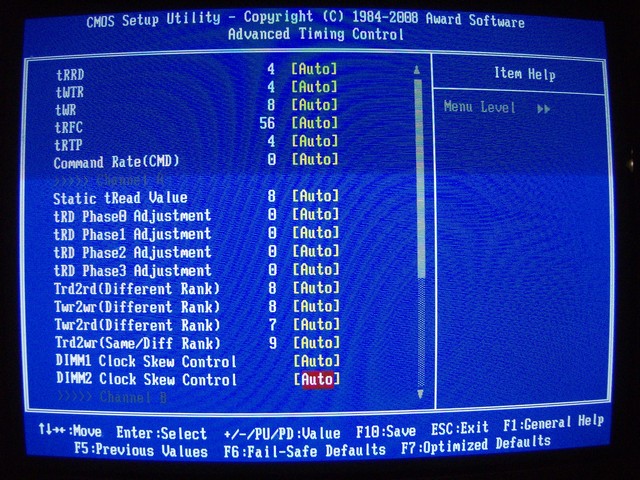 Advanced Timing Control Screen #1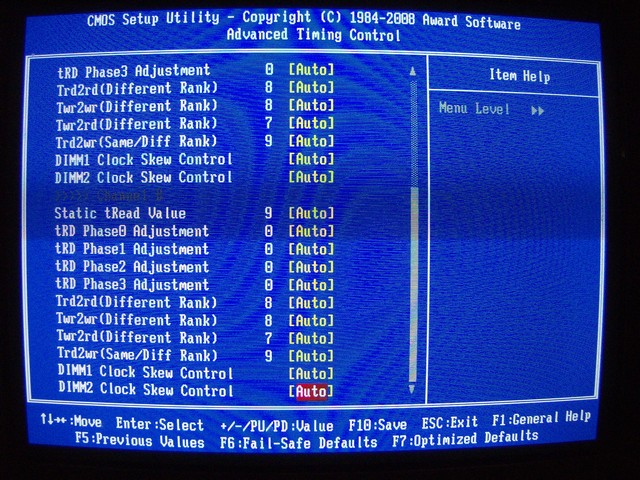 Advanced Timing Control Screen #2
The Advanced Timing Control screen is for advanced Ram timing control. As you can see, the screen contains enough Advanced ram Timing settings to overwhelm some people.
Standard CMOS Features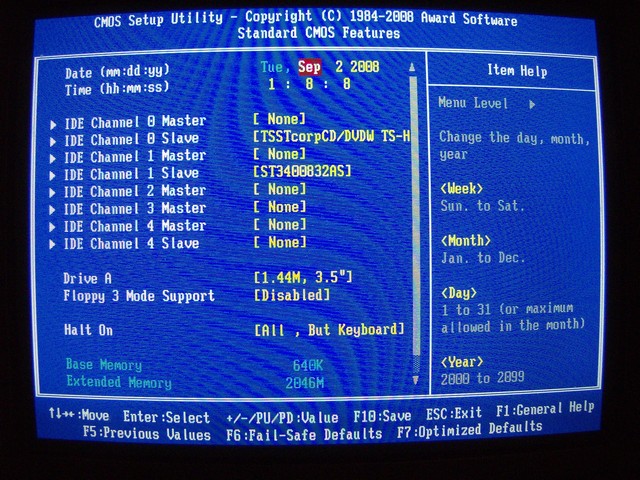 Standard CMOS Features Screen #1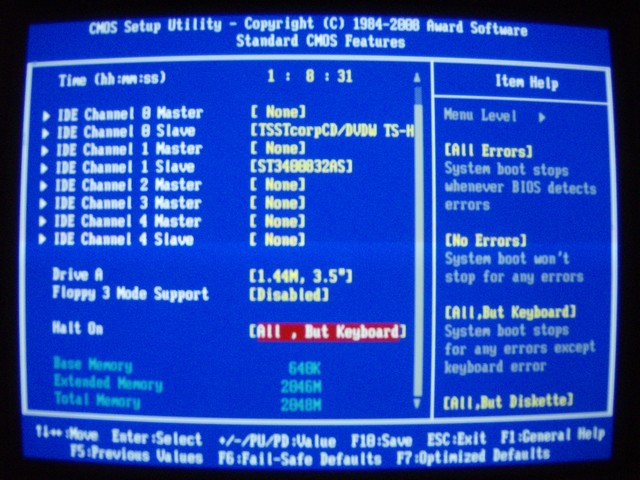 Standard CMOS Features Screen #2
No big surprises on the Standard CMOS Screen – Time, Date, Hard Drives, Floppy and Halt on error state.
Advanced CMOS Features Screen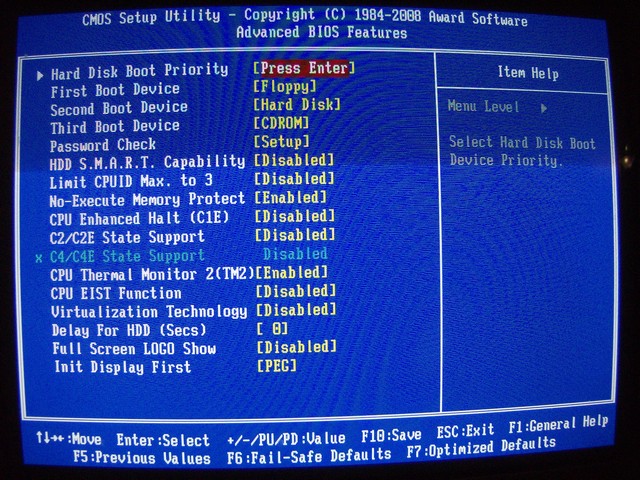 Advanced CMOS Features Screen #2
Advanced CMOS is where you'll find the Thermal Management control that most overclockers disable. The one thermal management setting they leave enabled is CPU Thermal Monitor 2. If the CPU gets too hot it will throttle the CPU to keep it from getting damaged.
Integrated Peripherals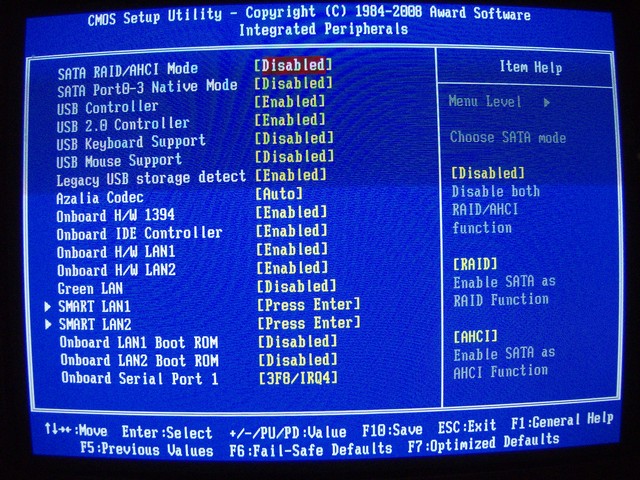 Integrated Peripherals Screen
Integrated Peripherals is where you can enable and disable the different on-board devices and set their states.
Power Management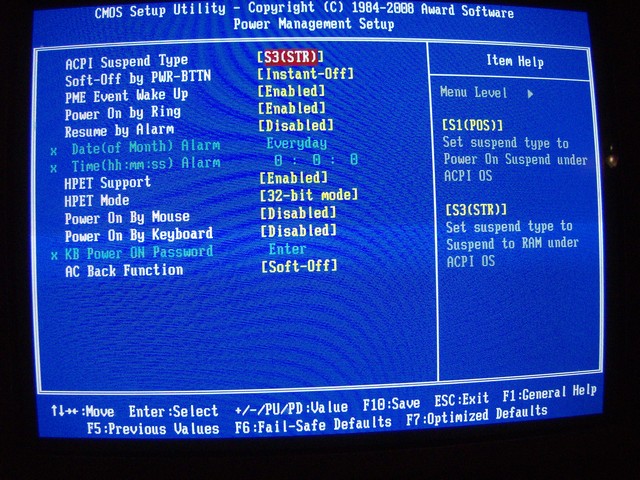 Power Management Screen
The power management screen is where you control how the PC acts when the power is interupted if you want to power on by Mouse or Keyboard. One interesting feature there is if you want to power on by Keyboard you can set a password. Handy for the office or if you have snoopy parents or siblings.
PC Health Status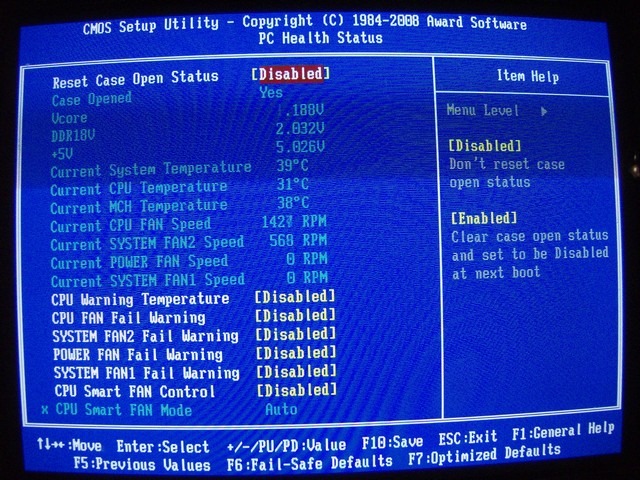 PC Health Status Screen
The PC Health Status screen is where the computer keeps track of temperatures and you can set alarms and alarm trigger temps.
NOTEWORTHY FEATURES
The Gigabyte EP45-Extreme has a ton of features, most of which we've already touched on but in all good conscience we couldn't get past not showcasing a few of them. We won't attempt to cover every feature in depth because with this feature rich board it would just take too much time and space. We will cover the features we found most interesting.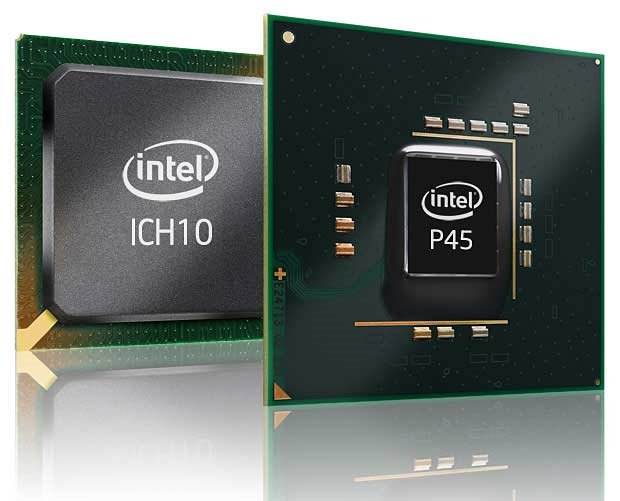 Based on the relatively new Intel P45 and ICH10R chip set, the EP45-Extreme supports 45nm Intel Core 2 multi-core processors with FSB up to 1600 MHz running up to Dual channel DDR2 1200 (1333 OC). Keep in mind that 1333 MHz is the supported OC Speed. We've run the ram as high as 1400 MHz on this board and with a little more tweaking time we are sure it has a little more to give.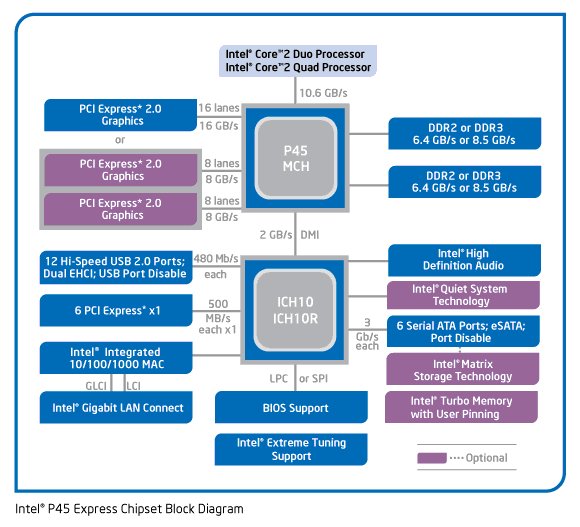 You can see in the Chipset block diagram that the PCI-E 2.0 will run one GPU at 16X. Make it a pair of GPU's and it runs them at 8x – 8x. We ran some Crossfire action on the board with a 4870/4850 Toxic setup and it drove both of the state-of-the-art GPU's like it owned them. Seeing that it drove the 4870/4850 combo, it's no surprise it drove the Sapphire 4850 Toxic setup we are testing.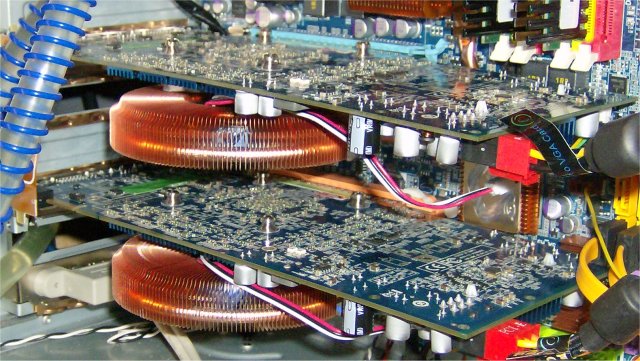 Sapphire 4850 Toxic Crossfire Setup
We couldn't help but throw in a peek at the 4850 Toxic Crossfire setup. We have a little catching up to do and another GPU on the way this month. Then you'll be seeing some crossfire action. We liked the board well enough that after testing we migrated it into one of our water cooled test beds. Speaking of Water Cooling ,we mentioned that the Motherboard is NB Chipset water cooling ready, so how can we not try that out?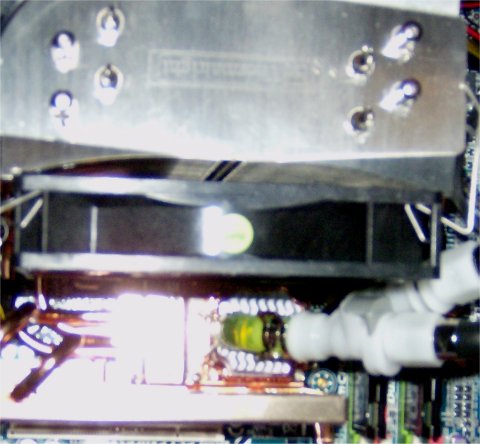 North Bridge Water Cooling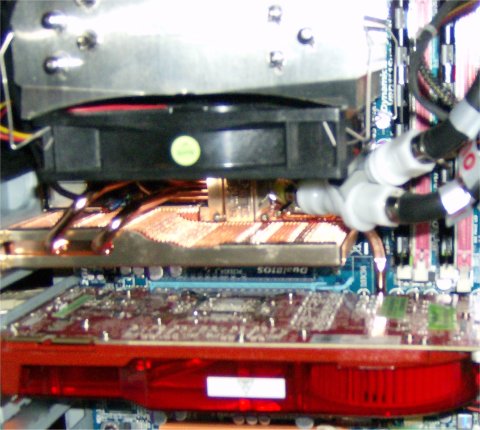 North Bridge Water Cooling
We had a lot of fun with the EP45-Extreme. We ran the 4870/4850 in Crossfire, the 4850 Toxic's in Crossfire, the GTX-260, migrated it to a water cooled platform, and water cooled the Chipset. The temps on the NB were hitting 55-58C before we hooked up the Thermaltake Bigwater 760I. After hooking up the water cooling the NB temp maxed out at 40C during heavy Overclocking. That's a 15-18C decrease in temps. For those wanting to push the board to it's fullest, that's golden. How high did we drive the board in the limited time we had (in between running 4 or 5 GPU's, water cooling it twice, and migrating platforms, we told you it was a fun board)?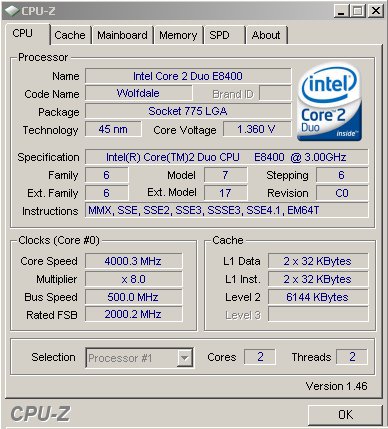 500 FSB On The EP45-Extreme
We got the FSB up to 500 without much trouble and we know for a fact this board has more to give. We've spotted the board running at above 600 FSB more than once, and one crazy guy we know running Liquid Nitrogen hit a whopping 700 FSB (CPU-Z Verified 700 MHz FSB). We ran this test while the CPU was still air cooled so we had to drop the multiplier to 8x to keep the heat down a little. With better cooling and bumping the multiplier up to 9 we'd be at 4.5 GHz. On our e8400, it would require more than the 1.4v we were willing to give it. The 45nm generation CPU's degrade quickly when you apply to much voltage. With an E8600 and it's higher 10x multiplier, I'm sure you see the possibilities of the EP45-Extreme (500 FSB 10X Mult = 5 GHz). Keep in mind we've spotted it at 600 more than once. Want to crank some really good Benchmark numbers? Run this jem up to a 600 FSB and run some 1200 MHz ram at a 1:1 ratio and watch those benchies jump off the charts.
We mentioned power savings earlier. With the new e8400 CPU we scored a while back we were able to test the Dynamic Energy Saver Features of the EP45-Extreme.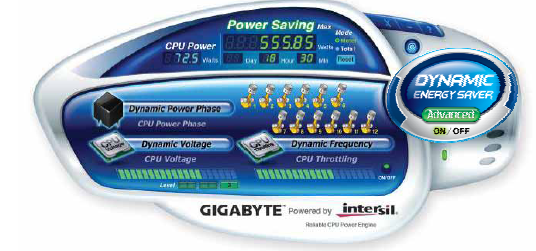 Dynamic Energy Saver
6 Gear Switching
The Dynamic Energy Saver is a snap to use. After you've hit that sweet OC, go back into BIOS and re-enable the power savings features and set the Dynamic Energy saver to run at start up. We left it running for a couple of days (who are we kidding we couldn't bear turning it off after we got to playing with it) and the Dynamic energy saver started racking up energy savings numbers. When we shut the feature down we had racked up 555.85 watts of energy savings. Well, we left it running so we could have done better by turning it off, but what fun would that have been?
Even with our OC, the Dynamic energy saver operated flawlessly shifting from a throttled CPU to a full CPU utilization without as much as a stutter. We noticed it shifting from low to full utilization but didn't notice visible hesitation and never experienced any problems with the feature. Totally seamless dependable power savings while still enjoying a sweet OC, you can't ask for much more than that.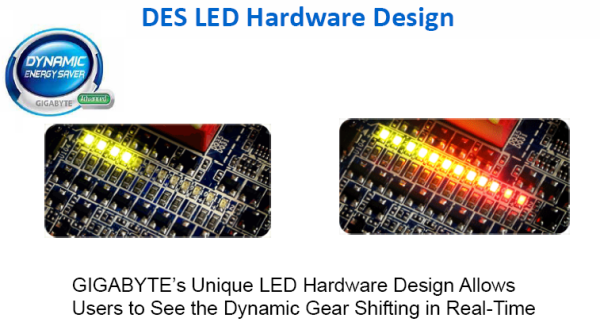 DES Energy Savings As Seen By The OC LED
The EP45-Extreme offers a wide range of LED information with it's Over Volt LED, Temperature indicator LED's, and the on board Diagnostic LED panel but the CPU OC LED is the best to demonstrate the power savings features. It's also the most fun to look at. We stuck in a set of Crucial Ballistix Tracers for fun and between the CPU OC LED and the Tracers it was quite a light show. People passing by the test rig had to stop and gaze into the beast and more than one was mesmerized by the light show. In the 3 weeks we've been testing it not one person has passed by without giving it the once-over and asking questions about it. Too bad it's too heavy to cart to the local Pub. With this beauty, even a hard core Nerd might stand a chance with the ladies.
TESTING & METHODOLOGY
We decided to run the test suite on the EP45-Extreme, EP45-DQ6, and Asus P5KC. We don't expect the results from the two P45 chipsets to be much different, but the features and OCing design on the EP45-Extreme should give it some advantage over the EP45-DQ6. Both should perform better than the Asus P5KC and it's now aging P35 Chipset. The Tests in XP were run on XP SP3 and the tests in Vista were run on Vista Ultimate 64. Tests were run 3 times and the average of the 3 runs reported.
Test Rig
Test Rig
Case Type
NZXT Tempest
CPU
Intel E8400 @ 4.05 GHz 1.375 Vcore & 3.6 GHz 1.300 Vcore
Motherboard
Gigabyte EP45-Extreme
Gigabyte EP45-DQ6
Asus P5KC
Ram
Patriot Viper DDR2 1150  5-5-5-15 2.3v (2.0v on the P45) @ 1200 MHz
CPU Cooler
Thermalright Ultra 120
Hard Drives
Seagate 400 Gig Sata 2 8 meg cache
Optical
Sony DVD R/W
Graphics Cards In Crossfire
Sapphire 4870
Sapphire 4850 Toxic
Power Supply
Tagan BZ1100 1100 Watt Modular
NB Cooling
Thermaltake Bigwater 760I


Testing Suite
There's really no one test that will run a system and give a good indication of how it runs. It's necessary to test the CPU, GPU(s), Memory, and Hard Drives. We run a suite of tests that we feel is representative of the system's performance in it's entirety. We'll draw our conclusions from the results of the tests and the Overclocking capabilities of each board. With Overclocker boards, a significant amount of the evaluation must be subjective and derived from the experience of the person using it. After weighing in the numbers, overclocking capabilities, and hands on experience, we'll have a pretty good idea of the capabilities of each board.
Synthetic Benchmarks
PCMark Vantage x64
3DMark06 v. 1.1.0
SiSoft SANDRA XII Professional SP2
Everst Ultimate Edition v. 4.50.1330
SuperPi Mod 1.5XS
HD Tach RW 3.0.1.0
Cinebench R10 64 bit
WinRar v. 3.71
Games
Crysis v. 1.02 64 bit … Dx 10
Company of Heroes v. 1.71 … Dx9 & Dx 10
PCMARK VANTAGE & 3DMARK06
PCMark Vantage
"PCMark® Vantage is the first objective hardware performance benchmark for PCs running 32 and 64 bit versions of Microsoft® Windows Vista®. PCMark Vantage is perfectly suited for benchmarking any type of Microsoft® Windows Vista PC from multimedia home entertainment systems and laptops to dedicated workstations and hi-end gaming rigs. Regardless of whether the benchmarker is an artist or an IT Professional, PCMark Vantage shows the user where their system soars or falls flat, and how to get the most performance possible out of their hardware. PCMark Vantage is easy enough for even the most casual enthusiast to use yet supports in-depth, professional industry grade testing."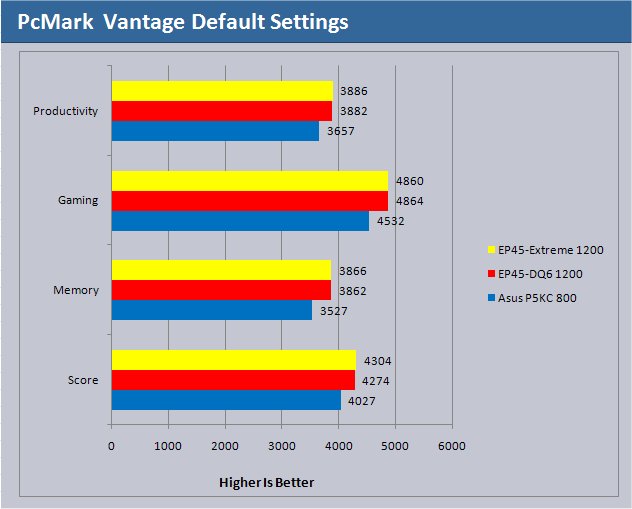 In PcMark Vantage both the P45 Chipset boards ran neck and neck but left the Asus P35 chipset wondering what blew past it. Of course the P45 Chipset boards had the advantage of Patriot DDR2 1150 running at 1200 to give them a little more kick.
3DMark06

3DMark06 developed by Futuremark is a synthetic benchmark used for universal testing of all graphics solutions. 3DMark06 features HDR rendering, complex HDR post processing, dynamic soft shadows for all objects, water shader with HDR refraction, HDR reflection, depth fog and Gerstner wave functions, realistic sky model with cloud blending, and approximately 5.4 million triangles and 8.8 million vertices; to name just a few. The measurement unit "3DMark" is intended to give a normalized mean for comparing different GPU/VPUs. It has been accepted as both a standard and a mandatory benchmark throughout the gaming world for measuring performance.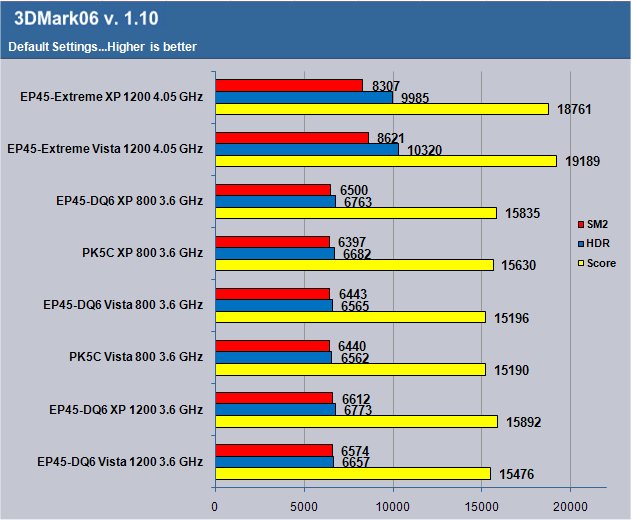 When we got to 3DMarks06, the P5KC was bottlenecking the GPU's and no matter what we tried we couldn't get it past 3.6 GHz. The limited memory options and P35 chipset were just holding it back. The other P45 chipset board, the EP45-DQ6 would clock higher but lost out in the time crunch we were getting into so we stopped it at 3.6 GHz. The EP45-Extreme hit 4.05 GHz and showed no indication of a top end OC. We couldn't resist running it with the E8400 at that speed. The EP45-Extreme will drive the E8400 as fast as it will go, and the limiting factor we found was available (safe) voltage and cooling. If you want to get crazy and pump volts and go extreme cooling this board will handle whatever you throw at it.
CINEBENCH & SANDRA
Cinebench
"CINEBENCH is a real-world test suite that assesses your computer's performace capabilities. MAXON CINEBENCH is based on MAXON's award-winning animation software, CINEMA 4D, which is used extensively by studios and production houses worldwide for 3D content creation. MAXON software has been used in blockbuster movies such as Spider-Man, Star Wars, The Chronicles of Narnia and many more. MAXON CINEBENCH runs several tests on your computer to measure the performance of the main processor and the graphics card under real world circumstances. The benchmark application makes use of up to 16 CPUs or CPU cores and is available for Windows (32-bit and 64-Bit) and Macintosh (PPC and Intel-based). The resulting values among different operating systems are 100% comparable and therefore very useful with regard to purchasing decision-making. It can also be used as a marketing tool for hardware vendors or simply to compare hardware among colleagues or friends."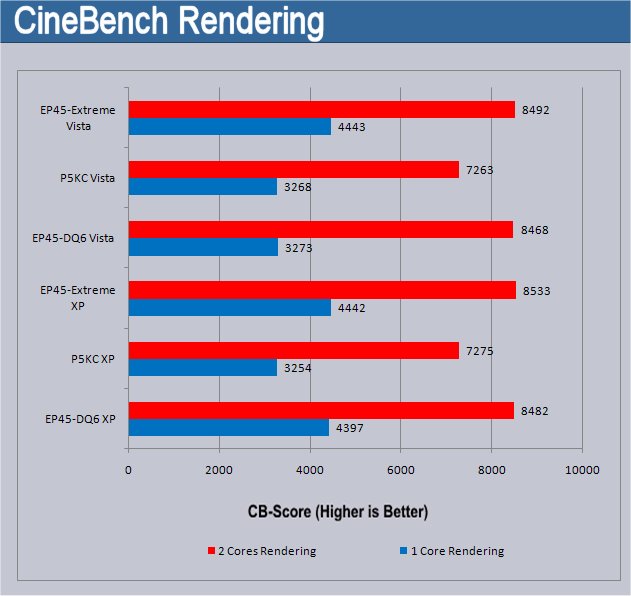 Cinebench Rendering Test
In Cinebench the two P45 chipsets ran neck and neck and once again left the aging P35 chipset behind.
Sisoft SANDRA 12 Professional SP2a
"SiSoftware Sandra (the System ANalyser, Diagnostic and Reporting Assistant) is an information & diagnostic utility. It should provide most of the information (including undocumented) you need to know about your hardware, software and other devices whether hardware or software. It works along the lines of other Windows utilities, however it tries to go beyond them and show you more of what's really going on. Giving the user the ability to draw comparisons at both a high and low-level. You can get information about the CPU, chipset, video adapter, ports, printers, sound card, memory, network, Windows internals, AGP, PCI, PCI-X, PCIe (PCI Express), database, USB, USB2, 1394/Firewire, etc."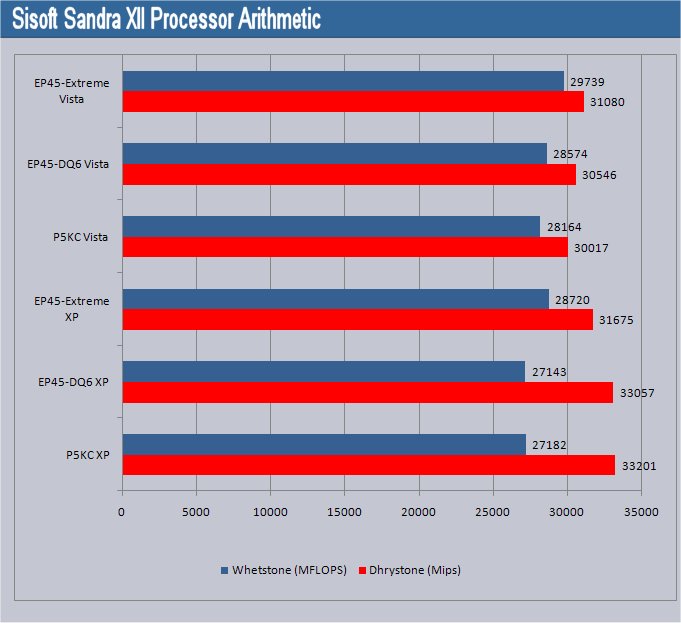 Sisoft Sandra Processor Arithmetic Test
All of the boards did exceptionally well in the Sandra Processor Math test given that we chose to use an E8400 for testing. We had a couple of anomalous readings on the Dhrystone tests with the EP45-DQ6 and the Asus P5KC toward the end but we repeated the tests and the numbers held true. Still, we were satisfied that this test has more to do with the CPU which was the same CPU moved across all 3 boards.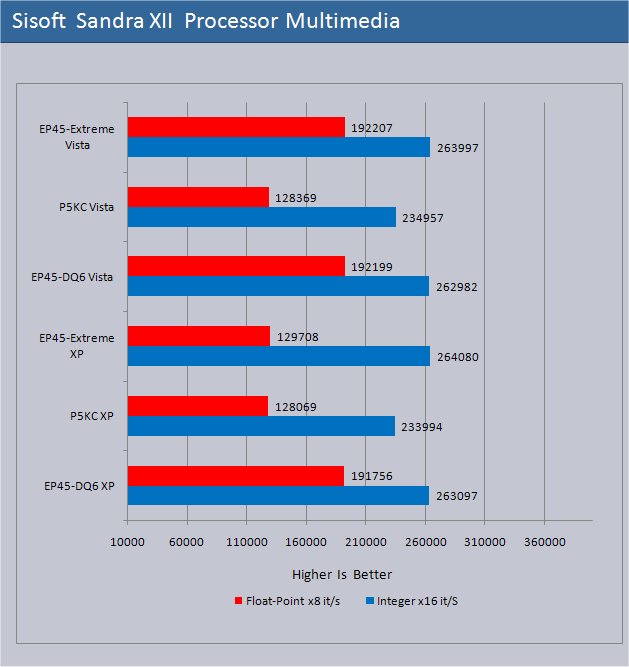 Sisoft Processor Multimedia Test
The EP45-Extreme managed to pull a little ahead of the EP45-DQ6 and both the P45 chipset boards did significantly better than the P35 chipset board. By this point we'd suspect that is going to hold true throughout the the synthetic benches and possibly the Gaming tests.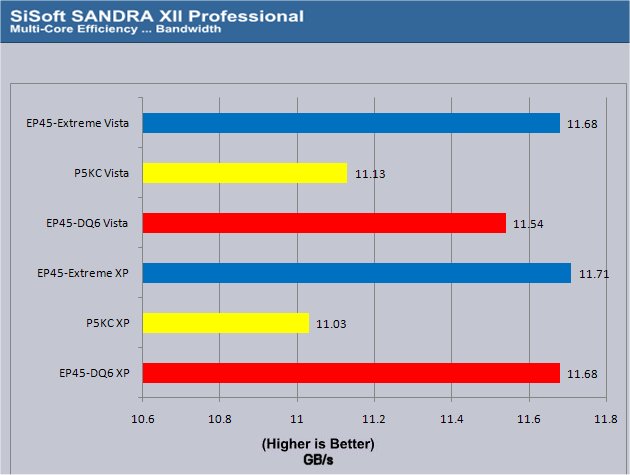 Sandra Multi Core Efficiency
You need to put your scaling cap on with the Multi Core Efficiency graph. The differences in this scaling look larger than they are. Just because the line is much longer doesn't mean it's tremendously better. The EP45-Extreme edged out the EP45-DQ6 and both did better then the P5KC, but the differences in bandwidth were (at max) approximately 680 MB/s difference. We don't mean to belittle the differences. The performance decrease was noticeable on the P5KC when compared to the two P45 chipset boards.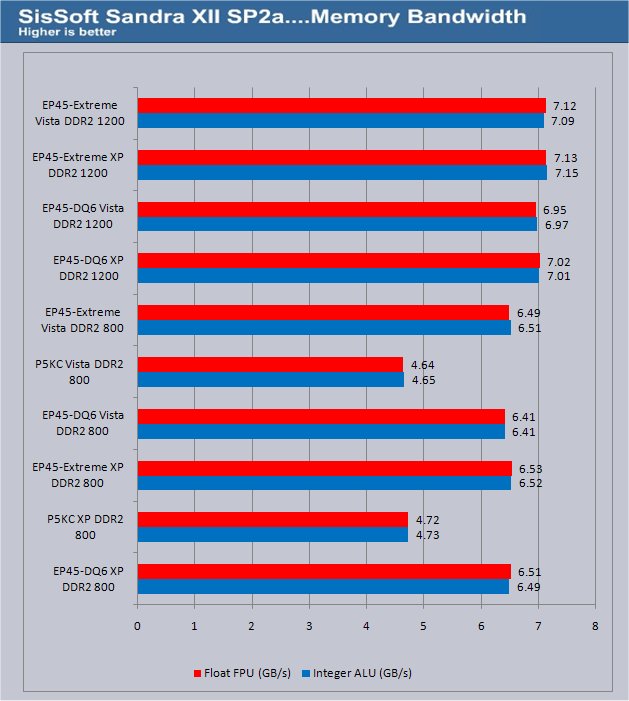 When we got to the Sandra Memory Bandwidth tests we had a set of OCZ Reaper DDR2 800 handy so we thought it'd be interesting to throw them in the mix and see what fell out. It's a 4 Gig kit or DDR 2 running against a 2 Gig Kit of DDR2 1150, so take that into consideration.
You can really see the difference between how the Asus P35 P5KC and the two P45 chipset boards handle memory with the DDR2 800. The P45 chipset boards afford almost 2 GB/s more memory bandwidth than the P35 chipset. Despite running the test multiple times we came up with the same results. With the faster DDR2 1150 running at 1200 MHz (the Asus P5KC was unable to run the 1200MHZ memory unless we down clocked it), we picked up an additional .5 GB/s bandwidth. You can probably squeeze out a little more with a faster FSB than we were running (400-450 FSB) due to the FSB to RAM Ratio.
EVEREST, SUPERPI, & WINRAR
Everest Ultimate
"EVEREST Ultimate Edition is an industry leading system diagnostics and benchmarking solution for enthusiasts PC users, based on the award-winning EVEREST Technology. During system optimizations and tweaking it provides essential system and overclock information, advanced hardware monitoring and diagnostics capabilities to check the effects of the applied settings. CPU, FPU and memory benchmarks are available to measure the actual system performance and compare it to previous states or other systems. Furthermore, complete software, operating system and security information makes EVEREST Ultimate Edition a comprehensive system diagnostics tool that offers a total of 100 pages of information about your PC."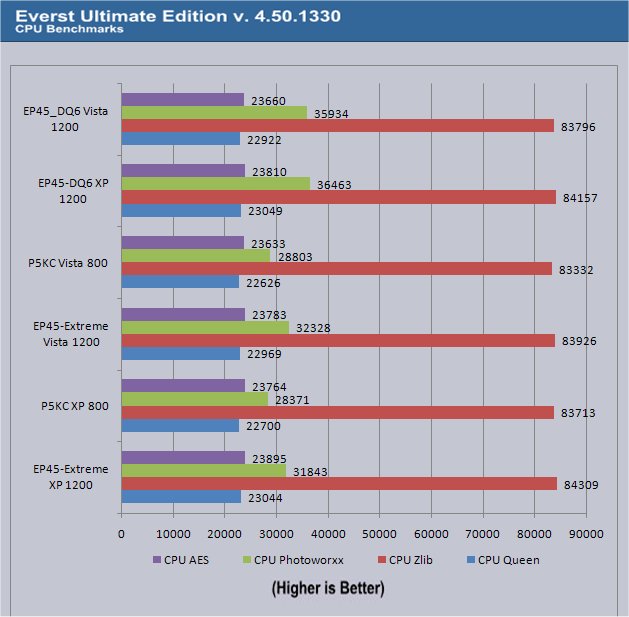 Everest CPU Benchmarks
All of the boards did really well in Everest and it would be hard to pick a winner out of the pack. With all three boards running the same CPU we wouldn't expect much difference here.
SuperPI
SuperPi is the "Gold standard" for many when it comes to judging system performance. We ran 1 and 2 Meg calculations, again running each test three times and reporting the average of the results.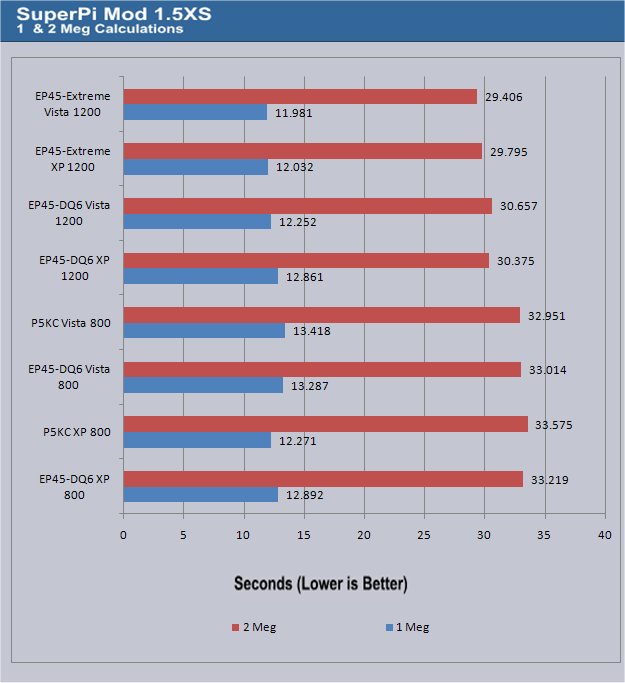 SuperPI Results
The two P45 chipset boards showed their superiority in SuperPI. With the ability to run faster ram which SuperPi loves (that and high FSB runs), it came as no surprise that they did better than the P35 chipset board. The EP45-Extreme did manage to get a better time than the EP45-DQ6, which was a little shocking considering they both sport P45 chipsets.
WinRar v. 3.71
This module in WinRar generates random data, which contains specially introduced redundancy, increasing the load to both the processor and memory. Data is the passed through RAR compression and decompression algorithms, and the output of the decompression algorithm is compared to the source data. If any differences are found, WinRAR then reports "Errors found – Yes" in the command window. WinRAR displays a size of processed data and compression speed, current and resulting, in kilobytes per second.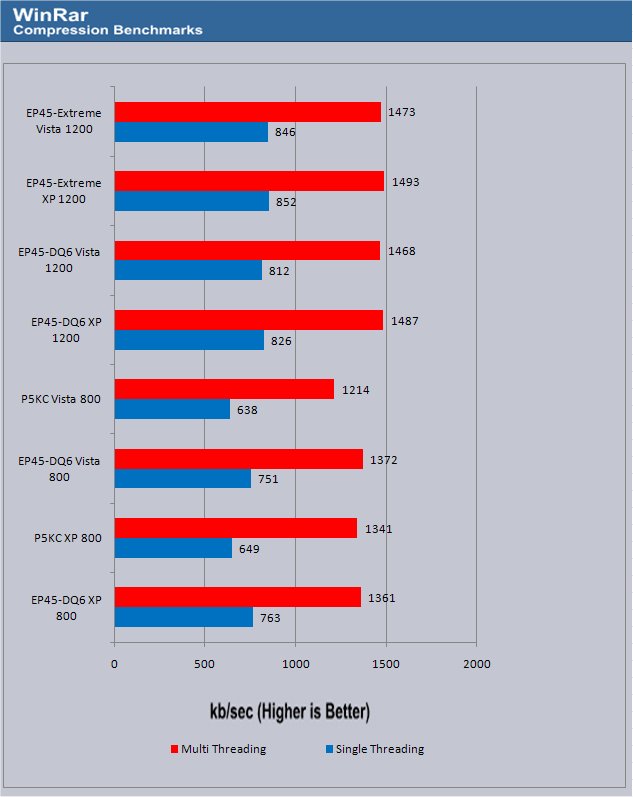 WinRar Compression Testing
The EP45-Extreme scratched out a win in WinRar, beating out it's brother the EP45-DQ6 by a hair. Both of the P45 boards demonstrated their superiority over the P5KC with it's P35 chipset.
WinRar v. 3.71
This module in WinRar generates random data, which contains specially introduced redundancy, increasing the load to both the processor and memory. Data is the passed through RAR compression and decompression algorithms, and the output of the decompression algorithm is compared to the source data. If any differences are found, WinRAR then reports "Errors found – Yes" in the command window. WinRAR displays a size of processed data and compression speed, current and resulting, in kilobytes per second.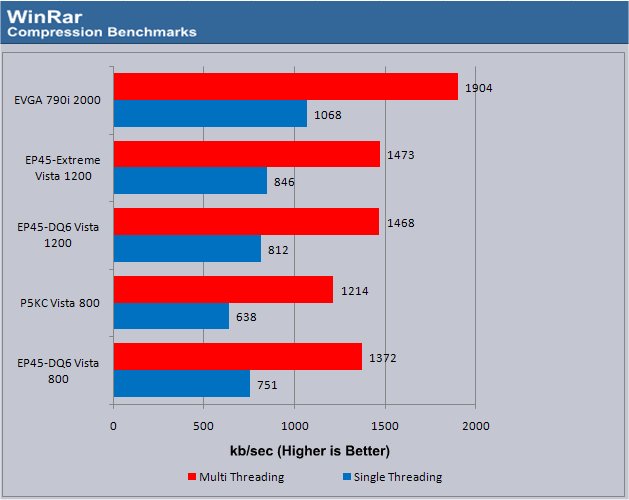 CRYSIS, COH & HDTACH
Crysis v. 1.2

Crysis is the most highly anticipated game to hit the market in the last several years. Crysis is based on the CryENGINE™ 2 developed by Crytek. The CryENGINE™ 2 offers real time editing, bump mapping, dynamic lights, network system, integrated physics system, shaders, shadows, and a dynamic music system, just to name a few of the state-of-the-art features that are incorporated into Crysis. As one might expect with this number of features, the game is extremely demanding of system resources, especially the GPU. We expect Crysis to be a primary gaming benchmark for many years to come.
Crysis Benchmark Tool Results
We ran the Crysis benchmark tool against all three motherboards, but we ran it at 4.05 GHz on the EP45-Extreme and at 3.6 on the other two boards. Keep in mind that Crysis and Crossfire just don't play well together so we ran it with Crossfire disabled and the Sapphire 4870 in the drivers seat. (In Crysis with Crossfire enabled the heads of the characters kept disappearing and that makes getting a head shot rather hard). With that error during game play we weren't comfortable running the benchmark with Crossfire enabled.
You can tell that at 3.6 the GPU was bottlenecking a little. With the Asus P5KC it was readily apparent. We are confident that the EP45-DQ6 would turn better numbers ran higher, but things got a little tricky over 3.6 on the EP45-DQ6 and the time involved with clocking it that high was prohibitive. With the EP45-Extreme being geared toward overclockers hitting 4.05 GHz and above took a little effort but nothing like the two other boards.
Company Of Heroes v. 1.71

Company of Heroes(COH) is a Real Time Strategy(RTS) game for the PC, announced on April, 2005. It is developed by the Canadian based company Relic Entertainment and published by THQ. COH is an excellent game that is incredibly demanding on system resources thus making it an excellent benchmark. Like F.E.A.R., the game contains an integrated performance test that can be run to determine your system's performance based on the graphical options you have chosen. It uses the same multi-staged performance ratings as does the F.E.A.R. test. Letting the games benchmark handle the chore takes the human factor out of the equation and ensures that each run of the test is exactly the same producing more reliable results.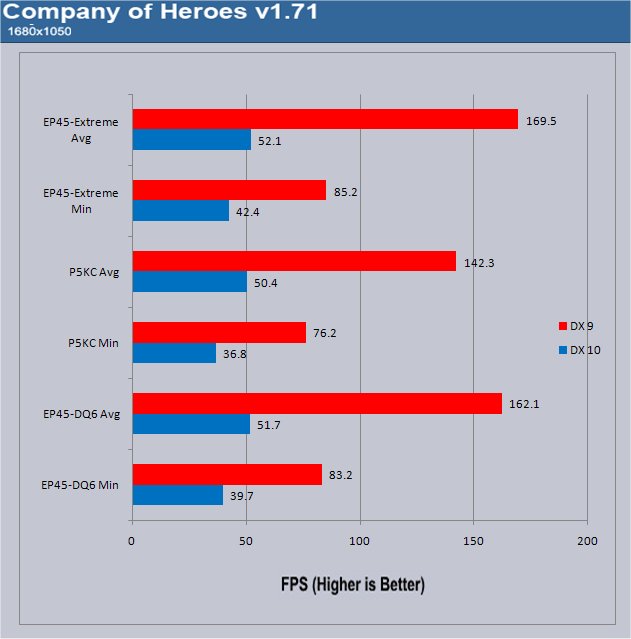 In Company of Heroes the EP45-Extreme did really well. We kept all the tests in Company of Heroes at 3.6 GHz to keep the playing field level. Crossfire was enabled on the 4870/4850 Toxic setup we ran. The EP45-Extreme did better than the EP45-DQ6 and both of them outperformed the Asus P5KC.
HDTach v. 3.0.4.0
HD TACH performs sequential read and write tests on removable media and fixed disks. HD Tach is also capable of performing the sequential read and write tests on the entire disk instead of the small number of zones in the quick and long test. We opted to use the Long 32(MB) tests in the sequential read mode only, as sequential writes are covered by other benchmarks.
Hard Drive Tach
32 MB Test

 
EP45-Extreme

EP45-DQ6

P5KC

Random Access Time* (ms)
12.1
12.0
11.7
Average Read (MB/sec)
126.6
114.6
116.2
CPU Utilization*
2%
2%
2%
Burst Speed (MB/sec)
233.7
229.1
230.5

*Lower is Better … Otherwise Higher is Better
The EP45-Extreme did considerably better than the other two boards in the Average Read test and marginally better than the other two in the Burst speed test. While the EP45-DQ6 kept up in a lot of tests, if we had to declare a winner, we'd have to hand honors to the EP45-Extreme.
POWER CONSUMPTION, TEMPERATURES, & OVERCLOCKING
Power Consumption
We measured power consumption with a Kill A Watt P4400. Idle consumption was taken at the Windows Desktop after idling for 15 minutes with only the default background tasks running. Load consumption was measured with 3DMark06 running and the highest consumption was noted. All the power saving features in BIOS were enabled, the OC we used from the beginning 3.6 Ghz was maintained, and DES was running -taking care of the boards energy consumption and speed shifting with it's virtual 12 Phase capabilities. Due to the nature of the test, complete idle and complete load we didn't see a lot of stepping in the power consumption. It was either at an idle or at full load and while testing the DES itself we did see the CPU shift from 2.0 to 2.8 and on up to 3.6 but the shifting occurred so swiftly and without notice that it would be impossible to note the different power consumption by eye. You will be glad to know the DES software will track power savings for you but we prefer to eliminate any prejudice from the included software and use a hardware measuring device.
Power Consumption
In Watts
 
Idle
Load
Gigabyte EP45T-Extreme
176
297
MSI P35 Platinum
172
288
The EP45-Extreme did require more power to drive it than the other two boards at Idle and Load but not enough to make any kind of major difference. Considering that you can enable DES and keep your OC and enjoy power savings while still keeping that sweet OC, we have no complaints about the couple of extra watts it uses at Idle and Load.
Temperatures
This is a little bit of an unusual case for us when it comes to temperatures. Usually we are more concerned with GPU temperatures in reviews than CPU temperatures. CPU temperatures are well known and understood and will vary according to Load, OC, Voltage, and the CPU Cooler used.
In this case, we need NB temperatures. One of the advantages the EP45-Extreme offers is two water ports on the NB Hybrid Silent-Pipe Cooling Solution.
The large all copper slot cooler has Silent-Pipes that connect to the NB via a polished copper block and you use Thermal Grease to ensure good contact. The Silent-Pipes from the Mosfets and Southbridge feed into the NB Block and the Silent-Pipes on the Slot Cooler remove it from there. In most cases this cooling will be enough to satisfy most people. We're not most people. We went ahead and measured the Temps on all 3 boards' NB chips running the stock Air Cooling, then went ahead and connected a Thermaltake Bigwater 760I to the NB water inlet and outlet and re-tested it under water. We ran 3DMark06 with it set to run 3 iterations of the tests to make sure every thing was well warmed. Temps were measured with the Motherboards respective utilities, those temps matched to Speedfan v4.35 and Speedfan was used to measure the temperatures to eliminate any inherent possibility of the included motherboard utilities being biased.
NB Temperatures
 
Idle
Load
Gigabyte EP45T-Extreme
34
46
MSI P35 Platinum
37
51
 The Hybrid Silent-Pipe with water cooling capacity is a ready built solution to that heat.
Overclocking
So what's the best overclock we got staying within the rated maximum voltage for the E8400?
CPU-Z is reporting the voltage as 1.296v at Idle. In the BIOS we had to have it set to 1.375v to achieve stability at 4.302 GHz. There's more to get but you'd have to exceed the maximum voltage on the E8400. Even increasing it to 1.4v we couldn't go higher than 4.3 GHz so we'd reached to point of diminishing returns and heat was starting to be an issue.
Best FSB
We managed a FSB speed of 500 but as we mentioned before we've seen the EP45-Extreme stretched as far as 600-700 FSB depending on how you set up the cooling and the lengths you're willing to go. We have seen instances of naysayers mumbling bad words about the EP45-Extreme. To attain the higher speeds and FSB on this board, you need to be an experienced overclocker but, they are there to get. They didn't name it the EP45-NoobOCer, they named it EP45-Extreme. Don't take that the wrong way. The overclocks up to 400 FSB were easy as pie; almost no adjustments were needed. At default setting it runs like a champ. Get up around 450 FSB and plan on spending some quality time with it. Get up around 478 FSB and plan on a pot of coffee or an energy drink. Get up around 500 FSB and back up the truck and tailgate it. With the BIOS being fairly immature, that will get better as time goes on. A 500 FSB with an immature BIOS, well let's just say we are impressed.
Best Ram Speed
For the best ram speed, and we mean the best ram speed holding the rated timings of 5-5-5-15 on our 2 Gig kit of Patriot DDR 2 1150, loosening timings we can get higher speed but the decreased efficiency of the ram at looser timings was detrimental. We could go higher in sheer speed, but lost points in benches due to the looser timings.
We managed to get our set of DDR2 1150 up to 1246 MHz. On this board we had to undervolt the Patriot kit by .2v to run it correctly. It's an issue with some Intel chipsets and as long as it's undervolted it's not a problem. We tried a kit of Crucial Ballistix Tracers 1066 and a kit of OCZ Reaper 800 in the EP45-Extreme and they ran at normal voltages but we could undervolt a little and they still ran stable. They ran close enough to stock voltages that we'd have to conclude that the issue was with the Patriot ram. Look at it this way, at .2v undervolt you have a lot of voltage headroom for overclocking the ram. At 1242 MHz we were still under the 2.1v rated voltage of the kit.
Best 3DMarks06 Score
We didn't get to spend as much time as we would have liked tuning out 3DMarks06 run with the EP45-Extreme. If this had been a GPU review we would have invested a little more time with it (after a day and a half we were beginning to dream 3DMarks06 tweaks and that's never good). We made this run with the Sapphire 4870/Sapphire 4850 Toxic in Crossfire with the CPU running at 4.05GHz, Ram tuned to 1242 MHz holding the rated timings of 5-5-5-15.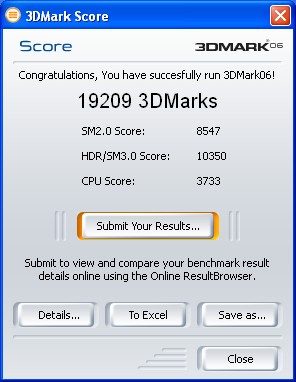 The Subjective
As with any piece of hardware, how it handles, how it makes you feel running it, ease of setup and operation, and results all play a part. Results are easily quantified and measured through software packages. Setup, operation, and that special feeling you get (Geekgasm) running a piece of quality hardware are harder to measure and left relegated to the realm of the subjective. We don't usually include a subjective portion because it is just that, subjective. In this case we felt compelled to expand on the measured and quantative information we've gleaned through hardware testing and expand upon it.
The EP45-Extreme is like a thoroughbred horse or a high end Porsche. Some might be overwhelmed by it's extensive BIOS settings (Hence the EP45-NoobOCer designation earlier). That would explain why you don't hand the keys to a high end Porsche to a 16 year old learning to drive, or hand the reins of a thoroughbred horse to a first time rider. The Porsche and the Thoroughbred might be a little much for a beginner to handle. Is that the fault of the Porsche, the thoroughbred, or the person? The EP45-Extreme assembled easily, booted first try, and ran at default settings without even peeking into BIOS. The worst thing that we saw was that it picks up Ram timings and runs them looser than rated timings. That's not unusual running at failsafe defaults and we won't fault the board for that. It took a couple of Timing adjustments in BIOS and it ran at default speeds with the rated timings but we had to decrease the Voltage on the Patriot Viper DDR2 1150 Kit by .2v to get it to run stable. After checking voltage settings against two other Ram kits we isolated that to the ram and the EP45-Extreme ran both the other kits at the rated timings and voltages without a problem.
We were able to OC using any combination of FSB/Multiplier up to 400 FSB without making anything but minimal voltage adjustments. At 450 FSB it took us about an hour to obtain a stable OC. When we hit a FSB of 478 it took a while but we were OCing the CPU and Ram simultaneously. To coax it to 500 FSB we spent about 3 hours adjusting voltages to get into Windows, and another 6 or 7 hours to stabilize enough to make some Benchmark runs. To obtain total stability it took about a day and a half. We achieved that with the NB water cooling in place. We don't know if it will do 500 FSB on air. You can see where this is going. The speeds are there to be had but you have to put the time in to get them and for Extreme speeds you need Extreme cooling and Extreme skill.
The EP45-Extreme is a really fun board to run and tweak. If you're looking for a board that possibilities seem endless on, this is one of those boards (the Geekgasm is excellent). If you're looking to find a board that you can have confidence in that it's not the board limiting the OC, or left wondering if the chipset cooling is holding you back, this may be the ultimate board for you. If you like tuning and tweaking, this board gives you enough options that you can tune and tweak to your hearts content. If you've never overclocked then you'd be better off with the EP45-DQ6 which is no slacker. But if you want to drive it like you own it later on down the line, you'll have to improve chipset cooling.
The EP45-Extreme comes out of the box straining at the bit and praying for the hands of a capable overclocker. Its Hybrid Silent-Pipe cooling solution is perfect for out of the box cooling and we would be hard pressed to think of a better cooling solution. Strap a relatively inexpensive water cooling kit on the NB and get ready for a board that will awe and amaze you. If it turns out to be more than you can handle, take responsibility for that or invest the time to learn. We've done our best to impress upon you that it's easy to run at lower FSB speeds and the difficulty increases as the speed increases. So, if you're faint of heart, lacking in skill, or unwilling to invest the time to get your Geekgasms, don't say you weren't cautioned. If you have a stout heart, a history of OCing that spans years, and the desire to go for the gusto, this board won't limit you.
CONCLUSION
The EP45-Extreme came out of the box and it was a love at first Geekgasm type of thing. Before we even got it into the case we found ourselves scrambling for our best hardware and quickly had a pile of parts we wanted to try out on the board. We enjoyed it so much that we ended up testing 3 sets of Ram, 4 or 5 GPU's, air and water cooling. Threw a quad on it for a couple of hours (It OC's Quads nicely), migrated to a new chassis, ran extra tests, and more than once pinched ourselves to make sure we weren't dreaming. That's not the behavior we exhibit when testing a run of the mill piece of hardware. That's the excitement you feel when asking a girl out for the first date. That's Christmas morning when the underside of the tree is overflowing with presents and you're 8 years old. The EP45-Extreme is more than just a motherboard, it's possibilities. It's magic in a box cast to the Earth for mere mortals to toy with. At the same time it's a riddle, an enigma a Puzzle Box begging to be solved. More than once we've found ourselves at the keyboard (post review) trying new settings and tweaking settings.
The 12 phase power, Ferrite chokes, and solid capacitors with the majestic all copper Silent-Pipes call to us in our idle moments. The ease of operation at what we'd consider casual overclocker speeds was amazingly easy; though part of that might be attributed to our experience overclocking. As expected at higher speeds it required more attention, but with patience and persistence, it gave us what we were after, performance on a level most boards won't even pretend to offer.
The only problems we saw with the board were in the layout. The Battery was in an unhandy spot and the 8 pin CPU power connector is behind some Silent-Pipes. The Hi Definition header is hard to get to with the Slot cooler installed. Full length Nvidia cards will block two Sata ports, and the Ram Clips are a little close to full length GPU's. Other than the Sata ports being obstructed, the other layout issues are minor. Since we're running ATI GPU's in the test rig, we were able to get to all the Sata ports. Still, with side mounted Sata ports a known and available item, we'd like to see them standard on every motherboard.
The performance of the Gigabyte EP45-Extreme and the sheer joy of running it far outweigh any layout issues. With many X38 and X48 boards offering similar features, priced at double what the EP45-Extreme will set you back, it's got a pretty good price performance ratio. We can see spending the $242 (USD) that the EP45-Extreme will set you back because the performance. Features and possibilities justify the price. If you take a board and modify it for chipset water cooling, aftermarket the mosfet cooling, design a Silent-Pipe slot cooler, run a heatpipe for the SB and take into consideration the time and expense spent doing it the price of the EP45-Extreme looks a lot different. Having gone to those extremes in the past just the modifications can exceed the cost of the EP45-Extreme by themselves. Then you'd be left with an imitation EP45-Extreme. Opening the box and being ready to go for the gusto has a lot to be said for it.
The EP45-Extreme exceeded our expectations, did everything we asked of it, and performed better than a board in this price range should. On the flip side of the coin, when you walk away, you're denied a sense of victory because you know the board has more to offer. Perhaps the battle is half the fun?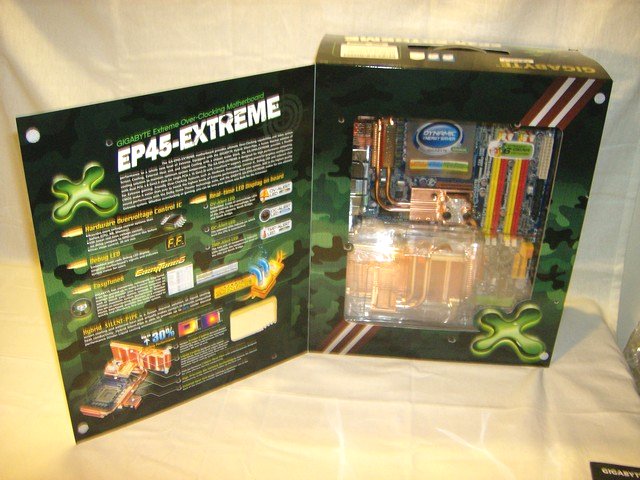 Pros:
+  Great performance
+  Over Clocking Dream
+  Every Feature Worked
+  12 USB Ports
+  2 Gigabit Lan With Teaming
+  Sweet Bundle
+  Good Power Consumption
+  Well Behaved
+  Significant CPU Performance Benefits
+  Crossfire Ready
+  Multiple Geekgasms
+  Supports A Wide Range Of CPU's and Ram
Cons:
–  Battery Placement
–  Full length NVIDIA GPUS (GTX-2XX class) will obscure a couple of Sata ports/other minor layout issues
–  Some ram Requires Undervolting
The Gigabyte EP45-Extreme performed on multiple levels, simple enough for the casual Overclocker, complicated enough for a world class Overclocker. The cooling design out of the box is amazing. Throw in some water cooling and it just gets sweeter. We do have one minor complaint, we think it should be renamed to the Gigabyte EP45-Geekgasm.
With the performance and endless possibilities this board offers we have to give it:
Final Score of 9.5 out of 10 and the Golden Bear Award.