The Seagate Momentus XT Hybrid platter/SSD is a drive design we've been waiting on for years. The blending of SSD speed with cost effective platter storage.
Introduction
We've known for a long time that the blending of traditional platter drives with the inherent speed of SSD's was inevitable. Leave it to Seagate to field the first production Hybrid Platter/SSD in the Seagate Momentus XT. The drive we have in hand comes in capacities of 500, 320 and 250 GB and the one we have in house happens to be the 500 GB Model.
The Momentus XT has a standard Sata 3GB/s interface, a normal cache of 32MB and a 4GB SSD that is used as an intelligent cache that learns what you use and optimizes the payload of the 4GB SSD according to your specific needs. The Momentus XT does that on an ongoing basis, if your habits change the drives SSD Payload changes with you.
Normal benchmarks and tests aren't going to do this drive justice. Benchmarks like ATTO, HDTach, and Sandra are simply synthetic benches and the drive has no chance to learn. So programs like PCMark Vantage and Sysmark have to be employed to show the drives learning capabilities. The adaptive memory technology on the Momentus XT takes what you use on a daily basis and moves it to the SSD portion of the drive so it's ready for you in a flash (A Nand Flash of course). Since the Data exist both on the SSD portion and the Platter portion if something should happen, or the Nand Flash fails your data is still intact. That takes a lot of the worries away from end users who believe Nand Flash is a more fragile storage medium. Having had 14 SSD's in hand an having none fail we tend to think that the perception that Nand Flash as being fragile is mostly myth (Or bad luck on the part of a few end users).
Having experienced the Seagate Momentus XT from Beta testing to full production run we can honestly tell you Seagate has the right idea. Given the exorbitant cost of SSD's and their small storage space Hybrid drives make sense. A lot of the performance gains of an SSD when you need them, and the larger storage capacity (and smaller price) of platter drives.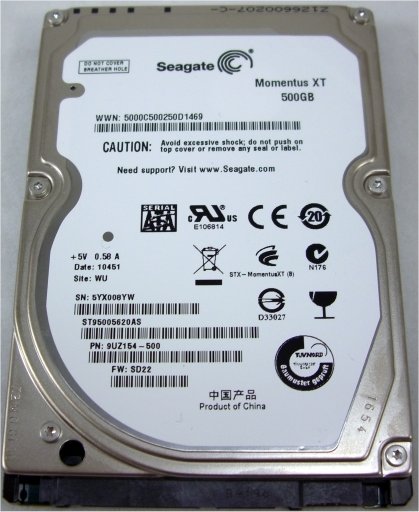 Looking like a standard platter drive you would never suspect that the Momentus XT packs the extra punch of a hidden 4GB SSD used as an intelligent cache.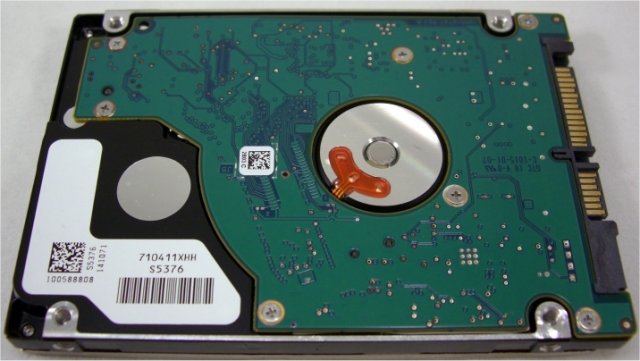 The PCB is a dead giveaway that this is a platter drive, the SSD controller is likely tucked away on the small SSD PCB inside the drive and not visible from an exterior inspection.
Specifications:
» Capacity (GB): 500, 320, 250
» Interface: SATA 3GB/s with NCQ
» Cache (MB): 32
» Spindle Speed (RPM): 7200
» Solid State Memory, SLC NAND (GB): 4
» Operating Shock: 2ms (Gs:) 350
» Nonoperating Shock: 1ms (Gs): 1000
» Idle Acoustics (bels): 2.3
» Seek Acoustics (bels): 2.5
Key Advantages:
» Solid state hybrid drive delivers SSD-like performance with hard drive capacity options.
» Adaptive Memory technology customizes performance by aligning to user needs for overall improved system response.
» 80 percent faster performance than traditional 7200-RPM drives in PCMark Vantage benchmark scores
» Low heat and vibration—quiet operation without giving up storage capacity and affordability
» OS- and application-independent—designed for any SATA standard laptop PC
» Seagate 5-Year Limited Warranty
Best-Fit Applications:
» High-end laptops and workstations
» High-performance gamer laptops
» Fast external enclosures: USB 3.0, eSATA
» Small form factor PCs
Adaptive Memory Technology:
Designed with high-performance core components on an innovative platform, the Momentus XT drive consists of a 7200-RPM hard drive with 32MB of cache, 4GB of solid state SLC NAND flash storage, and Adaptive Memory self-learning technology. Adaptive Memory technology intelligently monitors frequently used applications and data files, then places them into the solid state portion of the drive so they can be quickly recalled. Adaptive Memory technology enables the drive to tailor its performance to the user. Whether you are gaming, editing digital media or crunching numbers, the performance is optimized and ready for your next move.
Testing & Methodology
In order to test the Seagate Momentus XT to show it's learning capabilities properly we had to do multiple test runs with it. We went with 5 passes at each test we use for showing the learning capabilities of the drive. Then we averaged the 5 runs for an average score, report the first run and the 5th run.
In some of the traditional tests we just did a screen shot of the Corsair P128 and the Momentus XT to give a contrast between the Hybrid Momentus and a SSD. It's hard to directly compare the Momentus XT to a SSD but it's likely what people will want to know.
That being said the Momentus XT isn't intended as competition for an SSD, it's intended to bring better performance than traditional 7200 RPM drives and enhance the performance of a platter drive at a much lower cost than an SSD.
One of the things we have to consider is that at 500GB capacity we would be looking at 4 128GB SSD's which could run as high as $1600 or more. The Momentus XT has 500GB at we've seen it as low as $130. So the real question here for us is if the Momentus XT is worth the extra 30 – 40 Dollars it costs above traditional 7200 RPM 2.5 inch drives.
We cloned a clean install Windows 7 HD using Acronis to all three hard drives used in the review. Updated Windows 7, updated all the motherboard drivers, and no new BIOS for the motherboard was needed. Every test was ran three times, if it's a screen shot the median result is shown. If we hit any test run that yielded results that were way off the other two runs we kick the anomalous run out and repeat the test. We don't get many bad bench runs but they do occasionally happen.
Despite every hard drive vendor wanting a bunch of things disabled to show better performance we don't optimize Windows 7 to gain performance. We disable defragging on SSD's, so we disabled defragging on all the drives used here. We run a normal install of Windows 7 with that one exception. End users are generally creatures of habit, they load Windows and it's working so they leave it alone. We load Windows just like a normal end user and skip all the tweaking because typical end users don't tweak. The drive e use on a day to day basis when not benchmarking that's a totally different matter.
Test Rig
Test Rig
"Quadzilla"
Case Type
Top Deck Testing Station
CPU
Intel Core I7 965 Extreme (3.74 GHz 1.2975 Vcore)
Motherboard
Asus P6T Deluxe (SLI and CrossFire on Demand)
Ram
Corsair Dominator (9-9-9-24 1.5v) 6GB Kit
CPU Cooler
Thermalright Ultra 120 RT (Dual 120mm Fans)
Hard Drives

Seagate Momentus XT 500 GB
Seagate Momentus 500 GB 2.5″ (ST9500420AS) 7200.4
Corsair P128 128GB SSD

Optical
Sony DVD R/W
GPU
Asus 5970 VT
Case Fans
120mm Fan cooling the mosfet CPU area
Docking Stations
None
Testing PSU
Thermaltake Toughpower 1200 Watt
Legacy
None
Mouse
Razer Lachesis
Keyboard
Razer Lycosa
Gaming Ear Buds

Razer Moray
Speakers
None
Any Attempt Copy This System Configuration May Lead to Bankruptcy
Test Suite
Benchmarks
ATTO
HDTach
Crystal DiskMark
HD Tune Pro
Sysmark
Everest Ultimate
AS SSD
PCMark Vantage
ATTO
ATTO we did screen shots with the Momentus XT and Corsair P128. We didn't receive the production drive until late in the NDA period. We got it the same day as the NDA lifted and spent all night working up the review. Normally we would chart every bench but in this case the Momentus XT Hybrid really doesn't fit any existing category so maybe screen shots are a better option.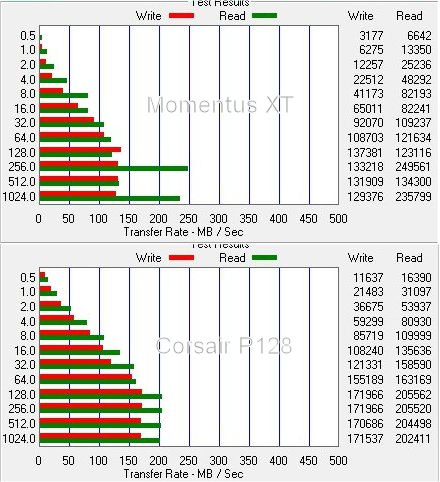 We can see here in ATTO that the Momentus XT doesn't meet the P128's speed in most cases but in a few spots actually manages better performance.
CrystalDiskMark
We went with side by side screen shots in CDM for much the same reason as ATTO. In these particular benchmarks repeated runs didn't improve score's much. Typically we might have seen a 1 or 2% performance increase on the Momentus XT in these benches. Like we mentioned earlier synthetic benchmarks aren't this drives strong point.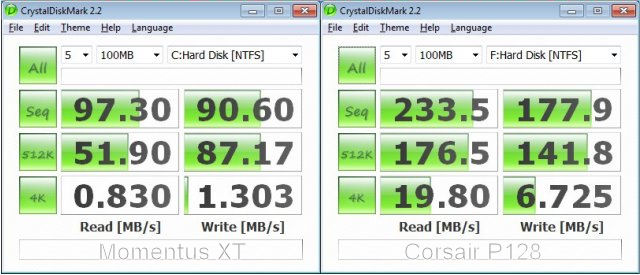 In CDM no matter how many runs we made performance just wouldn't budge on the Momentus XT and performance was similar to a regular 7200 RPM drive. We'll be moving to a newer version of CDM as soon as we confirm the changes in testing methodology with the authors.
Sisoft Sandra
Sandra was a little weird with the Momentus XT. The tests report the transfer speed correctly and we'll explain what we mean in a few moments.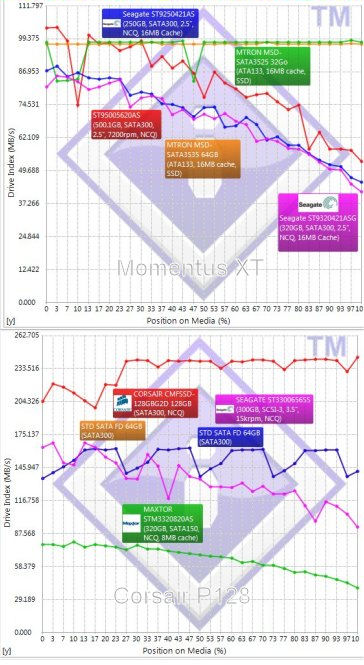 The top chart is the Momentus XT and it tops out at just above 100MB/s and the farther it gets across the platter the slower it gets until finally it hits about 45 MB/s at the end. The SSD remains at or above 200MB/s the entire run.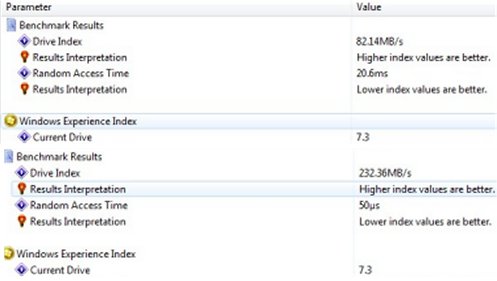 Here's the weird part, both drives get a 7.3 Windows Experience Index. Maybe Sandra needs a little updating but we got the latest version and updated it prior to the test. The Momentus XT 82.14 MB/s and the more expensive smaller SSD hits 232.36 MB/s.
HDTune Pro
Here again we used screen shots but for a different reason. The native charts in HDTune Pro provide more information than a simple Bar Chart Will.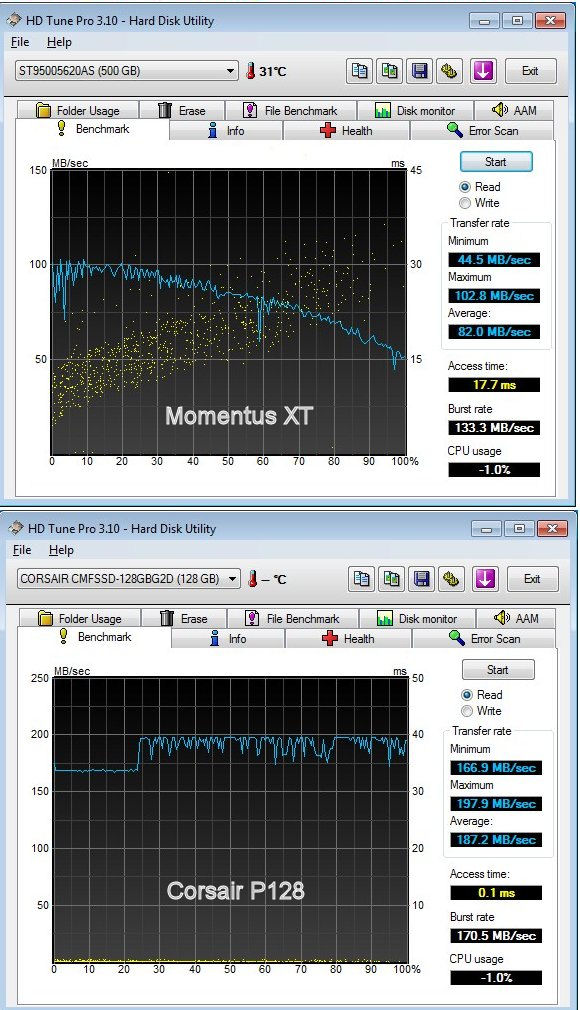 The Momentus XT bottomed out at 44.5 MB/s and maxed out at 102.8 MB/s while the average ran 82 MB/s. As you can see the SSD kicked some serious butt but if you think about it the butt it kicked was likely the same butt you haul your wallet around on. Running in the neighborhood of $450 for 128 GB the P128 is lightning fast but that lightning will put a serious crimp on your bank account. The $130 we've seen the Momentus XT at is more the price range of the average end user.
HDTach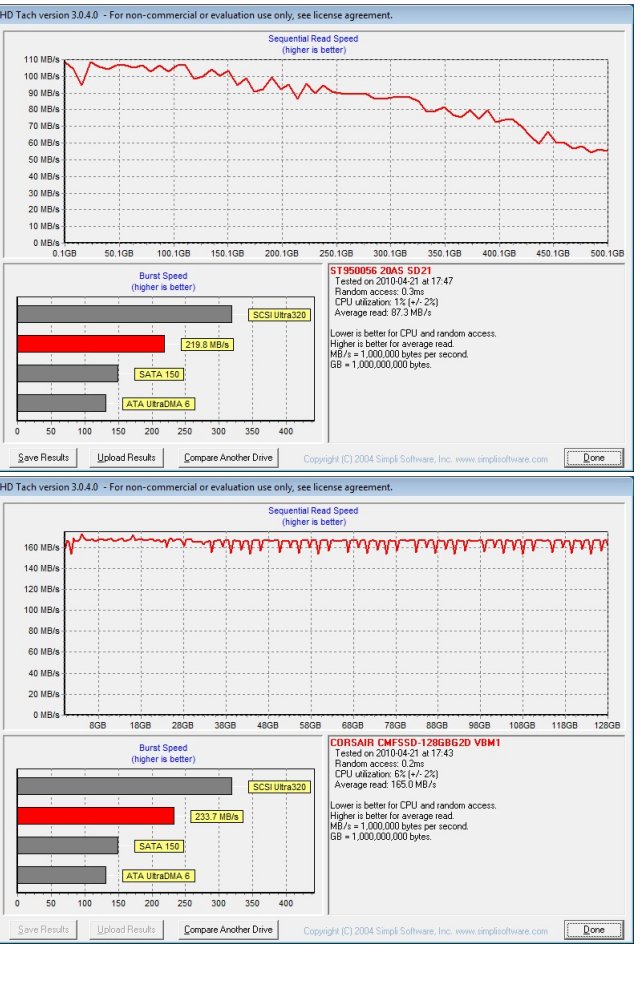 Top Screen is the Momentus and you can see that it is running at 87.3 MB/s average while the SSD (bottom) almost doubles that speed. The question here should be will the SSD hold all the files and media you accumulate or will you still have to have a backup data drive. If it's in your laptop often a second drive is out of the question so you face the SSD speed/storage space compromise or look for alternatives like the Momentus XT.
AS SSD
While AS SSD is designed for SSD's specifically we found it irresistible to run it on the three drive we chose for this review. We;ve found it works equally well on SSD's and platter drives so lets see how it works on a Hybrid Platter/SSD.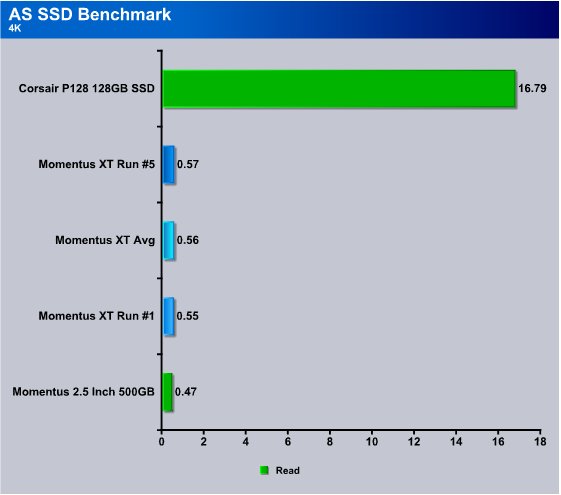 On the 4k Sequential read we didn't get much if any performance increase but the 4k size of the test is probably to small for the adaptive memory technology the drive uses. Performance is similar to any 7200 RPM drive we've seen.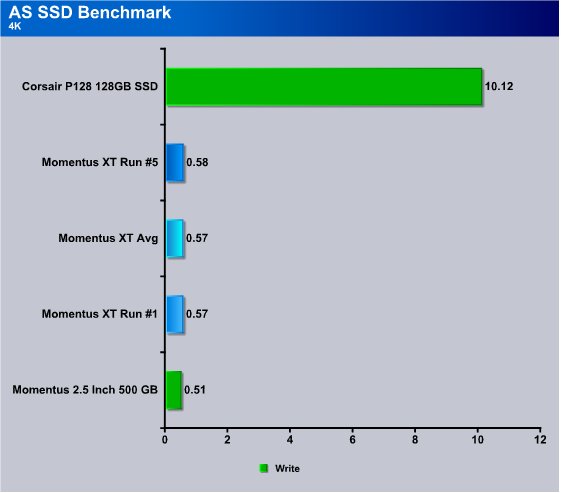 Here again in the 4k write test performance is about the same as any 7200 RPM drive would be expected to perform at.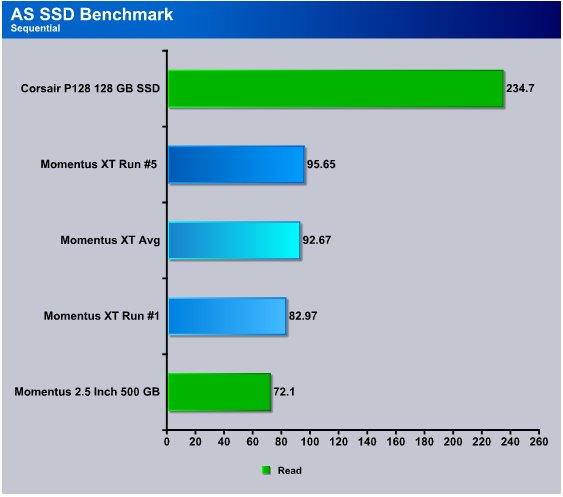 Here's where we start to see the Adaptive memory technology kick in. Run 1 we got 82.97 MB/s and the five runs averaged to 92.67 and run 5 we got 95.65MB/s or an aggregate increase of around 13MB/s.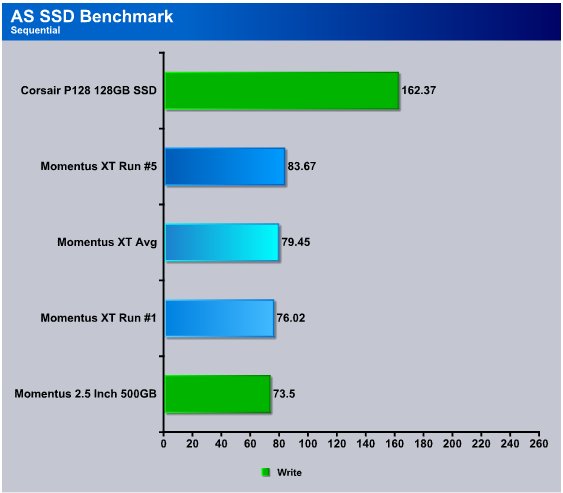 Sequential Write Run 1 we see 76.02MB/s with the average speed holding at 79.45 and run number 5 hits 83.67MB/s or about 7.5 MB/s performance increase.
Windows 7 Boot Time
Windows Boot time is one of the most annoying things we deal with in reviewing. It seems like we are eternally waiting on the Desktop to load. Lets see how the Momentus XT handles multiple boots.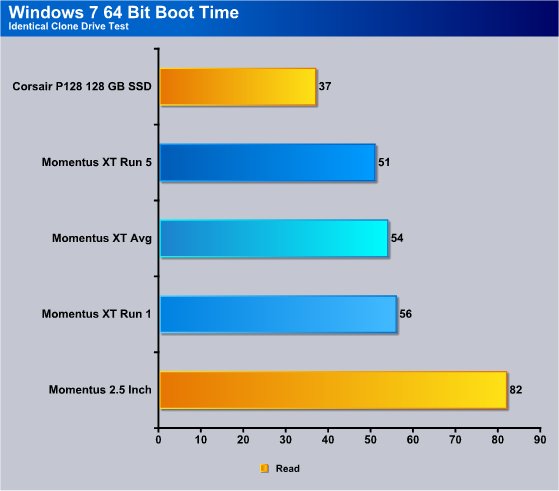 The Momentus XT came out of the gate at 56 seconds and the Average load time was 54 seconds. After 5 runs the boot time had dropped to 51 seconds and further boots didn't improve load times. The SSD booted in 37 seconds but the question here would be is 128GB for $450(ish) worth the extra 14 Seconds you gain?
Everest Ultimate
We went with the Random Read in Everest to see if the Adaptive memory management would kick in and were a little amazed to see the drive learning.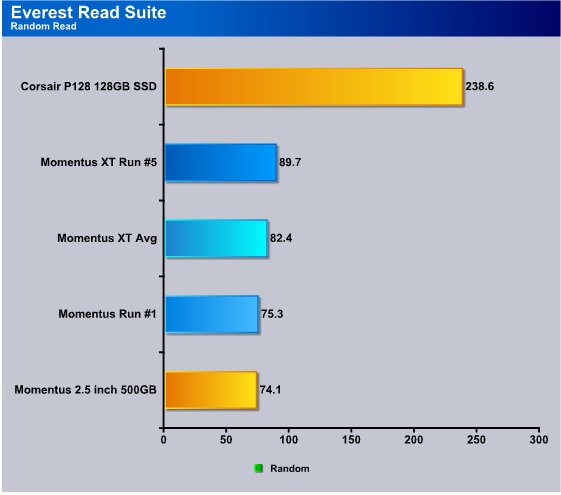 Everest in general we saw the drive learning as we repeated bench runs and the first run yielded 75.3MB/s while the average hit 82.4MB/s. By the final run we saw 89.7MB/s for a total gain of 14.6 MB/s.
PCMark Vantage
We can't begin to tell you how bored we got running PCMark Vantage 11 Times. We did five runs for the Momentus XT and three runs each for the other two drives. Even with the Pro version where we can isolate the HD Test Suite it was still tedious.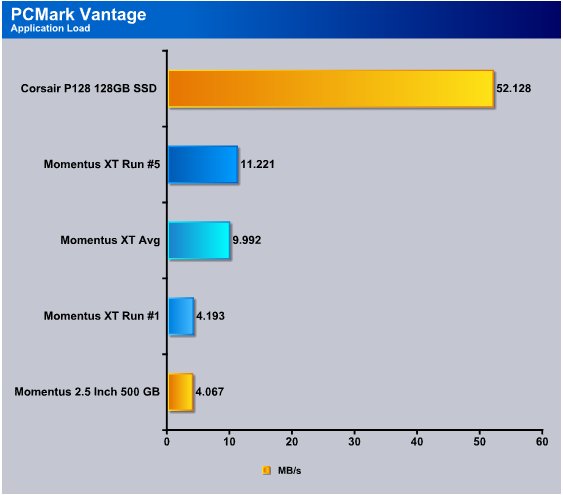 Here in a more real life scenario you can see the real benefit of a Hybrid drive. Run one yielded 4.193 MB/s and the average is at 9.992 MB/s and on run 5 we got 11.221MB/s or almost 3x performance.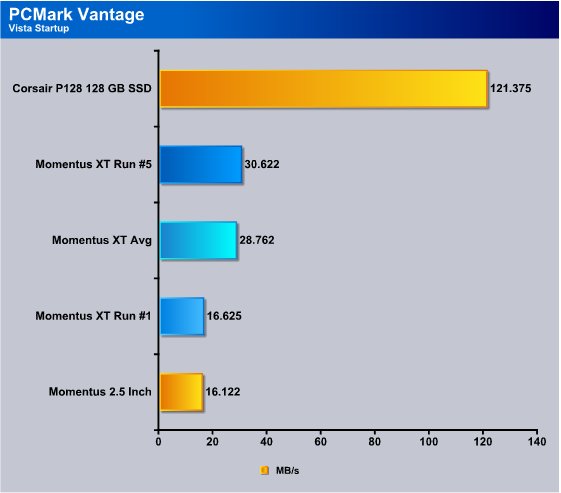 Here again from run 1 to run 5 we see an amazing performance increase and while it's not a 100% increase a 90% increase isn't anything to sneeze at.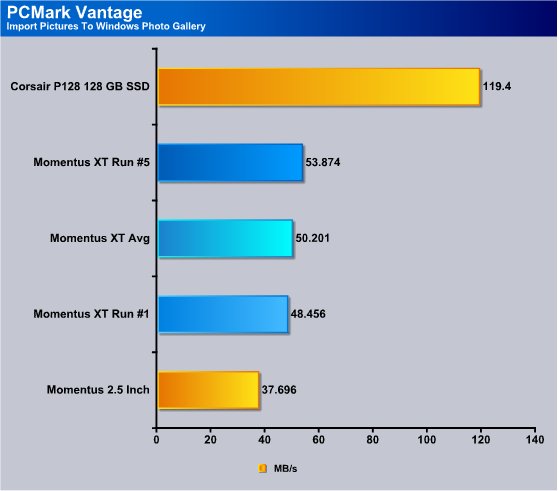 Importing pictures the large performance gain dropped but we still saw a 5MB/s performance increase.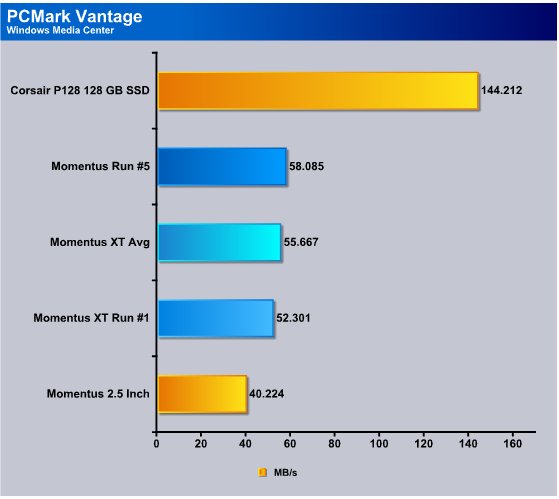 Windows Media Center we initially got 52.301MB/s and after five runs we get 58.085MB/s. We have generally been pretty quiet about it but the Momentus 2.5 Inch drive we have charted should be an almost identical 7200 RPM drive as the Momentus XT except it doesn't have the SSD portion. The platter density is the same, same Seagate vendor, same rotational speed and in every single test the Momentus XT kicks it's butt.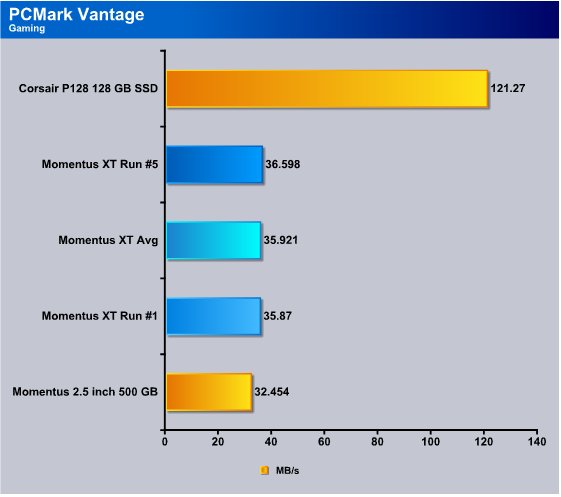 Here's where PCMark Vantage didn't benefit much from the Momentus XT's learning process. Maybe the data was to large for the SSD to handle. Often in gaming there;s a lot of data generated on the fly, so it would be hard for the electronics to predict what you need. Every game run is different and designed like that to provide a good gaming experience. Throwing different algorithms at the cache gives the drive nothing to learn.
Sysmark
Sysmark is a new tool in out benchmark arsenal. We haven't had a lot of time to explore it so we just did a couple of screen shots to show the learning capacity of the drive.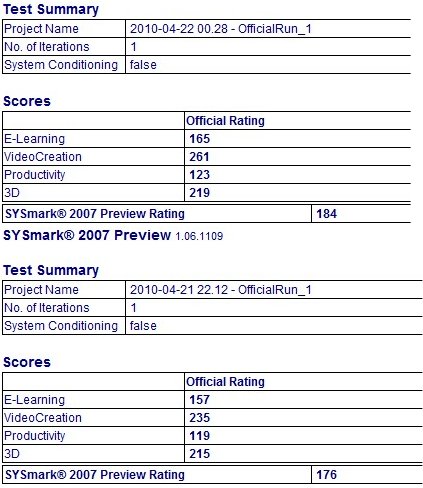 The top portion here is the 5th run of Sysmark 2007 and we see a score of 184 for the Momentus. The bottom is the first run and we have a score of 176. Net increase in score 8 points. The thing here is that in Sysmark you can spend hundreds of dollars to squeeze out a few more points and the Momentus gave us 8 points with nothing more than letting the drive learn what we expected to use.
Conclusion
The Seagate Momentus XT provides a real alternative to expensive (and small) SSD's. You aren't going to get the blazing speed of a good SSD but you don't trade wads of cash for a Momentus XT and you don't have to compromise on storage space.
We saw most applications load faster as the drive learned, and Windows booted faster. It's not a replacement of SSD's if you absolutely have to have that speed. If you happen to need a single bay laptop upgrade this might be the drive for you.
We've had plenty of SSD's and in the end they just aren't big enough so we end up with the additional expense of a data drive. The Momentus gives you a good balance of Speed VS Price VS Storage capacity.
Given the moderate increase in cost over a normal platter drive of the same capacity it would be hard not to recommend going Hybrid with the Momentus XT.
OUR VERDICT:Seagate Momentus XT
| | |
| --- | --- |
| Performance | 7 |
| Value | 9.5 |
| Quality | 10 |
| Features | 9 |
| Innovation | 10 |

We are using an addition to our scoring system to provide additional feedback beyond a flat score. Please note that the final score isn't an aggregate average of the rating system.

Pros
Cons

Adaptive Memory Technology

Large Storage capacity

Price VS SSD Price

2.5 Inch Form Factor

Better Performance as the drive learns your habits.

Price VS other 500GB Drives

Not an earth shattering performance increase.

 

 
Summary: The Seagate Momentus XT is a revolutionary idea whose day has arrived. Marrying a small SSD with a platter drive and giving it adaptive memory management was a stroke of genious. Relatively low cost yet the average performance increase ranges from 10% to almost 300%. Good job Seagate we like the Momentus XT 500GB Drive!