Sporting 7 customizable buttons, on the fly adjustable DPI, and a slim sleek design, we review NZXT's first gaming mouse, the Avatar.
Introduction
With manufacturers like Logitech and Razer leading the market in gaming peripherals, the name "NZXT" would rarely, if ever, come to mind when thinking of purchasing a new gaming mouse. If you turn the focus to computer cases however, NZXT might be one of the first five names mentioned. Known for making affordable enthusiast cases, NZXT is venturing into a Razer and Logitech dominated market with the new and currently their only gaming mouse, the Avatar.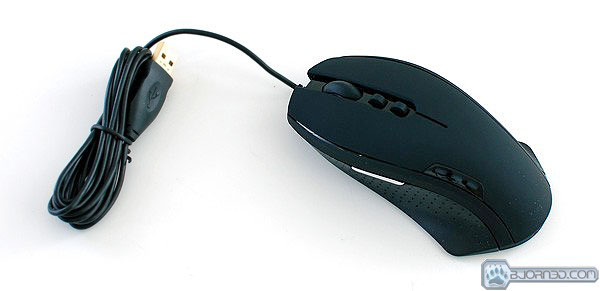 NZXT's Avatar has everything gamers usually want in a mouse recipe. Very high DPI, laser based, looks great, has plenty of buttons, and even goes as far as being completely ambidextrous. Left handed gamer or not, the Avatar will fit into your hand easily due to its slim and sleek design. We all know that having the right ingredients doesn't always produce a superior product. Sometimes it takes a little special something to complete a product and make it stand out from it's competitors. Does NZXT's Avatar have that special something? Let's find out.
Features & Specifications
Software (For customization)
2600 DPI Optical Sensors (600, 1200, 1800, 2600 DPI)
Adjustable Polling Rates (125Hz, 500Hz, 1000Hz)
Customizable Profiles
LED DPI Sensitivity Indicator
4 Speed DPI Switch
7 Programmable Buttons (Including two macro buttons)
Teflon Feet
Ambidextrous (Fits both left and right handed gamers)
Plug and Play
Slim and Sleek Design
Rubber Coated Texture
Blue LED Lighting Accents
7+ Foot Long Cord
 
Detailed Specifications
Max Speed: 40in/sec
Max Acceleration: 15g
Max Frame Rate: 6469 frames/sec
Resolution: 650~2600 DPI
Image Processing: 5.8 mp/sec
USB Reports: Up to 1000 reports/sec
Buttons: 5 million clicks
Included with the Avatar is an application that allows complete customization. Buttons can be reassigned, DPI can be adjusted along with the X and Y axis sensitivity. To make transitions easier, profiles can be saved as well. The interface of the application is very simple and has a generic feel to it. In comparison to Razer's software, NZXT's Avatar application may seem a little lacking. But don't let that fool you, the software works as it should and is very easy to use.
Click Image For a Larger One

Under the "Advanced Functions" tab you can adjust button assignment, orientation from left or right, polling rate, DPI, and save profiles. The "Sensitivity" tab allows you to adjust both the X and Y axis sensitivity, Windows pointer speed and acceleration. The "Advanced Settings" tab lets you adjust the scrolling speed, scrolling sensitivity, and the double click speed. To complete your settings, NZXT included a "Test Area" to test the double clicking speed. You'll definitely want to utilize the test area, I had a nice time closing 15 windows when I went clicking crazy on accident. Out of all the features the Avatar has, our favorite feature is the on the fly DPI switching. To change the DPI, all a user has to do is hold the left chrome button and scroll the wheel.
Pictures & Impressions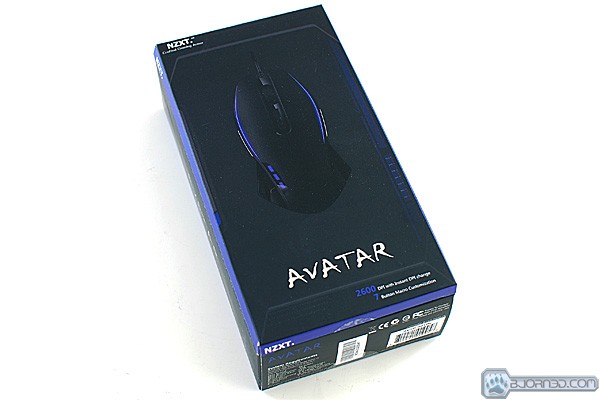 NZXT packaged the Avatar in a slim rectangular box. The shape of the box almost replicates the mouse itself which has a slim and sleek design. Right on the front, NZXT makes it known that the Avatar supports a DPI of 2600 and has 7 buttons which can be customized. The box also has a pamphlet-like front which opens to reveal the Avatar's many features. The back of the box lists additional features and has two pictures that point out key features.
Click Image For a Larger One

Within the flip open front is a neatly packed manual which is protected by foam. The manual contains all the information needed to fully utilize all the features the Avatar has.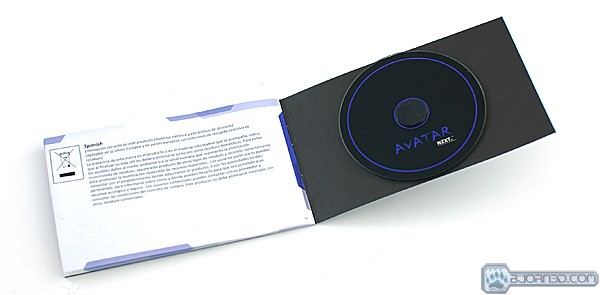 Inside the manual is a cleverly inserted mini disc which houses the Avatar's software application.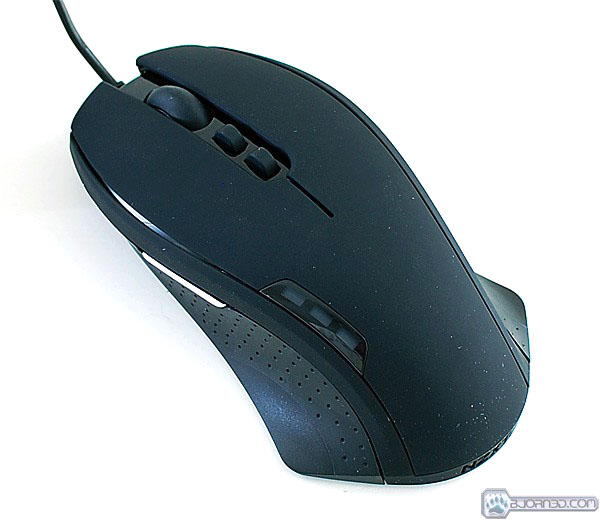 Once out of the packaging, we were able to get a clear view of the Avatar. Like the specifications state, it is very sleek and slim. Medium to small size hands will be in heaven when using this mouse but large handed gamers might be better off with a different mouse, unless hand cramps are a preference.
Click Image For a Larger One

On the bottom we could clearly see the large Teflon feet and on the sides are the two chrome buttons. Both of the chrome buttons seem to meet up perfectly with the thumb and the pinky fingers, so accessing these seem to be effortless.
Testing Methodology
Not all of our reviewers are hardcore gamers so the idea of simply playing games may not be the ideal testing choice to some of our staff. Instead, we try and cover the entire spectrum that a mouse plays a role in; gaming, image editing, browsing, and general use. During this review, we used two mousing surfaces and again, preference will be the deciding factor on what "works best" for you as the user. We used Razer's eXactMat pad and SteelSeries QcK+ clothe pad, both of which worked wonderfully with the Avatar.
Gaming
To test the Avatar in gaming we resorted to QuakeLive (FPS) and StarCraft II (Beta) (RTS). QuakeLive is a derivative of Quake 3 Area which is a free web browser based first person shooter. StarCraft II is one of the most anticipated games of the year and will more than likely take over Asia once it is released this Summer. StarCraft II is a real time strategy game and if you've never heard of the StarCraft series, gamer or not, you really do live under a rock.
In QuakeLive the Avatar was fantastic. Tracking was precise, all buttons responded promptly, and we noticed no skipping nor delay during the heat of battle. The rubber texture of the Avatar added a secure feel and even more aiming precision when battles were heightened. In comparison to the Razer DeathAdder, we think the Avatar was right up to par.
In StarCraft II micro management can make or break an intense battle. With actions per minute (APM) being the sole focus of measuring a players micro management, its easy to see why higher DPI mice are becoming a popular choice in the RTS community. Mouse button response and tracking ability are the two main things RTS gamers look for in a mouse, and thankfully for NZXT, the Avatar delivers both of those beautifully.
I'm no RTS expert, but the ease of movement and response from the Avatar noticeably improved my personal RTS gaming experience. The tracking of the Avatar in StarCraft II was easy, smooth, fast, and precise. The ability to change the DPI on the fly made things easier when battles began to take up large portions of the screen and the thought of not having that feature would make me sad. The Avatar was a pleasure to use in StarCraft II and I personally won't be playing StarCraft II without it.
Photoshop (Image Editing)
In Photoshop the Avatar was spot on and editing images was a breeze. Selections, brush stroking, blurring, whatever the task was the Avatar was precise and easy to use. When making slow progressive movements there was no jitter or overlap which is common with lower grade mice. The brush moved smoothly and responded like a high quality mouse would respond.
Web Browsing & General Use
To test the Avatar in web browsing we simply browsed a high content website to test the scrolling, back and forward, and tracking feedback. We chose New York Times as our browsing testing site which has a huge amount of links and plenty of pages to navigate through. The Avatar was a pleasure to use when browsing and general use because of how easy it is to glide across the screen. From one corner to another, it takes a minute amount of effort but the control and precision remains intact. The two chrome side buttons worked well when navigating back and forth, but we did find our pinky becoming tired after an hour or so of use. Because the mouse is ambidextrously driven, buttons had to be mirrored on both sides. Most manufactures typically put the "back and forth" buttons where the thumb resides but doing that on the Avatar is not an option. This will take some getting used to, but its certainly not a deal breaker.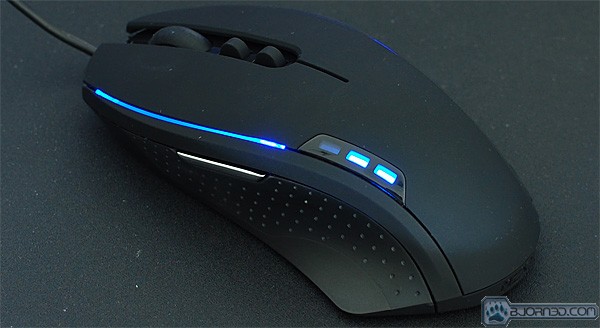 Conclusion
In all, we genuinely like NZXT's Avatar. It performed well, it's comfortable to use, it looks great, and it has all the features gamers look for in a mouse. Left handed users now have a real alternative to Razer's left handed DeathAdder which is sure to please many south paw gamers.
The only flaws we found with the Avatar is the included software and chrome buttons. Although it functions properly, the software feels and looks very generic. Software updates are likely to come and when they do come we hope to see a revised GUI and a fine tuned software suite. The chrome buttons almost seemed like a last minute addition, like there were no black colored buttons so chrome ones were used. With 98% of the mouse being black, the chrome buttons look out of place, black ones would have really completed the aesthetics of the Avatar.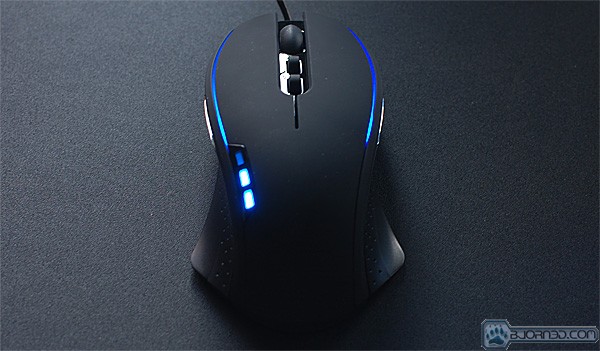 So the question is, " What makes the NZXT Avatar better than a Razer DeathAdder? ". The answer is simple, preference. Many gamers dislike formed and shaped mice, such as the DeathAdder, while some gamers love those types of mice. Some people have large hands and of course some don't, so personal preference will ultimately be the deciding factor when it comes to choosing the Avatar.
For $49.99 USD shipped, the Avatar can be yours. In comparison to other mice in its price range, the Avatar is actually one of the better buys when feature set is put into the picture. We think this is a great first attempt from NZXT and like we said earlier, it simply comes down to personal preference. We are hoping NZXT continues their venture into the peripheral market because the Avatar is a great first impression of things to come.
OUR VERDICT: NZXT Avatar
| | |
| --- | --- |
| Performance | 9 |
| Value | 9 |
| Quality | 8.5 |
| Features | 8.7 |
| Innovation | 9 |

We are using a new addition to our scoring system to provide additional feedback beyond a flat score. Please note that the final score isn't an aggregate average of the new rating system.

Pros

Cons

2600 DPI

On the fly DPI adjustment

Adjustable polling rates

Slim and sleek design

100% ambidextrous

Software feels generic and needs to be refined

Chrome buttons throw off theme

Limited user base due to slim design



Summary:
 NZXT's Avatar is a first sign of good things to come. NZXT has delivered a solid mouse that fits both left and right handed gamers but manages to keep a shape that gamers and non-gamers will love. Once the software is refined and updates are released, the Avatar will be a prime contender in the gaming mouse market.